Pacific Palisades: 2018 News Stories
(Editor's note:I reported on the following stories during 2018.)
 JANUARY
Four More Tenants for Caruso's Palisades Village
Caruso added four more businesses for Palisades Village, which is set to open in late summer 2018.
"At General Porpoise, edo little bites and SunLife Organics, guests will enjoy an incredible caliber of atmosphere, community, cuisine and service that redefines the 'neighborhood' dining experience," said Kloe Colacarro, Caruso executive vice president of leasing.
Max-bone, the fourth store announced, features the highest quality materials used in pet beds, play toys, leashes, dog jumpers, cat hoodies, harnesses and collars.
They join other previously announced stores and restaurants: Bay Theatre by Cinépolis Luxury Cinemas, Sweet Laurel Bakery, McConnell's Fine Ice Creams, FdeiM by Madeo, Vintage Grocers, Jennifer Meyer, Botanica Bazaar, Carbon38, The Little Market, Marysia, Miller's Oath, Zimmermann, TOWNE by elysewalker and Bentons Sports Shop.
(Max-bone, FdeiM by Madeo, Miller's Oath, Marysia and Bentons never actually opened.)
Woman's Body Discovered Near Porto Marina
On January 13, a surfer discovered a woman's body floating in the ocean near Porto Marina and Pacific Coast Highway before 9 a.m. on January 13.
The woman was described as young and possibly Hispanic. There were no visible signs of trauma. The deceased carried no identification.
(Editor's note:  L.A. County Coroner's Assistant Chief Ed Winter told the News on January 18 that the woman, in her 30's, who was found dead on the beach, was determined to be a suicide. She had been reported as missing by her boyfriend in the Ventura area and had left behind a suicide note. Her name was being withheld until her mother could be notified.)
Skip-Loader Stolen in Marquez
Steve Hart, who lives in the Marquez area, reported a skip-loader was stolen on his street around 8:30 a.m. on January 4.
"A large heavy-duty GM white pickup and heavy-duty black trailer pulled up to the construction site," Hart said, noting that he actually witnessed the event from his kitchen window. "I thought it nothing out of the ordinary, considering the frequent movement of this equipment."
The owner later told him that the perpetrators had cut the locks and chains on the fence and simply stolen it. Hart said the owner called the LAPD to file a report, but that the police never came to the site.
Honorary Mayor Event Draws Crowd
The toughest ticket in town was Saturday's [January 20] sold-out event, "Night of Comedy with Kevin Nealon and Friends," held at the Palisades Woman's Club.
The brainchild of Chamber of Commerce board member Brett Bjornson, the celebration not only honored longtime Chamber Executive Director Arnie Wishnick, but also featured six current and past honorary mayors, two nationally known comedians, music and non-stop laughs.
(Editor's note: Neither Bjornson nor Wishnick are still associated with the Chamber.)
FEBRUARY
Chautauqua Crash Proves Deadly
A fatal car crash occurred in the 500 block of Chautauqua Boulevard on February 13 around 6:30 p.m.
A Ferrari, traveling southbound, hit two other cars, and rolled over before coming to stop in a light pole. The L.A. County Coroner's office confirmed that the car was driven by Palisades resident Mark Gibello, 71.
PGA Golfer Bill Haas, who was the passenger in the Ferrari, was taken to the hospital, as was the 50-year-old female driving a BMW.
A third vehicle, a Toyota SUV, driven by actor Luke Wilson, was clipped by the Ferrari, but Wilson was not taken to the hospital. The cause of the accident is under investigation.
Hampden Place Construction Halted
Construction on two houses on Hampden Place, a street on the edge of Potrero Canyon, was halted on January 17.
"Los Angeles Building and Safety (LADBS) issued an Order to Comply notice to stop all work at 712 and 724 Hampden Place due to the project not having an approved erosion-control plan and not having erosion control mitigating measures in place as required," according to a January 30 email sent to the News by LADBS Chief Inspector Luke Zamperini.
Located off Swarthmore, one-way Hampden loops from just south of Village School, overlooks Patterson Place homes and Potrero Canyon, and returns to Swarthmore.
Property owner Ali Pourmola had removed all of the trees/vegetation from the lots in late November. But once Pacific Palisades had its first significant rainfall on January 8 and 9, neighbors complained that no measures had been taken to prevent the hillside from sliding.
Watson Wins the 2018 Genesis Open
Bubba Watson won the Genesis Open by two strokes on Sunday at the Riviera Country Club, finishing at 12 under. Thousands lined the 18th hole as Watson claimed his third win at the historic golf club, helped by a key birdie on 17.
Although Patrick Cantlay (former UCLA player), Kevin Na, Tony Finau and Scott Stallings were all in the running, with Na and Finau finishing 10 under, Watson held steady. Stallings and Cantlay finished tied for fourth with nine under.
MARCH
Rec Center Loses $90K in Quimby Funds
In February, the Palisades Recreation Center made a plea for residents to help raise $75,000 to refurbish the small gym.
While researching another story, this editor discovered that money for this project had been in place but was now gone.
On June 21, 2017, L.A. City's Recreation and Park Board of Commissioners reallocated Quimby funds slated for the Palisades Recreation Center to the Venice Beach-Pier Refurbishment Project.
The Board minutes reported that $19,207.18 dedicated to the Palisades Rec Center for building improvements and $73,390.60 that was reserved for indoor and outdoor park improvements at the center was being allocated to the Venice project. (Visit: laparks.org/commissioners/agendas-minutes-reports/2017)
Not only were Palisades Rec Center funds reallocated, so were Quimby funds from 13 other recreation centers, including Rustic Canyon and Barrington.
The total amount of money that was moved to the Venice Pier fund was almost $5.4 million.
Eldercare Facility Approved
After the Los Angeles City Planning Department approved an 82-unit eldercare facility in the Palisades Highlands on January 26, residents Robert Flick and Jonathan Klar filed an appeal on behalf of the opposition group, Highlanders United for Good (HUG).
This appeal will now go before the West L.A. Area Planning Commission on April 18, but without the support of the Pacific Palisades Community Council.
Rodman Is New Parade Leader 
Alphabet Street resident Matthew Rodman volunteered to take over as president of PAPA (Palisades Americanism Parade Association)—which produces the Fourth of July event in Pacific Palisades.
Rodman explained that the dozens of residents who volunteer on parade day every Fourth of July play a vital role and routinely give up their holiday for the community.
"But, many of the folks who have contributed their time for years are starting to age out," he said, "and it's time for the younger people to step in and help."
 Woman's Club Hands Out $38,000
The the Pacific Palisades Woman's Club gave $38,000 to grant recipients on March 6. Receiving money were 25 community and charitable organizations.
"I was truly inspired by each organization both in reading their applications and their presentations at Grant Night," said grant committee chairperson Joanne Curtis. "I love how the members of the Woman's Club came together to raise money to support our local community through 25 projects that touch the lives of every Palisadian."
(Editor's note: Much of the money donated comes from the annual Home Tour, which was postponed in November because of the Woolsey Fires and will now be held January 20 from 11 a.m. to 4 p.m.)
APRIL
Chamber Remodel Is Under Way
The Chamber of Commerce office on Antioch Street is about to undergo remodeling.
Thanks to a generous $20,000 donation from Caruso and $7,500 from the building's landlord, the Lee Family Trust, the space will be updated.
Executive director Arnie Wishnick and administrative assistant Marilyn Crawford relocated last week to a temporary space in the Rodeo Realty branch office at 839 Via de la Paz.
Also donating to the Chamber renovation are Elliott Zorensky of Udo Realty (interior doors and light fixtures), Richard Blumenberg of RLB Architecture (time and expertise to draft remodeling plans) and developer Reza Akef (construction).
During the expected five-week remodel, Pacific Union (formally Gibson International) and Union Bank will provide complimentary space to hold Chamber board meetings.
PaliHi Wrestling Coach Is Ousted
Palisades High's wrestling team had just completed the school's most successful wrestling season, but it was rumored that Head Coach Aldo Juliano's was about to be fired because of ongoing conflict between Juliano and the parents of one of his athletes.
Numerous parents and wrestlers attended the March 20 PaliHi board of trustees meeting in Gilbert Hall to support Juliano, who had been with the program since its inception in 2011 and had moved up to head coach this season.
During the public comment period, the trustees heard one impassioned plea after another begging them not to let Juliano go.
Juliano also spoke and asked for a chance to continue to work with his athletes, seven of whom reached the City Section Finals in late February, with four advancing to the State meet.
The next day Juliano received a letter from PaliHi's Director of Human Resources Amy Nygun, telling him he was fired.
The decision had already been made before the board meeting.
Village Green Yarn Bombed, Again!
Michelle Villemaire oversaw a group of volunteers as they draped colorful yarn around trees, benches, lampposts, two bicycles and even the dolphin figurine in the center fountain, who received a little pink knitted hat.
This was Villemaire's fourth year of drawing attention to National Woman's History Month, which had as its theme "Women of Color."
Village Green board member Marge Gold, who helped with the installation, said the reaction of the community was so amazing to see.
The Village Green board realized that Villemaire needed liability insurance. Jim Kirtley, executive director of the Palisades-Malibu YMCA, took the project under its insurance umbrella.
MAY
Brendan Serapiglia Is Parade Theme Winner  
"Palisades Parade – 70 Years of Cheer!" will be the theme of this year's Fourth of July parade.
Brendan Serapiglia beat out 70 other entries to win the opportunity to ride in the parade on a Station 69 fire truck with a group of family and friends.
He and his wife, Lauren Horner, who have lived in the Palisades Highlands since 2009, have entered the contest before.
Homeless Encampments Cleared by Teens
About 40 people recently assembled on the hillside to clean out abandoned homeless encampments.
The area below the Las Olas bluffs once served as an illegal campground for numerous homeless people. But after two brush fires broke out at encampments (one below Via las Olas, the other below Corona del Mar) and raced up the hillside toward Pacific Palisades homes, warning signs were posted in 2015: "Restricted Entry, Very High Fire Severity Zone."
Those signs made it possible for L.A. Police Department officers to tell the homeless they could not stay.
"With the signs, I could ask them to move on," Officer John "Rusty" Redican said.
As people were cleared from the area, about 30 abandoned campsites remained—with tons of accumulated garbage.
Kilbride Named Honorary Fire Chief
Sharon Kilbride an instrumental member of the enforcement committee of the Pacific Palisades Task Force on Homelessness (PPTFH), was named Honorary Fire Chief at a ceremony during an open house at Fire Station 69 on May 12.
Kilbride visits illegal campsites that have been set up in areas designated as "Fire Very High Fire Severity Zone," and with the help of the PPTFH and LAPD helps transients find help and housing.
In presenting the plaque, Armando Hogan, Deputy Chief and Commander of the West Bureau, recognized Kilbride for her efforts in preventing brush fires.
 Swarthmore Donor Tiles Will Return–Along Sunset
When Caruso began constructing its Palisades Village project, the PRIDE donor tiles that had been imbedded in the sidewalks on both sides of Swarthmore (north of Sunset) could not be salvaged.
At the time, Rick Caruso promised PRIDE, a local beautification nonprofit, that once Swarthmore was reopened there would be a place for the tiles.
On May 16, Caruso announced, with PRIDE's blessing, that he will replace the original tiles with nearly 1,100 tailor-made bricks.
These new bricks will be installed in the ground as part of the public sidewalk along Sunset, just east of Swarthmore. PRIDE is excited to announce that it is offering donors an opportunity to purchase a limited number of new bricks (and new messages), donated by Caruso. The money raised will be used for future PRIDE beautification projects.
JUNE
Crystals to Share Grand Marshal Honors
Billy and Janice Crystal, the town's honorary co-mayors, have been named co-grand marshals for the 70th annual Fourth of July parade, organized by PAPA (Palisades Americanism Parade Association).
After replacing Honorary Mayor Kevin Nealon during a Chamber of Commerce installation party in February, comedian Billy Crystal said, "When I was asked to be the honorary mayor, I talked about it with Janice and felt we should do it together. We moved here in 1979 because it was a great family community. We raised our children here, our grandchildren love it here, and a new exciting time for the Palisades is upon us. We're excited about being a part of it."
 Celebrating Our 90-and-Over Residents
More than 60 of the town's 90-and-over residents attended the 22nd annual birthday luncheon in their honor on June 2, hosted by the Pacific Palisades Woman's Club.
Chaired by Fay Vahdani (owner of Luxe Home Healthcare), the free event included a tasty meal donated by Vittorio Ristorante in Marquez, music by pianist Marie Captain, vintage songs by The Oceanaires and a performance by Salsa dancer Crizam Carlos and his partner.
The oldest honoree (by one week) was June Capp, 104, who was born on May 17, 1914, and has lived in the same house on Toyopa since 1954. Next was John Danley, 104, who moved here with his wife Shirley, also in 1954.  Then came Phyllis Genovese, 103, who owned The Letter Shop and was the first woman president of the Palisades Chamber of Commerce.
 Palisades Dog Park on Hold
A new Palisades dog park, which would be built in Temescal Canyon, is on hold, because a major source of the proposed funding, Measure A, is being litigated.
Measure A was a parcel tax measure that was on the ballot for Los Angeles County in November 2016. The purpose was to replace expiring funding that had been used for city/county playgrounds and parks. It passed with a 74.9 percentage with 2.36 million votes for and 791,939 votes against.
On the ballot, the analysis explained that a special tax would be levied at 1.5 cents per square foot of structural improvements to property, excluding the square footage of improvement used for parking. The rate could be increased and there was no expiration date for the tax.
In January 2017, Jimmie Dondlinger hired Capstone Law and attorneys Marty Dakessian and Ruben Sislyan of Dakessian Law to represent him.
Dondlinger was concerned that this specific Measure was doing an "end run" around Proposition 13 and that there was no uniformity applied to this tax.
 PaliHi Graduation Highlights 710 Seniors
With the bleachers filled with parents, family and friends, 701 students took the walk from the Palisades High School quad through the tunnel under Bowdoin Street to enter to the Stadium by the Sea on June 7.
A combined PaliHi concert orchestra and band played "Pomp and Circumstance," directed by Elizabeth Stoyanovich and Alex Dale.
After student body president Taylor Torgerson led the Pledge of Allegiance, a trio of high school seniors, Gabrilla Palazzo, Ivy Schoffman and Sarah Silvers sang the National Anthem.
The traditional multilingual welcome included 19 speakers, whose home languages include Mongolian, Bengali, Turkish, Igbo and Zapotec.
LAUSD District 4 Board Member Nick Melvoin said he remembered playing soccer as a teen in the stadium and joked, "but it was never this full."
He commented that 50 years ago, the year 1968 was a momentous time in this country's history: the assassinations of Robert Kennedy and Reverend Martin Luther King, the passage of the Civil Rights Act, riots in the cities, and the fight to end the Vietnam War.
JULY
          July 4 Day Recap:
8:15 a.m. 5/10K Race Start
A tradition since 1977, the races begin and end at the Palisades Recreation Center entrance on Alma Real Drive.
All races are organized by the Will Rogers Ridge Runners Club and assisted by the Pacific Palisades Optimist Club. Any proceeds, after the cost of the race/road closures/T-shirts/water, are donated to the Optimist Club Foundation, which distributes it to youth and community groups for grant requests that benefit the community. Residents are urged to register and not to run/walk for free.
9:15 a.m. The half-mile Kids' Fun Run starts. This noncompetitive run starts and ends on Alma Real Drive at Toyopa Drive.
12:30 p.m. VIP Pre-Parade Luncheon at the Community Methodist Church, 801 Via de la Paz. Dignitaries, politicians, guests and major donors are invited to a buffet luncheon that includes introductions, short speeches and great food.
2 p.m. Parade. Skydivers land on Sunset Boulevard at Swarthmore Avenue to start the mile-long parade.
The Fourth of July parade tradition was started in 1948 by American Legion Post 283. In 1961 the loosely organized event was turned into a larger community celebration by Legion commander Russell Olsen, who garnered marching bands, floats and dignitaries.
In 1965, the Chamber of Commerce took over the parade, and in 1967, the nonprofit PAPA (Palisades Americanism Parade Association) was formed to organize the event.
4 p.m. Music starts on the B stage between the big gym and the Palisades High School baseball field. Performers include solo artists Arielle Martinez Cohen and Trinity Rose and two bands—Phat Trick and Cohort.
6 p.m. Palisades Rocks the Fourth Concert. The award-winning Palisades High School Band under the direction of Alex Dale will start off the evening's music on the main stage. PaliHi graduate Madi Rindge, will be the opening act.
Tom Farrell's Palisades' All-Stars (Sound Roads Music School) take the stage next. Headliners, The 2018 Palisades' Uplifters that include an array of professional musicians, will close the show. The Uplifters play cover songs ranging from Adele to the Beatles. The $10 admission (children 6 and under are free) helps pay for the cost of the fireworks show and benefits the PaliHi music program.
9 p.m. Fireworks Show. Once again, the internationally renowned fireworks company, Pyro Spectaculars by Souza, will supply the special effects for one of the top Fourth of July shows in Los Angeles. This year's theme is "Let Freedom Ring." Show creator Chris Souza promises some new fireworks that will wow even the most jaded of spectators.
Body Found in Temescal Canyon Ruled Homicide
About 1:30 p.m. on July 21, a local resident was walking on the east side of Temescal Canyon Road. Next to the hill, back in the brush, he discovered a body, and the Los Angeles Police Department was called.
West Bureau Homicide Detective Lieutenant John Radtke said the deceased was a male Hispanic in his 30s. He has not been identified.
The police would like to speak to anyone who may have heard or seen anything. Anyone with information may call (213) 382-9470.
"We need help from the community," Radtke said. "We would like help to identify the person."
The road was closed in both directions until after 6 p.m. The coroner arrived around 8 p.m.
Norris Hardware Closes
Grant and Ellen Sears have confirmed what their customers had feared: they will not renew their lease at Norris Hardware when it ends on August 31.
"I just feel sorry for the community," Ellen Sears said in a June 28 interview in the upstairs office at the building located on Sunset.
She and her husband understand the important role this store has played in the community since 1925 by meeting the basic household needs for shoppers from all economic classes. Norris sells everything from light bulbs and kitchen fixtures to gardening and cleaning supplies.
(Editor's note: The storefront that housed the hardware store is still empty in December.)
AUGUST
Caruso Workers Go Late into the Night
Construction was underway (illegally) at 10:10 p.m. on Wednesday (August 22) at Palisades Village. A resident asked workers to shut it down and told Circling the News that a complaint had been filed with the City.
The City of Los Angeles specifies that construction Monday through Friday can take place between 7 a.m. to 9 p.m. On Saturdays and holidays, the hours are 8 a.m. to 6 p.m.
The resident said project manager Michael Gazzano, Caruso vice president of development, was on site supervising the after-hours construction. "It was not DWP related," the person said. (Earlier, Caruso had told residents that the after-hours construction was because of a DWP project.)
A different resident, who lives in the condominiums adjacent to the project, wrote in an email to Circling the News that "I cannot believe those subcontractors were working at 10 p.m. at night. When they came into the alley, it was blocked completely, and they were talking and laughing so loud that it echoed up to our floor. I went to the roof and recorded them."
This is not the first time that Caruso construction workers have ignored City ordinances. After a neighbor called the police on Sunday (August 19), construction was halted, and workers sent home.
The LAPD was contacted on August 20 and again on August 21 with a report that construction started just after 6 a.m. Workers observed the start time on August 22, but not the end time.
Wishnick Retires, Closing a
Pacific Palisades Chamber Era
Residents and visitors alike enjoyed stopping off at the Chamber of Commerce office on Antioch Street to visit Executive Director Arnie Wishnick. He always had a kind word, an interesting tidbit of news and if you had a dog, a nice treat for your pet.
After serving in his position since 1993, Wishnick told the Chamber board of directors last fall that he wanted to retire after Caruso's Palisades Village opens this September 22.
"I told them I thought they should bring in someone younger, bring in someone with new ideas," Wishnick, 75, told Circling the News.
His idea came to fruition on August 8, when the Chamber announced it was hiring Bob Benton, 71, as Arnie's replacement, starting September 1.
"Bob is a good guy," Wishnick said. "We've been friends for decades." And he's younger, by about four years.
 Illegal Construction Start Times/Noise:
Who Enforces Early Construction?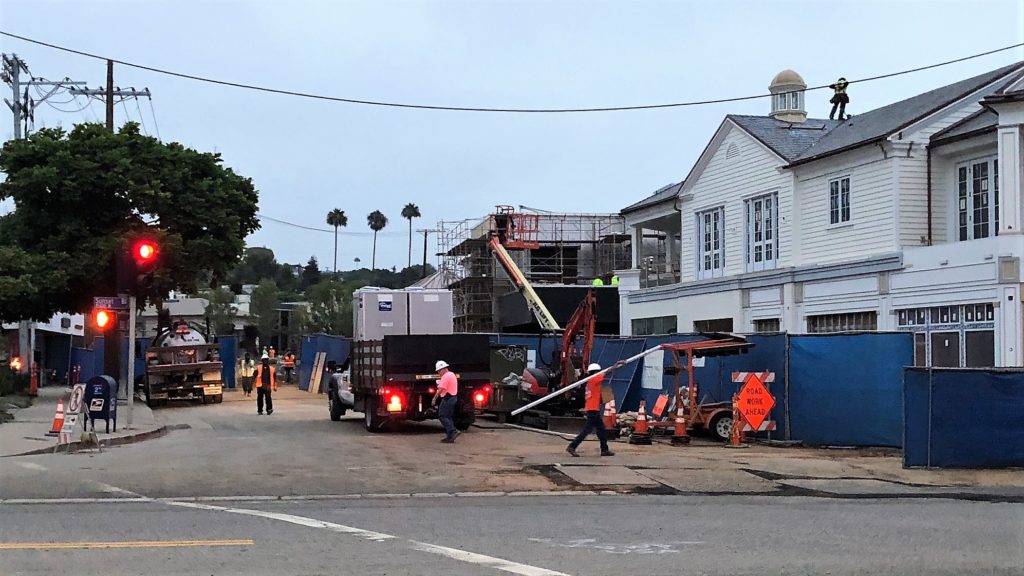 According to neighbors, construction at Palisades Village has been starting shortly after 6 a.m. weekdays. Construction hours per City code are Monday through Friday 7 a.m. to 9 p.m. Saturday and holiday hours are 8 a.m. to 6 p.m. No work is permitted on Sunday.
On Monday, August 20, construction started prior to 6:15 a.m. The condominium resident, who lives less than a block from construction, reported in an email to Circling the News: "I took photos and videos. The 311 line was not open this morning. I called and made a report at the (213)-996-1250 [noise complaint] number around 6:30 a.m. and the noise enforcement person looked up to see if they had a variance to start early and they do not." The person was told to call West LAPD (310) 444-0701.
The next morning, August 21, this reporter went to Starbucks on Sunset and Swarthmore at 5:50 a.m. to observe.
There were workers inside the establishment. A Starbucks employee said workers sometimes came as early as 4:30 a.m. to Pacific Palisades to avoid traffic.
One of the workers inside the coffee shop was asked when construction started, and he said "Six."
At 6:05 a.m., at the construction site at the corner of Sunset Boulevard and Swarthmore Avenue, there were workers on the roof, and trucks were loading and unloading.
 The Unofficial End of Summer: School Starts
Although summer doesn't officially end until September 22, Los Angeles Unified School District started school on Tuesday, August 14. The five charter elementary schools, Palisades, Marquez, Canyon, Topanga and Kenter, and Paul Revere Charter Middle School all opened their doors Tuesday.
Teachers were at school on Monday for a professional development day and to get classrooms in order.
In addition to bringing Kleenex and paper towels for the classrooms, one of the parents at Palisades Elementary carried a bouquet of flowers for his daughter's teacher.
Palisades Charter High School, which had two staff professional development days, will welcome students back on Wednesday, August 15. Principal Pam Magee returns for her seventh year (Visit: Palihigh.org or call: 310-230-6623). 
SEPTEMBER
Hader Wins an Emmy for "Barry"
Pacific Palisades has another Emmy winner for acting.
Drumroll… it's Bill Hader!
Hader won for playing Barry on "Barry."
After bounding up to the stage at Monday's Emmy Awards ceremony, skipping stairs on the way up, Hader's first words when accepting his Emmy for Outstanding Lead Actor in a Comedy Series were, "I didn't think this was going to happen."
Hader has won an Emmy before, as a producer on "South Park," but this is his first Emmy for acting.
Hader's competition in the lead comedy actor category included two other Palisadians, both of them comedy veterans: Ted Danson and Larry David.
 Nearly $700,000 Pledged to Bocce Ball/Veterans' Gardens 
Three bocce ball courts and five outdoor landscaped "rooms" at the Palisades Recreation Center are in the final approval stages by the L.A. Department of Recreation and Parks. According to the website (veteransgardens.net), ground breaking is planned for February 1, 2019, with a ribbon cutting projected to be held three months later on May 5.
Palisades Villages Starts 24-Hour Construction
A resident has asked Circling the News, "I spoke to two construction workers who told me that construction [on Swarthmore and Monument] would now go forward 24 hours a day, seven days a week until Caruso's Village opens on September 22." And then asked, "Can they do that?"
We tried to help clarify the situation by reaching out to L.A. Department of Building and Safety.
"No, LADBS does not issue permits to work on Sunday or after hours," said Jeff Napier, its public information officer. He included the following link (ladbs.org/services/core-services/inspection/inspection-special-assistance/permitted-construction-demolition-hours).
Napier added, "Working hours and noise enforcement are handled by LAPD Noise Enforcement Division. If there was a special permit, they would be the issuing agency."
Another resident spoke to the police officer who was involved in issuing the permit and reported, "There is a very specific 'Scope of Work' that they are allowed outside of the designated construction hours. It includes internal painting, remodeling, laying pavers, planting, and other 'Quiet' jobs. There is NO demolition, jack-hammering or work that generates 'noise' like drilling, saws, NOTHING noisy after 9 p.m. and before 7 a.m. [on weekdays]."
The resident was told that if there is a noise issue and the police are called, the police should ask for the permit and review the "Scope of Work," which outlines what can and cannot be done. The Noise Enforcement number is (213) 966-1250.
 Huntington Wants Park Trash Moved to Temescal
Rats and garbage in the Palisades Recreation Center maintenance grounds has drawn the ire of neighbors, whose backyards abut the park.
An idea was proposed that the yard be closed and that dumpsters be placed in Temescal Canyon and garbage be hauled there. The feeling was that people who live along Temescal are far up the hill and it would be a better place for garbage.
CTN was told to look at the maintenance yard and did around noon on Friday, September 7. There were six large garbage containers, none of which were closed, even though they had lids. About half were partially filled with trash. When this reporter stepped back to the entrance to take a photo, a squirrel went into one of the bins and crows were diving into another.
There were also seven round smaller trash cans. Nothing was in any of them and none had lids. There were about 15 Ralphs shopping carts in the maintenance yard.
Gazzano Explains Lane Closure
On August 29, Circling the News (CTN) sent the following email to Councilman Mike Bonin's Communication Director David Graham-Caso:
"As the construction progresses around Caruso's Palisades Village, one lane on Sunset Boulevard (westbound) has consistently been shut during the afternoon/evening rush hour, causing massive backups on Sunset. Perhaps one of your colleagues has monitored the conversation on Nextdoor?
"I reached out to DWP and they said they do not close a lane during rush hour. Who is responsible for this? How can the situation be rectified?"
Caruso's VP of Development Michael Gazzano responded to CTN in a September 4 email:
"For our work, we have a lane closure permit with LADOT for the duration of the project and have only used when necessary," he said. "When in effect, we follow all safety precautions with signage and cones.
"In addition, we have voluntarily continued to pay for crossing guards at the intersection to add another layer of safety. Currently, there are a lot of public infrastructure improvements in process along Sunset Boulevard that we are providing–new curb and gutter, sidewalks, street trees, street lights, traffic signals, right turn lane and new asphalt," Gazzano wrote. "In order to perform this work, and other work in the vicinity, it is necessary to close one lane of Sunset. For the most part, the lane closure is complete and returned to normal traffic flow at 3:30 p.m."
Palisades Village will have its grand opening on September 22.
Parking Meter Money May Return to Palisades
Pacific Palisades, which garners more than $419,000 annually in money solely from parking meters, may be receiving some of that money back, if a pilot program is approved by the City Council.
At the Business Improvement District (BID) meeting on September 5 at the Palisades Chamber of Commerce office, Eric Bruins, transportation policy director for Council District 11, explained the pilot program.
In addition to Pacific Palisades, two other areas, Westwood Village (Council District 5—Paul Koretz) and Lincoln Heights (First District—Gil Cedillo) would also be participating.
Fifteen percent of the income from meters in Pacific Palisades (about $60,000 to $65,000) would come back here. The City is designating BIDS as the recipients of the money, which could be used for parking, streetscape and other improvements.
Portrero Canyon Grading to Resume
This could be the home stretch for Potrero Canyon Park, the public park that will stretch from below the Palisades Recreation Center down to Pacific Coast Highway.
The final grading of the 40-acre park is slated to start at "anytime" and will take about 14 months, according to City staff. The latest estimate for the park's opening is 2020.
The grading project was put out to bid by the L.A. City Department of Public Works, Bureau of Engineering on April 18 with a projected cost of $14,792,412 and closed about a month later.
There were three bids: Los Angeles Engineering, Inc. bid $14,137,117; OHL USA INC bid $13,526,579; and Sukut Construction, Inc. bid $13,777,777.
On June 20, the L.A. Rec and Parks board approved OHL.
The City will pay for this work through a fund that has been established through the sale of City-owned residential properties along the rim of Potrero Canyon.
Pumpkin-Gate: No Rogue Squash Allowed
"Who would not love a pumpkin patch, with fall approaching?" Santa Monica Canyon resident Joan Kramer asked in an August 31 email to neighbors.
It seems that would be the City of Los Angeles.
On August 31, the Bureau of Street Services ripped out a pumpkin patch that had been growing on the West Channel Road median since early summer, when it was planted by former Pacific Palisades Citizen of the Year Bruce Schwartz, with help from Canyon resident Sharon Kilbride.
According to emails received by residents and shared with Circling the News, City officials said the low growing foliage and pumpkins presented a safety hazard that could not be ignored.
Caruso's Palisades Village Opens
On September 20, an invitation-only gala was held for invited guests. John Legend provided the entertainment.
The Hollywood Reporter, in a story headlined "Inside Starry Palisade Village Opening Gala with Charliez Theron, John Legend, a Rabbi and a Priest" wrote, "To make sure that happened, Caruso detailed some of the crazy behind-the-scenes numbers. Over the last couple of weeks, there were 600 people working at the site "almost around the clock." Other stats: 102 architects, engineers and designers; 3,000 construction jobs working 2 million hours; 3,000 cubic yards of concrete; 120 cubic yards of soil; 98 percent of demolition waste that was recycled; 45 tenants; about 1,000 permanent jobs; eight first-time brick-and mortar-tenants; 20 women-owned businesses; and 77 different tree and plant species."
On September 22, the upscale shopping center opened with much fanfare with Mayor Eric Garcetti and Councilman Mike Bonin in attendance.
OCTOBER
Residents Want their Neighborhood Back
Alphabet Street residents (those nearest the Caruso Palisades Village development) have coined the phrase, "placebo effect" to describe the (un-permitted) signs that Caruso placed around the community, ostensibly to let employees of tenants know that that are prohibited from parking on the public streets.
However, there are no Caruso Village managers or security guards to enforce the rules and employees park throughout the Alphabet Streets and pour into the project for work each day.
(Editor's note: Neighbors gained partial relief in December with a dedicated parking district. Without purchased placards, motorists are only allowed two-hour parking during the day.)
Noise from Caruso's Village Affects Neighbors
For weeks, residents who live around Palisades Village have lodged complaints to both Caruso management and the L.A. Police Department about amplified music projecting from the property into the neighborhood.
Municipal Code 115.02 prohibits amplified music within 500 feet of a residential zone.
Caruso has sidestepped residents' complaints by telling them he is supporting nonprofit organizations with concerts and invitation-only gatherings at the Park, the small green space between the Draycott and Blue Ribbon Sushi, along Monument.
Residents, who have tested the decibels of the music and found it is above the legal limit, say that amplified music imposes an undue burden on the residential neighborhood, which is why it is not permitted by law.
Key Roads Need Repair in Pacific Palisades
A recent report by the nonprofit transportation group [TRIP] noted that "Bumpy roads, uneven pavement and potholes cost drivers in the Los Angeles-Long Beach-Anaheim areas more than $900 a year in repairs, maintenance, fuel consumption and tire wear, accelerating vehicle deterioration and depreciation."
According to the Bureau of Street Services, streets are rated using a Pavement Condition Index (PCI). A May 2013 L.A. Times story ("Grading Los Angeles Streets") reported that 175 of the 769 streets in the Palisades received a grade of F. The average for streets here was C-.
Residents were promised that once the heavy trucks used in the Caruso Palisades Village project were done hauling and the retail/restaurant center opened, Chautauqua, from Sunset Boulevard down to PCH, would be repaved.
Palisades Village opened September 22, so last week we contacted the L.A. Bureau of Street Services Resurfacing and Reconstruction Division for an update.
The last time Chautauqua from Sunset to PCH was repaved was August 2001.
The good news is that this stretch is now on a list to be repaved sometime in the last half of 2019 or the beginning of 2020. But that's a long way off, and motorists fear that the lower portion of Chautauqua (below the final curve) may not make it through a rainy winter.
Monument Street between Sunset Boulevard and Albright (adjacent to Palisades Village) was last paved in April 1998 and it is "not on the grid" for repaving, even though the surface was badly damaged by constant truck traffic during construction.
The last time Sunset Boulevard was paved (between Chautauqua and Temescal Canyon Road) was June 1998. It is not scheduled to be repaved anytime soon. The Zone 1 Coordinator that we spoke to said that he would create a future project for Sunset and look for utility clearances, but then funding would have to be found.
Pizzulli Seeks to Build Eight Homes along Las Pulgas Canyon
On October 1, the Los Angeles Department of City Planning held a public hearing about the potential development of eight residential lots on Marquette Street along the lip of Las Pulgas Canyon. At the hearing, residents submitted comments and concerns about the project.
Interior architect Cosimo Pizzulli submitted plans for eight single-family homes, ranging in size between 5,317 and 8,053 sq. ft., and each with a swimming pool.
More than 30 residents of Las Casas Ave., Marquette, Bienveneda Ave., and Grenola St. attended the meeting. Eighteen of them spoke in opposition of the project as it currently stands.
The canyon, which is touted as the last remaining undeveloped coastal canyon in L.A., has a long and contentious history. In the 1990s a developer wanted to build 180 homes but gave up after a geological study found the property to be worth negative $10.5 million due to its extreme instability. It was then sold to Barry Maiten, who has mostly left the canyon alone.
The Community Council will discuss the project at its meeting this Thursday, October 25, at 7 p.m. at the Palisades Library community room. The public is invited.
Lemmo's Last-Minute Ploy Undercuts Marquette Neighbors
A group of Marquette Street residents who thought they could count on support from the Pacific Palisades Community Council went home sourly disappointed from Thursday night's meeting at the library.
The Marquette neighbors have been fighting the proposed construction of eight large homes on their street, along the geologically-fragile rim of Las Pulgas Canyon.
Back on October 1, the Los Angeles Department of City Planning held a hearing regarding development. More than 30 residents attended and 18 spoke against the development as it currently stands.
After the hearing, additional comments or information could be presented up until October 29.
Although Marquette residents had previously attended several Community Council meetings (as recently as October 11), they were told this development had to first go before the PPCC's Land-Use Committee before the entire board could take a position.
An invitation was sent to developer Cosimo Pizzulli to attend the LUC meeting, but committee chair Howard Robinson recused himself because of prior business dealings with Pizzulli, the developer never RSVP'd and the meeting was cancelled.
The Marquette neighbors then asked to appear at last night's PPCC meeting board and seek a vote by the Council to write a letter of support to the Planning Department.
Suddenly, at 8:59 p.m, Chamber of Commerce representative Rick Lemmo (a senior VP for developer Rick Caruso) asked for a postponement of the vote, despite the October 29 deadline for public input at the Planning Department.
NOVEMBER
No More Trash Pickup for Green, Marquez, Library
The Business Improvement District will not pay to pick up trash in the Village Green, Marquez Business District, or the Palisades library, starting January 1.
At a meeting held at the Chamber of Commerce on November 7, BID members were told by legal counsel, they could not send out a mailing asking for residents to help defray the cost to pay for Chrysalis to pick up the trash and sweep the streets in those areas because it is outside the district.
Annually between 2002 and 2017, the Chamber of Commerce had sent letters to residents asking for help for trash cleanup, generally raising $30,000 (with $7,500 from realtor Michael Edlen). The Chamber, under new management, has nixed any trash pickup citing new bylaws. The remaining money in a trash account was given to the BID in May.
 Roundup/Landscaping at Fire Station 69
Roundup is not illegal in Los Angeles. A resident emailed Circling the News on November 7 and said, "I was walking past Station 69 on Carey this morning and they had a man out on the parkway spraying Roundup. I called and verified. This is a parkway strip with a lot of foot/dog paw traffic. I am furious. It is easy to clear a parkway strip without poison."
CTN contacted the fire station and learned that firefighters were not using the product; instead it was Michael Frilot of Arbor Solutions.
We contacted Frilot and asked why he was using Roundup and if he had heard about Councilman Mike Bonin trying to ban Roundup in the City.
Frilot responded in a November 8 email: "We were hired by a reputable landscape company [American Growers, owned by Palisadians Tracey and David Price] that works local in your area and are subcontractors on the project [Station 69 landscaping].
"The work performed was done legally within the guidelines of all label requirements. All licensing, insurance, registration etc. to do business are current," he wrote.
CTN contacted Councilman Bonin's office for clarification about Roundup use in the City. On November 14, Bonin's spokesperson David Graham-Caso responded in an email, "The Councilmember's legislation asked the Department of Recreation and Parks to look at alternatives to using Roundup, and in response to the motion and subsequent reports, the Department agreed not to use Roundup or other glyphosate herbicides near playgrounds or recreation areas
Woolsey Fire Continues to Prompt Evacuations
In order to aid the mandatory evacuations out of Malibu, and parts of Topanga Canyon, Pacific Coast Highway has been turned into a one-way road from Malibu to the McClure Tunnel. No northbound traffic is allowed on that road.
Additionally, all westbound ramps on Interstate 10 in Santa Monica are closed until further notice. The Woolsey fire was zero percent contained as of 3 p.m. and is expected to reach the ocean.
Portions of Malibu were under mandatory evacuation for all areas south of 101 Freeway, from Ventura County line to Las Virgenes/Malibu Canyon and south to the ocean, which includes much of the City of Malibu.
Santa Ana winds fueled the Woolsey Fire, which started in Simi Valley on Thursday afternoon. According to Ventura County fire officials, the blaze jumped the 101 Freeway near Chesebro Road on Friday morning.
The American Red Cross says the nearest evacuation center for residents of Malibu is at Palisades High School, 15777 Bowdoin St., in Pacific Palisades.
(Editor's note: The fire started on November 8 and burned 96,949 acres of land, destroyed 1,643 structures, killed three people and caused the evacuation of more than 295,000 people.)
DECEMBER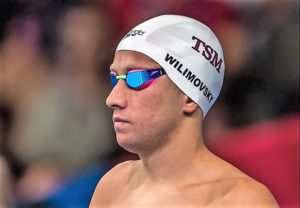 National Swimming Champion Trains at Palisades High School Pool
Jordan Wilimovsky, 24, won the men's 400-, 800- and 1500-meter freestyle races at the USA Swimming's Winter National Championships in Greensboro, North Carolina over the weekend. (November 29-December 1)
Swimming for Team Santa Monica, the 24-year-old Olympic Games swimmer started his meet with the 800-meter race on November 28. His seed time was 7:45.19 (the American record is Michael McBroom's 7:43.60 in 2013). His winning time was 7:56.88, more than 13 seconds ahead of runner-up Brennan Gravley of Las Vegas.
Vandals Destroy Village Green Lights
The Charlie Brown Christmas tree on the Village Green, which each holiday season is decorated with strings of lights, went dark this past week.
Circling the News received a December 20 email from Village Green Board member Marge Gold: "Unfortunately, earlier this week the lights on our 'Charlie Brown' pine tree were vandalized. Someone ripped a string of lights apart.  Apparently, this break shorted out the fuses that are installed on the plugs on the strings and caused the entire tree to go dark. Efforts by a board member and a volunteer could not repair this."
Gold was asked how much it would cost to repair the lights. "I have no idea about cost to repair," she responded. "They need to be taken down and checked."
 Community Council Honors Five Activists 
Five people were honored for their exceptional accomplishments in Pacific Palisades at the annual Community Council holiday dinner and awards gala held on December 13 at Gladstone's.
Bob Harter and Jimmy Dunne shared Citizen of the Year honors for their efforts to establish the Veterans' Gardens and three bocce ball courts in the picnic area at the Palisades Recreation Center.
 The Golden Sparkplug Award winners were John Steadman and Dede Vlietstra.
Since 1974, the Sparkplug award has honored "the efforts of Palisades residents, property owners or business operators who have ignited ideas and projects resulting in an original contribution that benefits the Pacific Palisades community."
The Pride of the Palisades Award was created in 2014 to recognize an individual "who has provided extraordinary service to the Palisades community." This year's honoree was Arnie Wishnick, who retired this year as executive director of the Chamber of Commerce.
Community-Organized Holiday Hullabaloo Is a Hit
More than 1,000 residents of all ages gathered at the Palisades Recreation Center on Saturday afternoon to keep an annual town tradition alive.
When residents discovered in November that the Palisades Chamber of Commerce was discontinuing its 69-year Holiday Ho!Ho!Ho! tradition–featuring a visit by Santa and local groups performing–they jumped into action.
Led by Lisa Glantz and Lou Kamer, residents came together and organized a major event in about two weeks.
On Saturday, just past 2 p.m., Santa and Mrs. Claus arrived with their reindeer in Pacific Palisades.
Since permit parking is now in place on portions of the Alphabet streets, the Clauses parked atop Fire Station 69 and climbed aboard the hook-and-ladder truck, joined by numerous elves and co-Honorary Mayors Janice and Billy Crystal.