Hachette Book Group said it would not publish Woody Allen's memoir "Apropos of Nothing" because Allen's "son" Ronan Farrow objected. A new company, Arcade, stepped up and released it – and I purchased a copy out of a sense of fairness. No one person or group should be able to censor free speech in the United States.
Horror author Stephen King wrote on Twitter, "The Hachette decision to drop the Woody Allen book makes me very uneasy. It's not him; I don't give a damn about Mr. Allen. It's who gets muzzled next that worries me."
In Britain, Jo Blanville branded Hachette's decision "worrying for writers and for readers." She's a former director of the writers' group English PEN and award-winning editor of Index on Censorship.
"I am always afraid when a mob, however small and well-read, exercises power without any accountability, process or redress. That frightens me much more than the prospect of Woody Allen's autobiography hitting the bookstores," she wrote in Observer online.
Why would Ronan Farrow object to Allen releasing a book, especially after Allen paid child support and for Ronan's education when he was growing up?
Much like a really bad daytime soap opera, this book includes high-powered stars and a man who never finished college and years later dumps a lover for her adopted daughter (of legal age).
Ronan Farrow's mom, Mia, was Allen's ex-lover – a relationship that lasted more than a decade. Even though the couple had never lived together and, according to Allen's account, had not shared intimate relations in some time, when Allen had sex with Mia's adopted college-age daughter Soon-Yi, Farrow became "upset," understandably.
Farrow then alleged that Allen has committed some sort of sexual act with the couple's adopted younger daughter, Dylan.
In his book, Allen releases the report from the two major investigations of the sexual allegation: one from the Child Sexual Abuse Clinic at Yale-New Haven Hospital and a second by the New York State Child Welfare. Both concluded: "It is our expert opinion that Dylan was not sexually abused by Mr. Allen."
Judge Eliot Wilk, who Mia would later name an adopted child after, granted her sole custody to Ronan and Dylan Farrow in 1993. (Gabriel Wilk Farrow, later known as Thaddeus Wilk Farrow, committed suicide in 2016.) Mia Farrow adopted seven kids and has four biological children. Adopted children Lark, Tam and Thaddeus are deceased.)
But here's the real tragedy: just like in the movie "The Front," there is absolute unfairness here, as the Hollywood world has refused, for whatever reason, to read the court proceedings that vindicated Allen and has decided to side with the mob.
I believe Allen loves women, adult women, too much to have ever committed pedophilia. And if you read the book you'll understand completely, as he writes about his first two wives, Harlene Rosen and Louise Lasser, as well as co-star and former girlfriend Diane Keaton, several other co-stars and Mia Farrow herself. Allen also writes about the strong women's roles he's created for his dozens of films.
With his wife Soon-Yi, he adopted two daughters and in his book he writes, "Two separate judges check you out pretty thoroughly to make sure they're not gifting infants to a predator."
I always thought Allen was a learned intellectual type, and that I would have trouble keeping up with his life and his prose. But I soon learned that his dad was a waiter and his mom a bookkeeper for the family delicatessen, that his parents fought a lot and that Allen hated school—he was more interested in baseball. He basically flunked out of his first year of college.
Why is he so well-read? Girls. When he was about 15, "One girl asked me to take her to the film 'O. Henry's Full House.' The only O. Henry I knew was a candy bar. Another brought up 'Swann's Way,' but I was too busy demonstrating how funny it was when Milton Berle walked on the sides of his feet. These girls read and spoke French, and one had been to Europe and had seen Michelangelo's David." . . ..
"And their smarts were seductive. They were political liberals. Besides the fact that Lincoln had freed the slaves, my knowledge of politics was slim."
"I struggled always to hold my own, but who was this Steppenwolf? And did I agree with Sidney Hook on what?"
The young Woody Allen wrote that he had catching up to do, that "Stendhal and Dostoevsky would now replace Felix the Cat and Little Lulu. So, I read. Some of it I liked, some of it I did not.
"I read the novelists, the poets, the philosophers: I struggled with Faulkner and Kafka and had a worse time with Eliot and of course Joyce, but I loved Hemingway and Camus because they were simple and caused me to feel, but I couldn't get through Henry James, hard as I tried. I loved Melville, the poetry of Emily Dickinson, and I took the time to learn about Yeats' life so I could enjoy his poems. I was so-so about Fitzgerald but loved Thomas Mann and Turgenev. I loved 'The Red and the Black,' especially when the young hero keeps wondering if he should a make his move and hit on the married woman."
When I was growing up in South Dakota, there was not a lot of love for New York City or New Yorkers. It was only when I moved to Manhattan in 1977 that I became a Woody Allen fan.
I was introduced to his comedies when I lived in a fifth- floor walk-up off 62nd Street – no air conditioning to make nights bearable during hot humid summers. There was a cinema on Bleeker Street that showed Allen triple features that summer. By the time the third film was done, the apartment was almost cool enough for sleeping.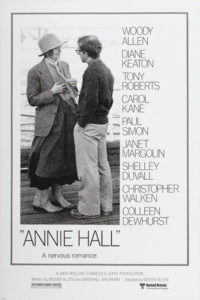 My first husband, Ronnie Shakes, was a stand-up comedian and idolized Allen, especially his perfect lines and timing. One of my favorite films was "Annie Hall."
But then once I started the motherhood routine, most of the films I saw featured had at least one animated character, and in the last two decades I haven't kept up with Allen's prodigious and generally well-reviewed output.
I hadn't planned to read his entire 392-page book. I had bought it on principle, but once I started, I finished it in less than a week, reading late evenings.
Part of the reason I finished the book is that Allen doesn't use chapter headings, so those of us who set out to read one chapter a night have no idea when to stop—the story flows.
Another reason for the fast read is Allen really has worked with almost everyone in Hollywood and his conversational style, with one-liners thrown in, make it a fun, informative read.
Allen writes that Moss Hart in his autobiography "Act One," noted the difference between a playwright having first-act trouble versus last-act problems.
Allen believes that first-act problems are much easier to deal with, writing "Last-act problems, endings, wrap-ups and climaxes are what separate the men from the prepubescents. And so it is, having scribbled down the trivia that has sketched in my life, I find myself with last-act trouble. My golden years. The Roach in Winter."
One critic for The New Republic, Rumaan Alam, dismissed the book and Allen with ". . .why did Woody Allen bother writing a book at all?"
Because he is 84 and has a wife and two daughters, whom he loves, who will live on after him. They need to have the record set straight.
I'd love to see Ronan Farrow take a DNA test – he looks nothing like Allen. And if it is found out Allen is not the father, let his wife Soon-Li sue Mia Farrow for some of the millions that Allen spent on children he never was allowed to see or raise.