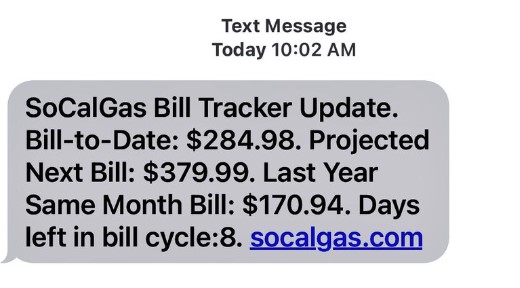 A Wall Street Journal story ("Natural-Gas Prices Plunge, Causing Drillers to Scale Back,"), noted that "Natural-gas prices have dropped more than 65% since mid-December and this week hit their lowest level since 2020's pandemic lockdowns."
Instead of lowering prices for January and February, Southern California Gas Company (SoCalGas) raised rates for people living here.
Now the utility company is seeking even more increases through a general rate application. The public can let a judge know how they feel about proposed higher rates by participating in a public hearing.
SoCal Gas and the California Public Utilities Commission (CPUC) are inviting residents to participate in a Public Participation Hearing, a virtual hearing, about SoCalGas' 2024 General Rate Case (GRC) application.
At this public forum, one can make comments and raise concerns with the CPUC's Administrative Law Judge who is overseeing this rate increase request.
There will be two virtual hearings: the first will be held at 2 p.m. March 6, call (800)857-1917 Passcode: 1767567# or via the internet, Webcast: adminmonitor.com/ca/cpuc.
The second hearing will be at 6 p.m. on March 15, call (800)-857-1917 Passcode: 1767567# Webcast: adminmonitor.com/ca/cpuc.
Additionally written public comments may be made at any time during the proceeding at apps.cpuc.ca.gov/c/A2205015.
If you don't want rate increases, please participate, and alert your neighbor. Maybe the Pacific Palisades Community Council could also take a stand.