By: ALISON BURMEISTER
If you have ever thought about writing a book or screenplay, your first step might be consulting John Truby, author of The Anatomy of Genres: How Story Forms Explain the Way the World Works, which was published in November 2022.
American screenwriter, author, film director, masterclass lecturer and Palisadian, Truby knows what it takes to write a well-crafted story. Known as a "structure person" in the literary world, Truby has served as a consultant to thousands of screenwriters all over the world.
On Thursday, March 2, the Palisades resident will be a guest at 10 a.m. on Spirit of Story with Karin Gutman (Visit:  https://bio.site/spiritofstory?fbclid=PAAaZx0K8sgYwKP81DtzjCtDoF1uQ0nY4cCv4bB8BvRnQgAfITyvfFe7tF2wI )
Storytelling is a "constant balance between creative expansion and structural consolidation," said Truby, whose book The Anatomy of Story, 22 Steps to Becoming a Master Storyteller, was published in 2007.
In his latest book, Truby breaks down the 14 major genres in storytelling, how they work and what they say about how we choose to live. "A bit of a heady book," he said.
Truby described Anatomy of Genres as his magnum opus, a personal journey that started over 50 years ago. For the past 40 years, he said, his ideas sat in the back of a drawer because he couldn't figure out how to share the material in such a way that people would buy it.
Meanwhile, his career as a screenwriting consultant and lecturer flourished. He founded Truby's Writers Studio and even created a screenwriting software called Blockbuster that gives writers the tools to analyze certain elements of their story and track their creative process.
Truby credits his life's work as the inspiration and vehicle that finally allowed him to "pull his ideas out of the drawer" and explore these deeper themes and philosophies of genre. He dedicated Anatomy of Genres to his wife Leslie, who is also a successful writer.
"Anatomy of Genres is "not just a book for writers, but for readers," Truby explained.
"Humans see the world through story. That is how our mind works. From the moment we are born, the very first story that we tell is 'me.' As we grow up, even in those early months, we go through all the steps that a story goes through."
Truby breaks down stories into seven steps.
Weakness and need
Desire
Opponent
Plan
Battle
Self-revelation
New Equilibrium
Whether we realize it or not, we see everything through the filter of our story. Which is why, Truby explained, certain genres in books and movies appeal to us more than others.
When it comes to genres, Truby noted that what we think about them is not exactly what they are. He explained what he meant by using the genre of Westerns.
"Growing up most of the shows on the television were Westerns. Looking back very little of them had any sort of real historical context," he said. "The story they told was the rise of the American dream."
Romance is another very popular genre. Never are we very surprised by the love story plot, but rather by the themes embedded in that form. "Romance stories reveal the values that appeal to you," Truby said. "Love stories are the recipe for day-to-day happiness and the discovery of finding your greater self though loving another."
"Action," Truby continued, "is about justice, about being successful but not necessarily morally right."
"The crime genre is about the moral code we live within a society," Truby said. "How we handle our individual desires, in a world where other people have their desires too.
"The gangster genre is direct outgrowth of the Western," the author said, noting that gangster stories are the corruption of the American dream. "If you like the gangster genre you are most likely interested in the two engines of daily life, power and money."
If you enjoy reading or writing memoir, "these stories are less about the past and more about creating the future."
Each genre is a theme system.
"Theme" Truby said, "is the author's view of how to live in the world." Within the structure of the plot beats the writer creatively expresses their view of how to live -without preaching- but showing though the actions of a character's goal.
Stories become the framework of our lives.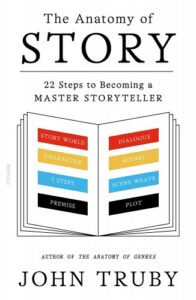 If you do want to write a book, Truby's advice is write with passion. Pick the right genre for your story ideas. If you have a great story idea for a screenplay, write it as a novel first.
With so many self-publishing options, you have a 100% control of getting it published independently and a great chance it will end up sitting on your shelf instead of in a drawer.
Truby's Palisades story starts in Santa Monica in his early days of poverty as a writer. At the encouragement of his friend Carol Ogden, whose family owned Ogden Cleaners, he bought his first house on Hartzell in 1987.
He sold that home and moved to Westwood for a few years, but then ended up back in Pacific Palisades for another 10 years in Rustic Canyon. This is when he met Leslie, who has two daughters.
Together they moved to Malibu for a brief period and then four years ago bought the house where they live today in Pacific Palisades.
Truby said he missed the Village and, "clearly all roads come back to Pacific Palisades."  Visit: Truby.com