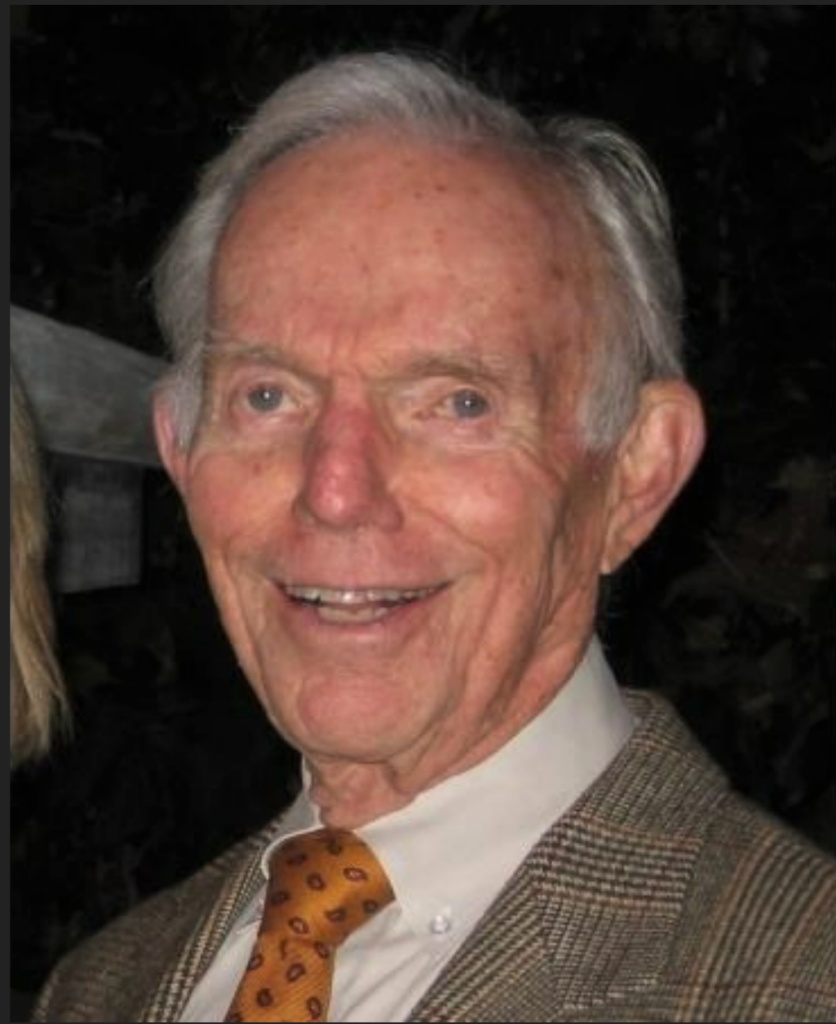 Clark Downing McQuay, 97, passed away October 15, 2021 in Pasadena, surrounded by his family.
Also known since childhood as Bud, and to his grandchildren as Grandad, Clark was born on April 7, 1924, in Alhambra to his parents Charles and Ginevra McQuay. He grew up in a close extended family and was particularly close to his sister, Dee Dee, and his cousins, LaVonne and Janyce, throughout his life.
After graduating from Alhambra High School, Clark served in World War II as an Army medic and was awarded a Purple Heart for wounds suffered while moving a wounded soldier from the front lines.
While a medic, Clark discovered his love of dentistry. Following his service, he attended the School of Dentistry at USC, graduating in 1950 with a specialization in orthodontics.
It was through one of his dental school friends that he met the love of his life, Audrey, whom he married in July 1950. Audrey and Clark settled in West Los Angeles, ultimately building their dream home in 1960 in Pacific Palisades, where they lived happily until Audrey's passing in May 2019.
Clark established his dental practice in Westwood, where he worked until 1980, when he moved his office to Brentwood. After retiring in 1985, he taught at his alma mater for several years and befriended many dental school graduates.
Audrey and Clark joined St. Matthew's Episcopal Church, where they were active parishioners and made many lifelong friends. Clark was a longtime member of the church's Vestry and in his later years served regularly as an usher.
He was also active in his children's lives as a member of the Board of Trustees of Westlake School and spent countless evenings attending sporting events and other school activities.
Clark was a loyal and cherished friend to many, many people and was active in several civic and charitable organizations, including the Pacific Palisades branch of the YMCA and the Westwood chapter of the Rotary Club.
Clark loved attending performances at the Hollywood Bowl and he and Audrey enjoyed their box on Tuesday evenings for more than 50 years. He was also a devoted supporter of USC athletics, particularly the football team. He was a season ticket holder for more than 55 years.
One of Clark's greatest joys came from being with his family – his children, grandchildren, great-grandchildren, nieces, nephews and family friends who he came to enjoy like his own children. Clark made everyone feel special and always took a keen interest in their lives.
An avid and accomplished gardener, Clark spent hours every weekend in his garden. He was a member of the Men's Garden Club of Los Angeles for many years and served as president during that time. He was best known for his cherished begonias, which were so beautiful that he and they were featured in the February 1986 issue of Sunset Magazine.
Clark and Audrey were active members of the Bel-Air Bay Club, where they enjoyed the beach and dining and spending time with friends and family. The couple were also members of the Los Angeles Country Club, and Clark was an active member, serving on the Membership Committee for more than 25 years.
Clark was predeceased by his beloved wife of nearly 69 years, Audrey. He is survived by his children Tim (Julie), Carolyn (Robert), Diane (Richard), Robin and Alison (Todd), his beloved grandchildren Colin (Annelise), Laura (Vlad), Cara (Sara), Kyle, Daniel, Tracey and Megan, great grandchildren Molly, Maxwell and Logan, his sister-in-law Marilyn and many beloved nieces and nephews.
A memorial service will be held at St. Matthew's Episcopal Church on December 13 at 4 p.m. Donations in Clark's name may be made to St. Matthew's Episcopal Church or to a charity of your choice.