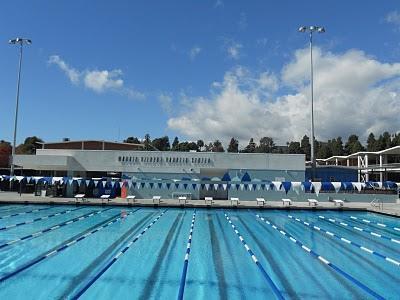 After posting a Musing on August 17 ("LAUSD HOLDS COMMUNITY HOSTAGE"), your CTN editor reached out to LAUSD Board Member Nick Melvoin. His Chief Advisor and District Director Allison Holdorff responded on August 19 that the pool and farmers market could reopen shortly.
"Member Melvoin was critical in advocating for Pali to reopen the farmers market," Holdorff wrote. "LAUSD has been working with PCHS to begin to reopen pursuant to county and state regulations. [This would allow the Maggie Gilbert Aquatic Center to reopen.] Also, Nick is bringing a resolution to advocate that the District open up childcare beyond LAUSD employees at our upcoming meeting on August 25."
The August 17 Musing stated:  
While other swimming pools are being allowed to open around Los Angeles County, the Maggie Gilbert Aquatic Center at Palisades High School remains closed. 
 In Culver City, people are allowed to preregister for 50-minute blocks of time to swim. Walk-in's and standby registrations are not permitted. Swimmers line up outside, maintaining social distancing. Prior to entry, temperatures are taken. Locker rooms and showers are closed (except for the restrooms) and people are urged to come dressed, ready to swim.
 Why couldn't PaliHi do that? The problem is that the Palisades High property is owned by the LAUSD and it insists on keeping the entire campus closed. 
 Similarly, why couldn't PaliHi rent out its stadium parking lot so that the farmers market can return, using the same Covid-19 steps that all farmers markets are using.
 The people who fought to keep the YMCA pool in Temescal Gateway Park open were right when they argued that keeping the pool closed would leave the community subject to LAUSD. control of the Maggie Gilbert pool.
 Okay, Pacific Palisades Community Council, time to meet with LAUSD and ask why action can't be taken to re-open the pool and bring back the Sunday farmers market. This is absolutely not about teachers or students, this is about being a good neighbor. 
Circling the News received a thoughtful letter from a reader the next day, pointing out that the pool and the farmers market are not the only thing LAUSD has shut out. The letter stated:
"Licensed childcare programs have never been ordered to close during the COVID-19 era.  In fact, they were encouraged to stay open by the LA County Dept. of Health to help take care of essential workers' children. LAUSD has many licensed programs on their campuses and all of them had to shut and still remain closed.
"All of the Palisades Complex of schools have licensed childcare through STAR Education. STAR has been running a safe and fun summer camp in the Palms area and at the STAR Eco Station, so there is experience in following the COVID-19 safety guidelines. Local families have been asking for assistance with childcare needs now that school is starting up with virtual-only learning and STAR would love to be open to help.
"Renting commercial space is expensive though, and in a town like the Palisades almost impossible to find. The only way to make the program affordable is by being allowed back on the LAUSD campuses (and hoping they don't raise the leasing prices exorbitantly). Other school districts in California have allowed their licensed childcare programs to remain open so there is precedence for this to work.  STAR has programs that have been open in Sacramento the entire time.
"STAR is not the only childcare program in Los Angeles in this position. If all of the licensed childcare as well as the After School Safety and Education programs (ASES programs are grant programs where LAUSD partners with an organization such as STAR to provide safe and enriching programs during non-school hours at schools ) were allowed to open, think of how beneficial that would be for Los Angeles families?
"LAUSD Board members are aware of the childcare need and this issue has been brought up at LAUSD Board meetings, but nothing seems to be changing.  LAUSD insists on keeping facilities closed. I know they will probably say it is a liability issue. How is it that the other school districts have managed to get around the liability issues? With all the LAUSD lawyers, one of them must be able to come up with a solution.  My grandson's district in the Bay Area is another example of districts allowing childcare to open even while the school remains closed.
"Another argument that I am sure the District will throw out is that the positivity rate is higher in LA than the other Districts. But then why does the LA County Dept. of Health keep saying that childcare can be open, saying it is essential, and in fact just put out new guidelines a week or so ago?"