Madame Pamita Reads the Tarot Cards
If you take a 10-year-old child to a Salem, Massachusetts souvenir shop and tell them they can select one item, they might choose jewelry, a book or even a stuffed animal.
Not Pamela Moore, known today as Madame Pamita, who chose a deck of tarot cards. She had no idea what the cards represented and had never had a reading, but they seemed mysteriously magical.
Fast forward decades and the Santa Monica resident is now regarded as one of the top tarot card readers in the country.
Most of Madame Pamita's upcoming summer is booked with conferences, in which she will discuss and teach the finer points of the ancient art to students in Dallas, Denver, Boston, Tacoma, Boise and Salem.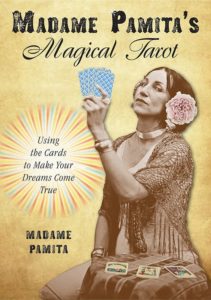 Her book "Madame Pamita's Magical Tarot," published by Red Wheel Weiser in 2018, is available at Amazon.
How do you go from a 10-year-old with a deck of "pretty" cards to becoming renowned in tarot?
"I was always interested in the mystical and magical," she told Circling the News in an interview. She explained that while attending Lincoln Junior High School, she discovered books by Sybil Leek (the English astrologer, occult author and self-proclaimed witch and psychic), which she read. "I was always intrigued with divination and magic."
Pamita played with the Tarot cards with friends, while attending Saint Monica's in Santa Monica. "We'd look in a book to see what things meant—and we did it for each other," she said.
After high school, she started at Santa Monica College and transferred to Loyola Marymount, where she graduated with a bachelor's degree in communications.
Pamita got her first professional Tarot reading when she was in her 20s from a woman in a coven in Topanga Canyon.
"It was definitely on point," she said. "I found a teacher and started studying magic." But she wasn't public about that side of her life until music brought her to Tarot.
She was the bass player in an all-female band, The Neptunas, then married and had two boys.
She continued with music with another band, Cheap Chick, but it was only when she started a third band that Tarot intertwined.
"I got into blues, early jazz and folk music from the turn of the 1900s into the 1930s," she said, noting that she learned to play banjo, ukulele and the autoharp. "We created a vaudeville-like show and called the band 'Madame Pamita's Parlour of Wonders'."
She had a different song associated with each tarot card. A member of the audience would select a card, have a fortune told and then the band would play the song represented by that card.
"It was fun for the band and the audience," she said. "That's how I 'came out' with Tarot cards. After the show, people would ask, 'Oh, can you do a real reading?'"
Tarot at one time was not mainstream, but Pamita said that now "People are accepting. It's been open doors."
How did her children, now young adults, adapt to their mom's unusual occupation of band member and tarot card reader? She laughed, "They went to 'hippie' schools, so no one gave it any thought."
But more seriously, Pamita said that "I've been in bands since they were small, so it's normal for them."
She initially had a small metaphysical shop in Santa Monica until moving to Highland Park with a friend five years ago. About 90 percent of her business is now mail order (she offers spells, candles, herbs & curios, oils, mojo bags and bath crystals).