Dr. Arash Hassid, director of the SoCal Foot and Ankle Center, was guest speaker at the Palisades Alliance for Seniors meeting on Monday at the library. Part 1 ran on September 27 and covered toenail fungus, plantar warts and corns. Part 2 continues today.
BUNIONS:
A bunion is an abnormal, bony bump that forms at the joint on the base of the big toe. "Bunions are heredity," Hassid said, noting that if you have flat arches, you are more likely to develop bunions. "The bones drift apart between the first and second toe."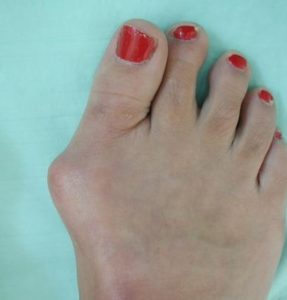 A bunion won't go away on its own and can worsen with age. In surgery the bone is aligned. "We try to prevent surgeries," the doctor said, noting that maybe a different shoe will take pressure off the joints.
ATHLETE'S FOOT:
Hassid said this condition is common and is caused by a fungus typically found in the soil (dermatohytes) that spreads in moist environments such as gyms, hotels and pools.
"There is peeling, redness and itchiness," he said. "Avoid contact with moist surfaces."
He recommended using poly-blend socks that wicks moisture away from the foot and to change one's shoes every day. "If you have an opening in your skin, you are more likely to catch it, but it can be caught, without an opening," he said.
PLANTAR FASIITIS:
Plantar fasciitis can cause intense heel pain and is often most intense in the morning.
"It occurs when the tissue attached to the heel bone becomes strained," the doctor said. He recommended walking (even if it hurts), stretching one's calf muscles and wearing the right shoes, with arch supports. This condition will not show up on x-rays.
The doctor was asked, "Does too much stretching make it worse?"
"Yes," he replied. "It needs to be eased in."
FALLS/EXERCISE:
Hassid said there are 26 bones in a foot, lots of joints and lots of surface. He stressed the importance of proper shoes and wearing socks. Foot conditions such as flat feet should be treated when people are young, because "you can prevent problems that arise when you're older."
"The most important thing you can do is exercise," Hassid told the audience. "Shoes are the second more important thing. Most people don't know about a podiatrist's role in preventing falls."
A podiatrist can check gait and look for foot problems that may cause a senior to suffer a fall. A June 4 JAMA article stated that death rates from falls for U.S. adults age 75 and older more than doubled from 8,613 in 2000 to 25,189 in 2016.
DIABETES AND ONE'S FEET:
"It's a good idea to have an annual foot exam, especially if you have diabetes," Hassid said, noting that if you have been diagnosed pre-diabetic, you fall into the diabetes category and need an annual foot exam.
Diabetes causes nerve and vascular damage, and many foot problems such as bunions, corns, calluses, hammertoes, fungal infections, dryness of skin and ingrown toenails may likely occur.
HERBAL SUPPLEMENTS:
An audience member wanted to know if braces/herbal supplements advertised in commercials for different foot ailments are helpful.
"There are no miracle inserts or drugs that make a condition go away," Hassid said. "These are false assertions and people need to be educated.
"I personally think our association (American College of Foot & Ankle Surgeons) should go after these cons [ads]," Hassid said, noting that no one has done extensive scientific research on herbs and "they are not scientifically backed."
He recommended against buying over-the-counter bottles of herbs because "More than 90 percent [in some cases] of ingredients have been found to be incorrect. They [the company] can make false claims and no one is going after them. I'm anti-pills for herbs because you don't know what's in them."
Hassid completed a three-year foot and ankle surgical residency at the Veterans Administration Program, West Los Angeles and the UCLA, Olive View Medical Center. He received his bachelor's degree from UCLA in psychobiology and his medical degree at the California School of Podiatric Medicine, Samuel Merritt University in Oakland.