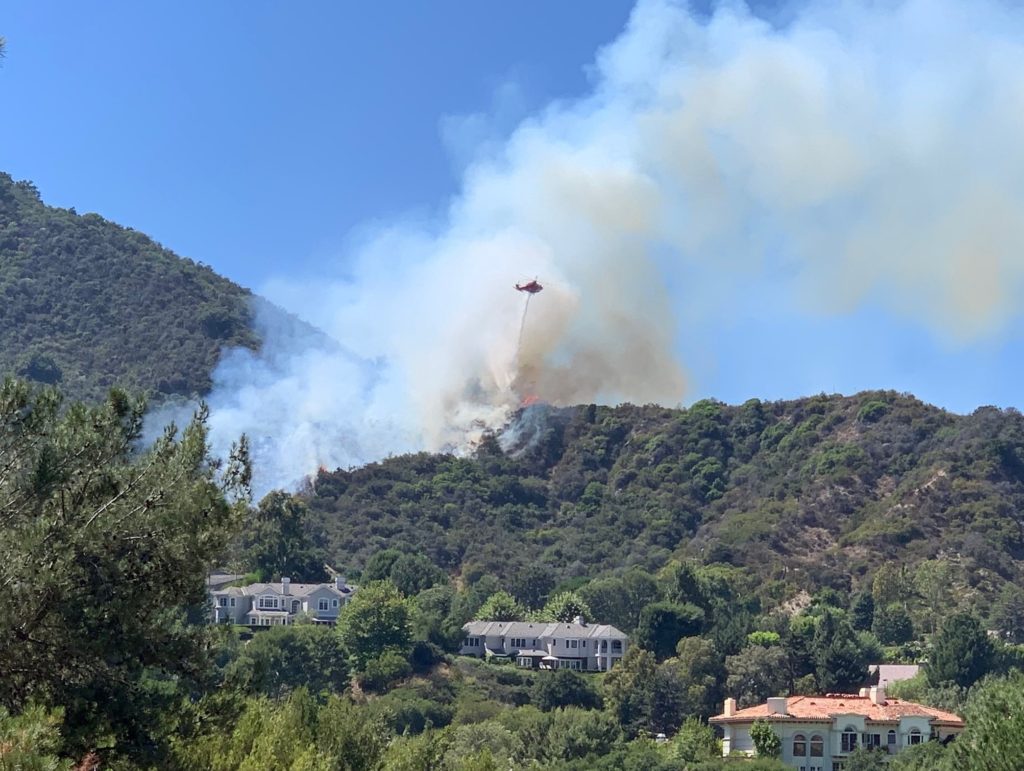 Quick Reaction from L.A. Fire Department
A brush fire was reported around 2:16 p.m. on the western-most region of the Highlands. According to the Los Angeles Fire Department, the preliminary report was "One and half acres of brush burning uphill in medium to heavy brush."
There was an immediate response from Fire Station 23 and Battalion 9, an air response and firefighters from (BC18 BC4 BC9 CE59 CM42 CW3A DT2 DZ12 E105 E109 E23 E263 E269 E290 E462 E59 E62 E63 E69 E84 E88 E94 EM17 H1 H4 H5 HA1 HA4 HA5 HE1 HT1 HU59 PI1 PI3 RA59 RA69 RA90 RT59 T63 T69 T90 TP1).
At least five helicopters were dumping water on the fire on the hill – after filling at the Highlands reservoir.
According to the second release from LAFD: "Air and ground crews have knocked down most of the active flames in the brush fire that burned uphill and away from the nearby homes. Crews continue to work to completely eliminate all hot spots in the area that is estimated to be just over 2 acres."
Around 5 p.m., LAFD released the following statement "The forward progress of the fire has been stopped at approximately 5 acres. Fortunately, the fire conditions were favorable with 9 mph wind, 69% humidity, and 71-degree temperatures; and firefighters acted quickly by air and ground to keep this fire relatively small. No reported injuries. Cause of the fire is under investigation."
Residents who signed up for the L.A. City Emergency Management Department alerts, were given all of the above data and also told to go to LAFD.org/alerts for more information.