Story and Photos by MARYAM ZAR
Special to Circling the News
(Editor's note: Maryam Zar, a former Pacific Palisades Community Council Chair, a member of the Design Review Board, a City Commissioner on the Status of Women and a member of the Park Board, visited a Greek refugee camp for the Azadi Project. The Azadi Project provides digital economy job skills to refugee women by teaching them technical expertise such as multimedia communications and storytelling at refugee shelters.)
I spent two weeks at a refugee camp on a Greek Island called Lesvos, just a few miles  from the Turkish coastline. Driving up and down the coast, at times, I thought I was back home. The road along the Mytilene coast is curvy like Malibu, and the Turkish land mass just a few miles away, looks a little like Catalina off in the distance.
Then I would remember I'm in Greece visiting a refugee camp, where humanity is imploding under the weight of overcrowded misery and the host government of Greece is at its wit's end trying to deal with a refugee inflow that remains unabated.
The sea watch outpost I had gone to visit is called Lighthouse Relief. They have look-out points facing the Turkish landmass from which they patrol the waters with high-powered equipment designed to detect a tiny dinghy perilously making its way across choppy waters, often overloaded with people desperate to get to shore.
The dinghies are small rubber boats that often take in water during the crossing and are carrying people who do not swim.
Not all the life jackets float, and not all the boats are equipped for the voyage. Those who serve as captains steering the boat are usually first-time sea goers with no navigation skills and no familiarity with water borne vessels of any kind.
The entire trip is a huge "Hail Mary" that only the most desperate people on earth are willing to make; but they come – hoping for a safe landing and a dry welcome on the other side before they are led to an overcrowded camp named Moria.
Moria was initially an open-air detention compound built for 3,000 people, just outside a small farming village by the same name. As the camp grew out of its barriers, refugees set up tents and makeshift boxes as living quarters in the olive groves surrounding the detention coumpound.
The local landowners are displeased and running out of patience. Protests have erupted from Moria all the way to the island capital of Mytilene, and still, no relief is in sight. The camp was re-purposed a decade ago to deal with the influx of refugees into Europe – holding them in a temporary place. Since then, a steady stream of people largely (certainly not exclusively) from Afghanistan, Ethiopia and Syria have come to Moria.
The camp is unfit to serve the ever-growing population.
The water tank can't serve the more than 20,000 people who now subsist in Moria; the electricity breaks down more often than it functions; trash accumulates faster than it can be collected; the bathrooms are fetid and putrid with overuse; and the shower stalls would resign anyone from a shower.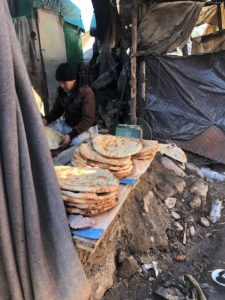 Food is distributed through a daily series of long lines that can last up to four hours per meal, and rarely do the people in the back of the line get any. The process is a brutal 21st Century survival of the fittest.
One of the women in our program is married to a burly Afghan man who had recently taken it upon himself to bring order to the food lines. While we were there, he was beaten by other refugees who wanted more than their share. They couldn't understand why he insisted on fairness.
When I met him, he was nursing a broken nose after the mele. His wife has been experiencing seizures from the stress of refugee life. Health care is sparse and can only be accessed at the end of a day-long line which usually culminates in a wave-off as more urgent circumstances parade through overwhelmed urgent care centers set up by NGOs. Life dangles between chance and the random distance between good and bad fortune on any given day.
While I was there, I noticed that so many of the ills these people faced could be solved by a quick run to Walgreens.
I asked by Bosnian driver to take me to a pharmacy where he thought someone might speak English. He took me to the perfect place: an orderly little store front with a stocked pharmacy run by a young Greek pharmacist, fluent in English.
While there, I met a Dutch ER Doctor who was in town serving one of the Médecins Sand Frontier clinics. She agreed to put the name of one women in our program,  who was suffering a terrible infection, on the clinic list for the next day. If she got in, it would be a small victory for one person among 20,000. I felt guilty, but swallowed hard and took the favor.
I then purchased all that I could by way of remedies and supplies to deliver to the local women's center run by a small NGO near the camp, where people come to take a variety of ad-hoc classes offered by a group of multi-national volunteers doing what they can. Like a UN of aid, they offer gardening, yoga, cooking, Zumba, language, photography and more.
My bag of basics that day served as a portable infirmary of sorts for a few days, during which we cured an eye infection, a skin rash, a yeast infection, a sore throat, a couple of fevers and a burgeoning cold that benefitted from vitamins and antihistamine. It was that easy – me, my check card and a small pharmacy in the capital of Lesvos.
I'm now back in the States and wish to set up a pharmacy that is just one bus stop from the camp. I will stock the store with basics from headphones to vitamin C and everything in between. I'd love your help. You can send me gift cards from your favorite pharmacy or Target, or make a donation of any of the items below:
Neosporin
Bacitracin
Any kind of antibacterial ointment or rub or spray
Cortaid (or any generic substitute)
Antihistamine (of any brand)
Monistat or any yeast infection remedy/ointment
Nuts (packaged)
Wrist and thumb brace (for mild sprains)
Warm and Cold Packs (for aches or cramps)
Vitamins (of any sort)
Cold medicine
Cough syrup or cough drops
Sanitizer
Soap
Face wash
Charger cables (of all sorts)
Creme (face, hand and/or body)
Toothpaste
Toothbrush
Power bars
Granola bars
Orange juice concentrate
Hot chocolate mix (powder or syrup)
Honey
Diapers (and diaper rash creme like Desitin or Aquaphor)
Wipes
Sanitary pads
Shampoo
Sun Screen (kids have face burns from sun exposure outdoors)
Cell phone power banks
Items and gift cards can be dropped off at the Palisades Recreation Center, 851 Alma Real. For more information, email: maryamzarjd@yahoo.com.
…Thank you for your compassion — from our coast to theirs.