A new pizza establishment Flour Pizzeria & Café is sharing space with Estate Coffee on Via de la Paz.
This editor was given a slice of rosa, the house specialty. It had Parmesan and burrata cheese, and hot honey with a touch of basil. It was so good, so good . . . . one slice was not enough.
The crust was exceptional, called "tonda", which means its thin and crisp, not gooey and heavy. For people who love a good New York pizza, this place hits it out of the park.
Other slice choices include margherita (cheese), bianca (white pie with no sauce), pepperoni, truffle and a rosa, which has sauce, but no cheese.
Flour Café owner Robert Flutie said they had a soft opening the last week in April. The café officially opened on May 5.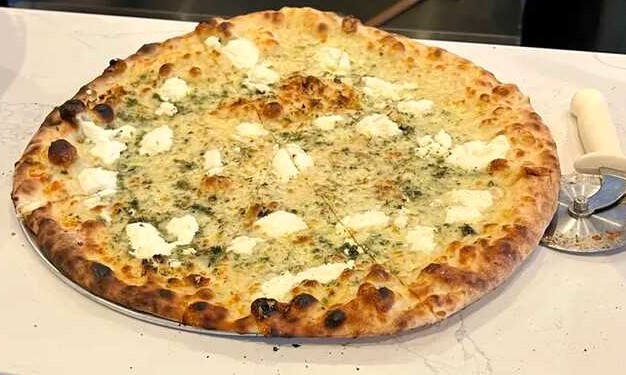 In that location at 847 Via de la Paz, "We will still provide the same wonderful coffee, pastries and breakfast items that were offered by Estate," Flutie said. "We simply expanded to include pizza."
Starting in June, there will be sandwiches with fresh baked bread.
Flutie and his family moved to the Palisades 20 years ago from New York City, so he could run the LA office of Flutie Entertainment.
Even as he has been "hands on" in the opening of the café, Flutie continues to partner with major consumer and celebrity brands as a brand strategist and accelerator and is hired to create multiple business verticals with Flutie Entertainment. He is preparing for a May 26 launch of a line of cookware and packaged foods on Home Shopping Network with a celebrity chef from Food Network.
"When I was growing up in Floral Park Queens, one of my fondest memories was getting $5 from my mom on Fridays and going to Lorenzo's Pizzeria on Union Turnpike," Flutie said, noting that was enough money for two slices and a drink. "My friends and I would sit and bond. Pizza parlors in New York City during the 70s and 80s (and today) were places where kids/teens could sit and share stories."
Pacific Palisades lacked that kind of venue.
Flutie said that after sports games or dance recitals, or even school events, his three children Alexander, Catherine and Ava attended Corpus Christi, there wasn't a place for families and teams to go and just hang out.
"Jacopo's was the closest thing there was and when that closed there was void that was never filled," said Flutie, who refereed AYSO soccer and coached baseball for PPBA.
In some ways opening the pizzeria and café was the realization of a 20-year-dream. "It was my way of pulling together all of my wonderful memories and experiences and bringing it to life," he said.
Flutie started looking for a location for this business before Covid. "Chris Soffer and Arman Mahmoodi, who are now my partners, negotiated a space on Sunset by Noah's Bagels," he said. "Then, the landlord withdrew the letter of intent, stating that he wanted a 'national brand' in the space.
"It upset me but deepened my resolve. I felt our community has become overrun with flashy national brands that continued to erode the spirits of family and friendships," he said. "Chris and Arman 'went out of the box' and began to search for not so obvious opportunities. They reached out to Rick Cunningham, who owns Estate."
Flutie and son Alexander, who is a Palisades High School alum and has a sports card business in New York City, met with Cunningham and pitched him the concept. "He immediately saw the vision and we formed a partnership," said Flutie, who is the president of Flutie Entertainment.
"We are still trying to dial in the prices of our individual pies based on cost (a large pie is between $20 and $30, depending on the kind). I know there are other pizza places in town that are more expensive, but we are committed to a lower price point, so not to price out families and kids," he said. "Just because you can get $30 for a cheese pizza doesn't mean you have to charge that."
For $9, a person can get two slices and a drink at the Flour Pizzeria. "It's today's version of what I would get at Lorenzo's in Queens," Flutie said.
Alexander joins his dad with this business as the chief marketing officer. Flutie's daughter Catherine will graduate from U of Wisconsin at Madison with a master's degree and then marry Ben Ogulnick, who went to PaliHi. Ava is at the University of Oregon at Eugene.
"We've enrolled several young entrepreneurs into the partnership as a way of solidifying the community-based commitment," Flutie said. "Kids that I coached in soccer, baseball or are friends of friends of my children have invested in Flour.
"My vision is to create a business where future generations are vested in doing what we can to preserve the essence of the Palisades," he said. "We have invited local business owners and leaders whose children grew up in the Palisades, such as Leslie Aronzon and her son Max, and Marco Rufo, and his daughters Olivia and Alexia, to be part of the fabric we have woven at Flour Café."
The establishment will be open from 7 a.m. to 7 p.m., Sunday through Thursday and 7 a.m. to 8 p.m. Friday and Saturday. To place an order call (424) 330-0220.
"We are offering customers a 20 percent discount on their next order if they post and follow us on Instagram," Flutie said. The Instagram handle is @flourpizzeria and the website is flourpizzeria.com.