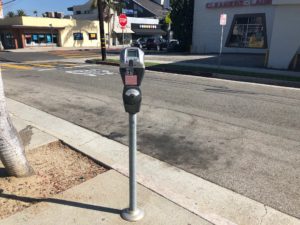 Question: Wasn't Pacific Palisades supposed to receive at least $50,000 from parking meter revenue?
In a February 7 news blast, Councilman Mike Bonin said: "I am very happy to report that Pacific Palisades will be one of three areas where this pilot program will be launched, meaning that a minimum of $50,000–and likely more–will be available for the Pacific Palisades BID to spend on local mobility improvements, like street and sidewalk repairs, wayfinding signage, or on streetscape and community beautification efforts."
Answer: Almost a year later . . .the money promised has not been received because the Councilman's office has not yet hired someone to oversee the funds.
Question: Why wasn't Temescal Canyon Road repaved this past year?
Just below the Palisades High stadium on Temescal Canyon Road (by the stacked wood) is a pothole that is about four feet long, by a foot wide, by five inches deep. It is in the slow lane. A small barrier to warn motorists had been placed in front of the hole, but someone had knocked it over by 8:30 a.m.
Circling the News sent an email to Councilman Mike Bonin's office on June 19, "Temescal Canyon Road is one of only four roads in and out of the Palisades. It is heavily traveled. There are potholes and the pavement is coming up in areas. City workers, who specialize in street repair, say it should be redone.
Answer: Need is not a requirement, rather the road must be on the City's list to be repaved. The roadway continues to deteriorate.
Second Answer:  If you hit a major pothole on a road, unless that pothole has been reported to the City, you will not be able to collect damages.
Call 311 Monday through Friday from 7 a.m. to 7 p.m. or call the Bureau of Street Services between 7 a.m. to 3:55 p.m., Monday through Friday (800) 996-2489. There's also an online service request and comment form (visit:bss.lacity.org/resurfacing/potholes.htm).
Question: Why aren't there any more reasonably priced women's clothing stores in Pacific Palisades.
A chain clothing store, Brandy Melville, is the latest business to open in Caruso's Palisades Village. The store does not carry different sizes, but instead offers one-size-fits all clothing. According to LDNfashion, a fashion guide to London, the one-size is designed to fit a UK size 4-6.
Answer: The clothing, which targets tweens and teens, is relatively inexpensive with the tops retailing at $16 to $32; the jeans are in the $40 price range and the dresses run $26 to $38. The typical "Brandy girl" is Californian, blonde, thin and popular, according to LDNfashion (a London Fashion guide). If I'm not popular, can I still shop there?
Question: Why does Circling the News get the Bocce groundbreaking wrong? CTN queried who would perform maintenance on the Veterans' Gardens/Bocce project once it was completed and received a letter from a reader titled "Yellow Journalism: Back in the Palisades!"
It read: "A last thought: your headline: 'Bocce Groundbreaking Now Predicted in April.'
"You and I have discussed this. I know you don't like this project. From the very start you have classified it as a bocce boondoggle. You completely ignore the veterans. You, who have supped at our table, taken our confidence! You give that short shrift over and over again. How about, for once, climbing down from your holier-than-thou, I know the "truth" attitude–I'm a journalist, after all–and try reporting facts–not your opinion?
"This is a project dedicated to recognizing veterans, their contribution to who we are as a Nation, their sacrifice, their commitment to the values we veterans hold dear, and the meaning of that to this community, its people, its veterans.
"You have never understood it is not living rooms; it is not gardens; it is not bouncy house; and it is, most certainly, not bocce. They are an environment, an opportunity to remember the point: It is Veterans! Get it right, for once!"
Answer: The photo op for the Veterans' Gardens (and bocce courts) groundbreaking was held on December 7.   (Visit: veteransgardens.net)
Question: Who won the Genesis Open?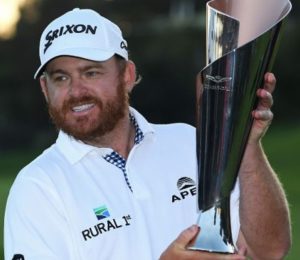 Answer: J.B. Homes captured the contest at 14 under, winning $1,332,000 and a Genesis Car.