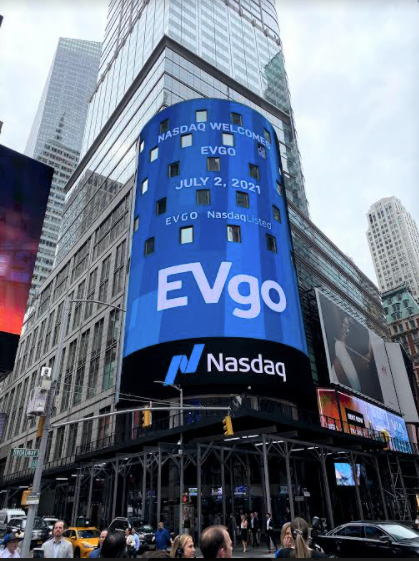 The nation's largest public fast-charging network for electric vehicles, EVgo, went public on Friday, July 2. Employees participated in ringing the bell at Nasdaq headquarters in New York City.
After completing a business combination with Climate Change Crisis Real Impact I Acquisition Corporation (CLII), where that company changed its name to EVgo Inc., the company began trading on The Nasdaq Global Select Marking under the symbols "EVGO" and "EVGOW."
Among those Palisadians employed by EVgo are Shelby Pascoe and Nell Oliver.
At the ceremony, EVgo, Inc. CEO Cathy Zoi said, "I appreciate every employee, partner and driver that has positioned us to achieve this important step in our company's history. With our new public platform, we are armed with greater resources and are more motivated than ever to make it easier for drivers to go electric through the continued expansion of what is already the largest public fast-charging network in the country."
Founded in 2010, EVgo, has more than 800 fast-charging locations in 65 metropolitan areas across 34 states and more than 250,000 customers.
Customers can sign up and pay per charge or choose a monthly prepaid charging plan.
The company has paved the way to allow electrical vehicles the ability to charge when customers are away from home. Chargers can be found at shopping centers, gas stations and even the Culver City Veterans Park.
EVgo fast chargers offer 50kW or greater and can charge any EV that accepts a fast charge, including Nissan LEAFs, BMW i3s, Chevrolet Bolts and even Tesla Models 3/X/S/Y.
EVgo has chargers all over LA. The closest EVgo chargers to Pacific Palisades are at 1050 Frederick Street (Venice), Chevron at 2400 Lincoln Boulevard (Venice) and the Chevron at 10867 Santa Monica Blvd
The company is rapidly expanding across the U.S. New locations are often announced on their social media accounts such as Twitter, LinkedIn, Instagram, YouTube, TikTok, and Facebook. (Visit: EVgo.com)