1. A Ballot Is Addressed to an Adult Child No Longer Living at Home
On Sunday morning in the village, Circling the News ran into long-time resident Sam Lagana, a 2012 Sparkplug Award winner and Associate Vice Chancellor at Pepperdine University.
He said that in early October he had received a voting ballot at his home for his daughter, who no longer lives there. He immediately contacted City Councilman Mike Bonin, who contacted Dean Logan in the L.A. County Registrar of Voters.
"Mike gave me permission to post what he had received from Dean," Lagana told CTN in a follow-up email.
Logan said: "Yes, given the expansion of vote by mail to all voters, we are getting more feedback such as you reference. We did send out an address confirmation mailing in August, but I think the ballots themselves are getting more attention — understandable given the national narrative."
Lagana was advised to do one of two options: 1) mark it "No Longer At This Address" and put it back in the mail for return to the L.A. County  Registrar of Voters office (no stamps or anything, just put it back in the mailbox); or 2) take a picture of the mailing label side of the envelope and email it to: mediainfo@rrcc.lacounty.gov with indication that the person is no longer at the address.
Lagana was told that the County would then update the records.
"My idea is maybe do both!!!!" Lagana said by email to CTN. "Thanks to Mike Bonin for getting an answer so quickly and a responsive action.  Teamwork makes life better. Now let's jump on this and solve the issue.  Let's get everyone to do the right thing."
2. A More Professional Look: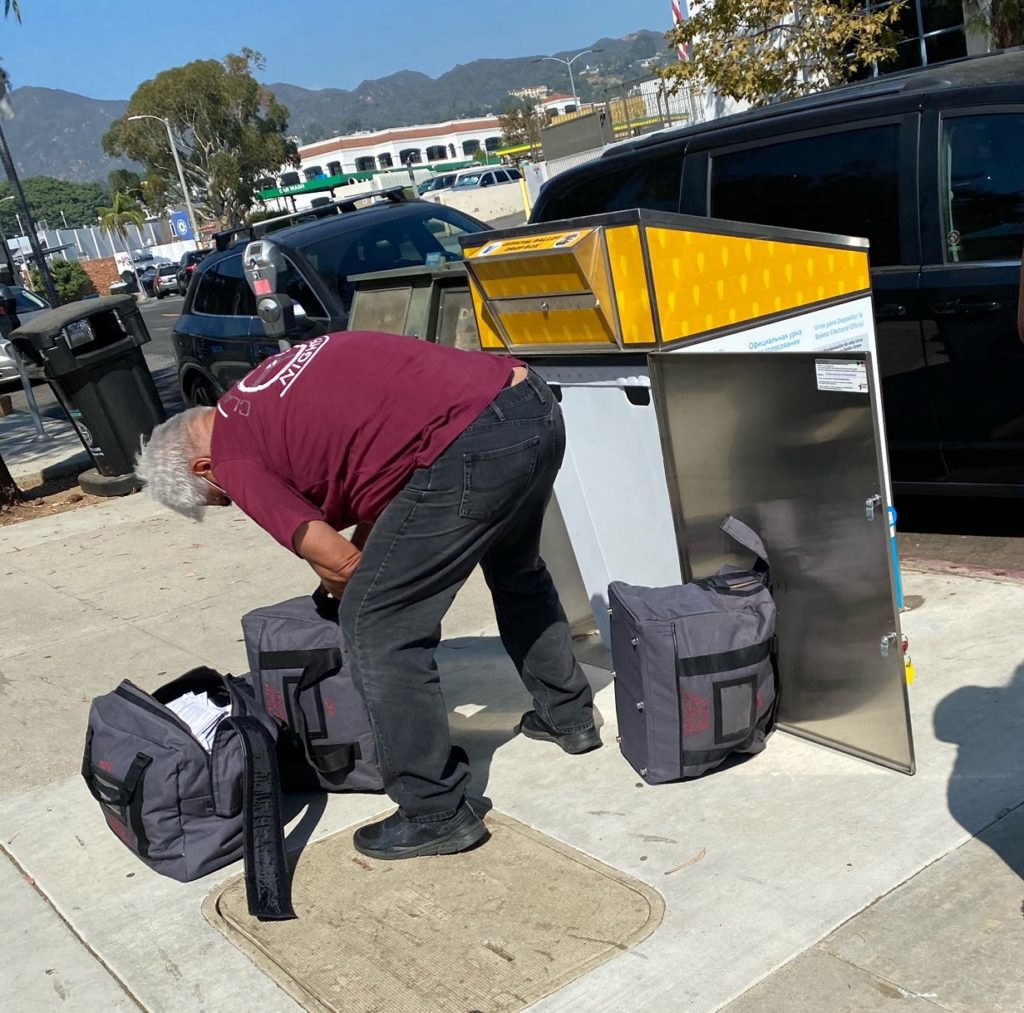 A Circling the News reader sent a photo of the person emptying the "official" voting box in front of the Palisades Library on Alma Real.
"I'm not sure how I feel about the likelihood of my vote being counted. I especially liked the taped sign on the minivan: "Election Supplies."
Apparently, people have been hired to empty the boxes, load them in cars/vans and deliver them to the L.A. County Registrar's office.
If residents are worried about delivery security, via the boxes or U.S. Mail, the Palisades Recreation Center small gym will be open October 30 through November 2 from 9 a.m. to 8 p.m. and on election day, November 3, from 6 a.m. to 9 p.m. A ballot can be dropped off at this center.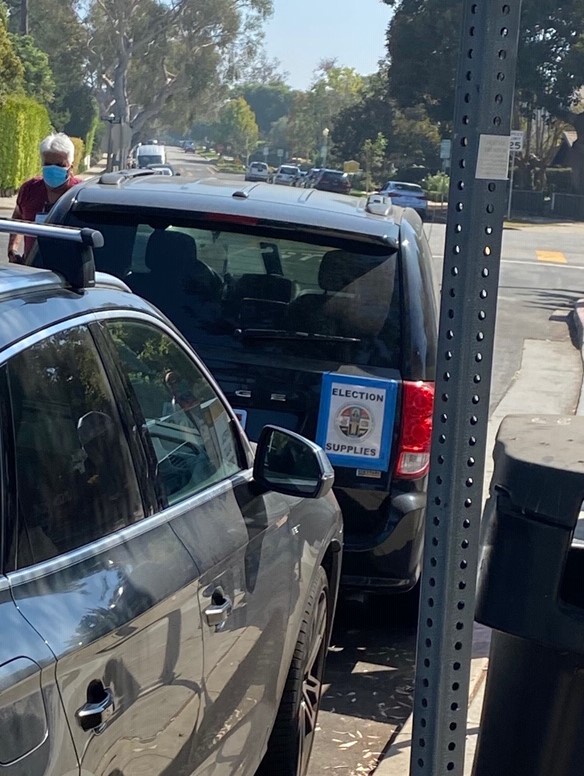 Finally, Just Vote: Ernest Marquez Leads the Way
Despite the risks associated with being 96 years old during a pandemic, Ernest Marquez wanted to vote in person. The compromise was the official drop box at the library [Woodland Hills] where he could see the camera focused on the box. And yes, he made his choices on every single item. Democracy in action.