In March, Governor Gavin Newsom granted Rodney Patrick McNeal's clemency petition commuting his sentence and making him eligible to go before the parole board.
The board granted parole to the man who had been sentenced to 30-years-to-life on May 3, 2000 for the 1997 murder of his wife and unborn child.
Liquid Pictures, a company that supported the California Innocence Project's efforts to exonerate McNeal, states on its website, "Patrick is a black man and his wife was a white woman, so when the police arrived and found Patrick at the scene of the crime they assumed his guilt."
Circling the News believes that Newsom did not do his due diligence in granting clemency.
Debra Black Crow, 39, a nursing student, was an enrolled member of the Oglala Sioux Tribe in South Dakota and had four children.
She was born in Wyoming in 1958, the daughter of an Arapaho mother and a Lakota father. She was the middle child of seven girls and eight boys.
Although English was the family's primary language, both parents were fluent in Arapaho and Lakota. They moved to a small home on the Pine Ridge Reservation, where Debra attended high school.
A petite young woman, she ran cross country and tried out for the Plains Indian Pageant. She graduated in 1977 and moved to Oklahoma to study to be a nurse. She met the father of her first child there. He wanted her to get an abortion, but when she refused, they broke up and she moved back to South Dakota. Her first daughter was born in 1980.
Debra's second husband was in the Air Force and they moved to California, where a second daughter was born. Three years later they moved to Nevada and in 1988, the same year a son was born, the two separated. They reconciled a year later and another child was born in 1990.
A divorce followed, but while her ex was stationed in Korea, Debra lived with the children.
She met Rodney Patrick McNeal, a San Bernardino probation officer, when she was living in a two-bedroom apartment in Las Vegas in 1995. Less than five months later they were married.
Almost instantly, there was domestic violence in the household. Now grown, Debra's daughter said that she and her siblings (ages 6 to 15) witnessed this domestic violence in the home.
The daughter said Debra made excuses for McNeal, saying "He didn't mean to."
The three girls went back to their dad because they said they did not like their new stepfather. Marcus stayed with his mom.
The California Innocence Project (CIP) admits that "Patrick and Debra's marriage had been rocky at times, and police visited their home following domestic disputes at least twice in the months leading up to Debra's death. According to a 2009 court document, a San Bernardino County deputy sheriff went to their residence in December 1996 after a domestic-disturbance call. Patrick and Debra appeared upset at each other, but no arrest was made, although two handguns were taken for safekeeping. In January 1997, a deputy responded to another domestic disturbance, after Patrick reportedly took Debra's purse to prevent her from leaving."
Debra, who was seven months pregnant, had told her children that she was preparing to leave Patrick.
Around noon on March 10, 1997, Debra was strangled, beaten, stabbed, drowned and doused with chemicals. She was discovered by her husband.
Days after his wife's death, Patrick McNeal tried to collect on a life insurance policy for $100,000, for which he was the sole beneficiary.
The timing of Patrick trying to file for the money so soon after his wife's death alerted the insurance company and law enforcement that more investigation was needed.
His ex-wife, Amber, professed McNeal's innocence. She had caused financial problems for Patrick and Debra during their marriage. In a card Debra sent to her children, she wrote: "Patrick's girlfriend has us for almost half his income, so money is going to be short and in between until he gets a better paying job." Debra worked fulltime at the San Bernardino County Hospital and also at the Women's Health Association of Southern Nevada.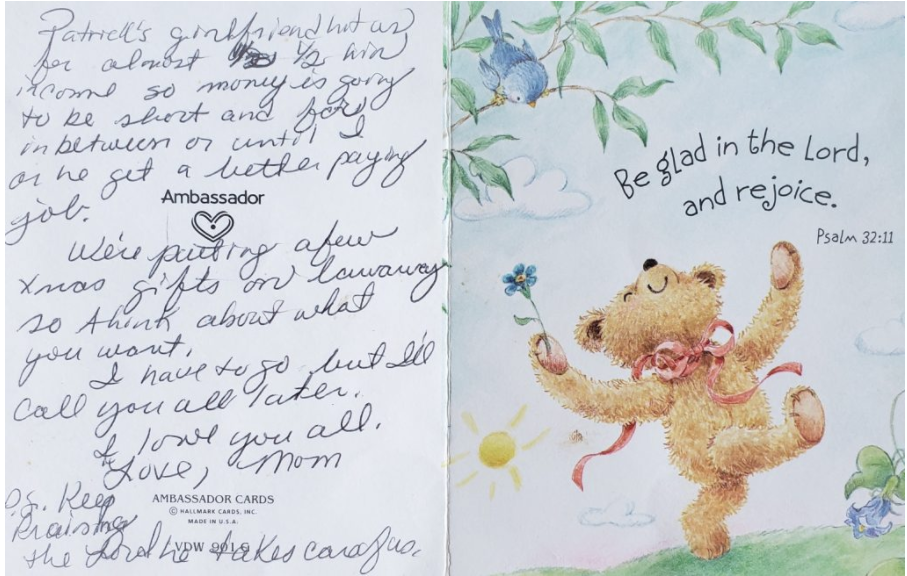 In 2000, Patrick was convicted and sentenced to 15-years-to-life in prison for the killing of Debra, and a second consecutive sentence of 15-years-to-life for the killing of the unborn child, Samara.
Oglala Sioux Tribal President Julian R. Bear Runner wrote to Newsom in August this year, "The case was presented to a jury and McNeal was found guilty of two counts of second-degree murder. Since the day of the murder the defendant has shown no remorse. He continues to deny his involvement and has now attempted to blame it on his own brother. This case has been presented before an appellate court and they found no evidence of his brother's involvement. At the time of the murder he [McNeal] was a probation officer and has continued to manipulate the system, getting the Innocent Project involved and anyone else who will listen. He continues to manipulate the justice system.
"We are asking you as a voice for the victims, and the community, that justice calls for him to serve his two life terms."
The San Bernardino District Attorney also wrote in an October 30 letter to Newsom that Patrick "A former peace officer who is a sophisticated, calculated, double murderer who has never taken responsibility for the crimes should not be released on parole by you." The District Attorney writes that while in prison, Patrick was guilty of possessing contraband cell phones and narcotics and that he never accepted responsibility for his wife's death.
In the September 28 issue of Last Real Indians ("California Governor Commutes Sentence of Murderer of an Indigenous Woman, Family Demands Justice), they wrote: "When the daughter and her family confronted the California Innocence Project, (CIP) patronized Debra's family as if the family was not able to understand their 'lofty goals.'"
When Debra's daughter asked them to look at the evidence CIP had that showed Patrick was innocent, "CIP told her they had invested too much to back down now and they would use all their resources to free Mr. Patrick McNeal. No matter what evidence Debra's family brought forward.
"CIP cited what was most important to them was to 'keep their record intact.'"
There is a petition on change.org. to address Governor Newsom and a second to invoke change in how the California Innocence Project, and other similar organizations, proceed with their work.
Circling the News believes there should be a law that mandates organizations such as the CIP notify the victims of a crime when considering becoming involved in a case.