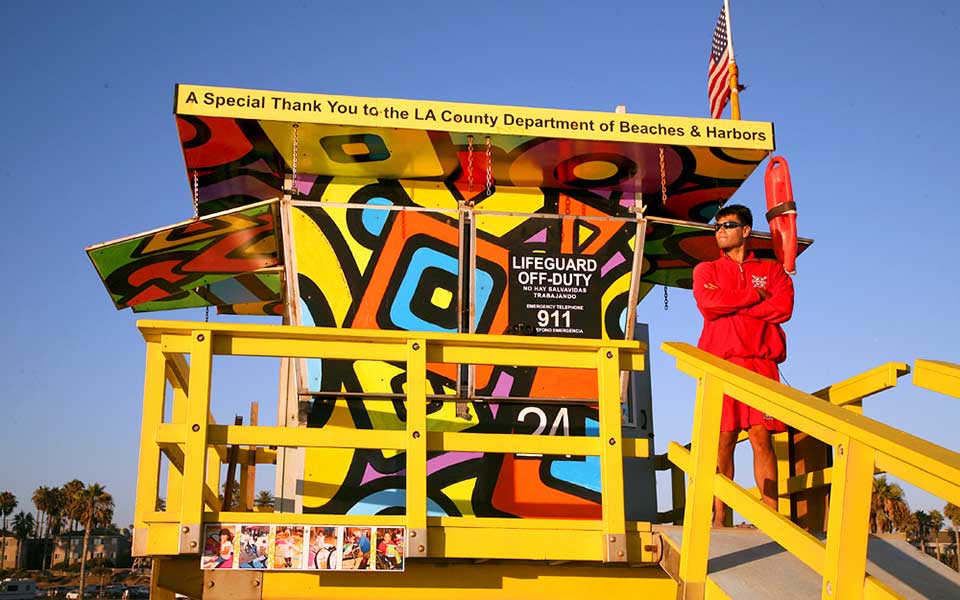 Buy a beautiful ring, umbrella, pet collar or cornhole board, while supporting Portraits of Hope.
In 1995, Palisadian Ed Massey and his brother Bernie founded POH, using art and visual imagery in large-scale art exhibitions. The program allowed seriously ill and physically disabled children the ability to be part of an art project.
The POH symbol is a flower in an array of vibrant colors. It was chosen by the Masseys because a flower is the universal icon of joy, life, youth, beauty, hope, inspiration and renewal.
Geometric shapes are also core design elements in the various POH public art projects.
The nonprofit, led by Ed Massey, has involved thousands of youth and adults in painting everything from airplanes, buildings, the L.A. County Lifeguard towers, the New York City taxi fleet, Beverly Hills Neon Nights and the Spheres at MacArthur Park.
More than 800 hospitals, schools, after-school programs, and social service agencies have directly participated in Portraits of Hope projects in addition to a wide array of adult community groups.
The majority of youth who paint with Portraits of Hope regularly face socio-economic and/or physical or medical challenges. POP has provided children and adults facing cancer, burn trauma, spinal injuries, HIV/AIDS, head and brain injuries, and other serious medical issues with the ability to paint.
Portraits of Hope has developed and incorporated specialized brushes and painting methods in its program, including telescope paint brushes for children and adults in wheelchairs or attached to IVs; shoe brushes (U.S. Patent) for children and adults with injured upper limbs or who cannot manipulate a brush with their hands; and flavored mouth brushes for those with limited or no movement in their arms and legs.
The individual goal is for each individual to be able to say, "I painted that." All who participate, including many Palisades residents, learn about social and community issues and the power of teamwork.
The Ed Massey Floral Ring ($75) is 12 mm wide and 316-stainless steel.
A colorful eight-paneled umbrella ($65) has an automatic opening and fiberglass shaft. An upcoming project will encompass thousands of hand-painted, floral umbrellas that will be distributed to pedestrians who will then come together in a public art collaboration.
The cornhole boards are made from Baltic birch and poplar wood, but can also be made in an all-weather composite material that can be left outside and include a full set of weather resistant bags. (The cost is $700 because all boards are made to order and require 14 days fabrication.)
POH Pet Collars are $25 and you can choose flowers or shapes.
Visit: Portraitsofhope.org