When Councilman Mike Bonin hosted a virtual town hall on August 10 ("Reimaging Public Safety"), one of the key speakers was Dr. Melina Abdullah, the co-founder of BLM-LA (Black Lives Matter LA) and former department chair of Pan-African Studies at Cal State University LA.
After an hour, during which time five people spoke about the need to defund the police and the reasons for it, people from Bonin's Westside district were allowed to ask questions via Zoom. (The recording can still be heard on Bonin's Facebook page. Questions start about 62 minutes into the broadcast.)
The first question asked was, "What about those of us who don't support Black Lives Matter–who do not want less police but want more enforcement?"
Abdullah said, "If you do not support BLM, you're revealing who you are. How can you not support BLM? It's telling about who you are, it's telling about your ethics."
"BLM is saying that black folks should matter and if you don't [believe that] maybe society is not right for you," said Ricci Sergienko, a white panelist. He explained that it's racist to want more policing because from a white person's point of view, they don't understand the problem that police present to black communities.
The second question was, "If there's a violent homeless person, who should deal with that?"
Abdullah interjected, "Why are people calling police for people not having homes? That is a crime of society." And then added, "Both of the last two questions have been a-hole questions. These are not legitimate questions."
"The answer to homeless is housing," she said, adding that calling the police to handle a dangerously mentally ill person is "the kind of behavior that brings the murder of 618 people who've been killed by police in the last seven years. Calling the police on people for being homeless, calling police for people having mental health conditions, calling police on people for being poor, calling police on people for being black. Stop calling the police!"
"I'm sure you must have good people in your district," Abdullah told Bonin. "Most of the people who are unhoused are wonderful people. Do you know who are scary? White folks who call the police are scary. Police are scary."
Then she said, "Let's have questions that are not offered by people who are a-holes. … Those are a-hole questions. Are there better questions?"
Okay, when I was in college (when dinosaurs still roamed the earth), students were taught "There's no such thing as a stupid question," which gave kids the courage to ask a question without being shamed.
Colin Powell has been quoted as saying, "There is no such thing as a stupid question, only stupid answers."
In the book Presentation Skills That Will Take You to the Top, the author writes that within the business world "a question might be uninformed, tangential, or seemingly irrelevant, but, whether the presenter perceives it to be stupid or not, every audience member has every right to ask any sort of question."
The taxpayers of California have been paying Professor Abdullah's salary since 2002, and instead of trying to inform and explain, she resorts to calling the questions and the people asking them a-holes.
Circling the News was curious about Abdullah's background, so we did a quick check on Wikipedia, which had scant information. She was born in East Oakland and graduated from Howard University with a bachelor's degree in African American studies. She has a master's degree and a Ph.D. in political science from the University of Southern California and is a tenured professor.
Wikipedia notes that Abdullah is a supporter of Louis Farrakhan and the Nation of Islam, which has been characterized as anti-white, anti-semitic and anti-LGBT.  "God don't like men coming to men with lust in their hearts like you should go to a female," Farrakhan told a Kansas City crowd in 1996. "If you think that the kingdom of God is going to be filled up with that kind of degenerate crap, you're out of your damn mind."
There was not a lot about Abdullah's family life on Wikipedia. I went to other sites to try and gain a more complete picture of the woman. She was married and, in 2012, divorced husband Phaylen Abdullah, a teacher and filmmaker. They have three children. After the divorce, Melina kept her husband's last name.
Melina Abdullah, who is half white, was born as Melina Reimann in East Oakland on September 18, 1972. Her father, John Reimann, is a retired union organizer and a self-proclaimed Trotskyist. (Leon Trotsky, one of the founders of the Soviet Union, believed his country could achieve socialism only if the working classes around the world rose up as one to overthrow the ruling classes. Visit: "John Reimann's personal blog – Oakland Socialist.")
Melina's mother was an elementary teacher in Oakland for 40 years.
Her paternal grandfather, Gunter, was born into a bourgeois German-Jewish family and was a famous Marxist economist and part of the Communist opposition to Hitler's rise to power in Germany.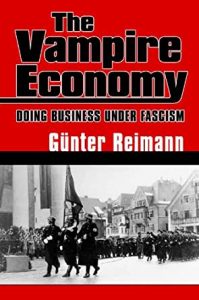 Gunter fled the Nazis in 1934, ending up in New York City. He wrote "The Vampire Economy: Doing Business Under Fascism," a critique of the economic incompetence of the Third Reich.
He married Miriam (Wasserman Wolf) Weber and they had two children, Margaret and John, who is Abdullah's father. Melina's grandfather founded International Reports On Finance And Currency in 1946, providing an analysis of world markets. He remained editor-in-chief of International Reports until 1983, when he sold the publication to the Financial Times.
Melina Abdullah wrote the forward for Halford Fairchild's 2017 book Black Lives Matter: Lifespan Perspectives. Her only other publication was her doctoral dissertation.
BLM-LA was founded in 2013. Among the national Black Lives Matter founders, Patrisse Cullors identifies as gay, Alicia Garza is married to a transgender man and Opal Tometi does not specify, but part of BLM's mission of BLM seems to be in direct contradiction to what Farrakhan wrote. Specifically, "We foster a queer‐affirming network. When we gather, we do so with the intention of freeing ourselves from the tight grip of heteronormative thinking, or rather, the belief that all in the world are heterosexual (unless s/he or they disclose otherwise)."
Abdullah has attended numerous L.A. Police Commission hearings as a member of BLM. She has sometimes been so disruptive in these meetings that she has had to be forcibly removed, including incidents on August 11, 2015, October 20, 2015, May 17, 2016, and August 15, 2017.
On one of those occasions, Abdullah cursed LAPD Commissioner Steve Soboroff after the latter had told a BLM-affiliated activist to "shut up." "You shut the fu** up, Soboroff, you shut up," Abdullah shouted as she was escorted from the room. "We know where your ass lives, too. And we've got cars."
At a 2017 Commission meeting, Abdullah's children spoke during public comment. Her 10-year-old daughter told LAPD Chief Charlie Beck, "Lots of people have died because of you. I think it's horrible that you don't care what you have done and killed so many young children." During that same session, Abdullah's 13-year-old daughter told the LAPD commissioners: "I don't know who to call anymore when I need help. We see incident upon incident of people who call the police for help and end up being shot to death." And Abdullah's 7-year-old son told the commissioners: "You're supposed to protect and serve. It's more like you're protecting and serving yourselves."
In May 2016, Abdullah was named in a lawsuit that arose out of a February 2016 appearance at Cal State LA by conservative speaker Ben Shapiro, whom Abdullah described as a "neo-Nazi" and a "neo-KKK member."
The appearance was initially canceled by the school president, William Covino, after a number of students and professors threatened violence. But when Shapiro threatened to sue the university for canceling his lecture, the event was rescheduled, and disrupted by protesters. Abdullah told Covino, "This is kind of this ongoing conversation about the specificity of anti-blackness, and that's I think what we see with Ben Shapiro."
In November and December of 2017, Abdullah supported and promoted the "Black Xmas" initiative of BLM's Los Angeles chapter, which urged African Americans to avoid patronizing white-owned business establishments for the remainder of the calendar year.
According to a February 19, 2019 L.A. Times story ("L.A. City Attorney Agrees to Drop Charges Against Black Lives Matter Leader Amid Public Outcry"), Abdullah "was facing charges of assaulting a police officer and resisting arrest, as well as multiple counts of disturbing a public meeting and unlawful assembly in connection with incidents that took place during the often-contentious gatherings of the city's civilian Police Commission in 2017 and 2018."
The Times story continued: "The Los Angeles city attorney's office and Abdullah's defense team reached an agreement that could result in the dismissal of all charges by August and alter some rules governing Police Commission meetings.
"Under the terms of the agreement, officers would arrest Abdullah for a perceived disruption only if she refused to leave the building after being given a verbal warning and being ejected from a meeting. If Abdullah violates the agreement before her next court date Aug. 8 [2019], the city attorney's office could decide to prosecute her on the original charges. Otherwise, all eight counts would be dismissed, according to court documents."
Abdullah led protestors to Jackie Lacey's home in Granada Hills in March this year. (Lacey is the first Black district attorney in L.A. County history). Lacey's husband came to the door with a gun and told protestors to leave. At a news conference immediately following the incident, Lacey said, "The events that took place earlier this year have caused my family immense pain. My husband acted in fear for my safety after we were subjected to months of harassment that included a death threat no less than a week earlier. Protesters arrived at my house shortly after 5 a.m. while I was upstairs. My husband felt that we were in danger and acted out of genuine concern for our well-being."
In a July 15 interview with CNN ("Black Lives Matter's Surprising Target: Los Angeles Country's First Black District Attorney"), Lacey said that for the past two and half years every Wednesday, protesters gather and scream "Jackie Lacey must go! Jackie Lacey will go."(Visit: https://www.cnn.com/2020/07/10/us/jackie-lacey-la-da-black-lives-matter/index.html. Lacey, who grew up in Crenshaw and attended Dorsey High School, received her law degree from the USC Law School.
In the CNN interview, Lacey said, "I don't want it to end like this, right? That as the first African American to hold this job, protesters ran her out. That doesn't seem like a just ending."
Black Lives Matter's Abdullah, who is bi-racial and of Jewish heritage, is supporting George Cascon, a Cuban immigrant and former San Francisco district attorney, in the current L.A. District Attorney race.