(Editor's note: Chaz Plager, who will be a senior at Palisades High School and started writing for Circling the News last year, is in Japan. Before he left, he agreed to send a weekly report that I could share with readers. This editor feels lucky to have this super talented and smart young man reporting.)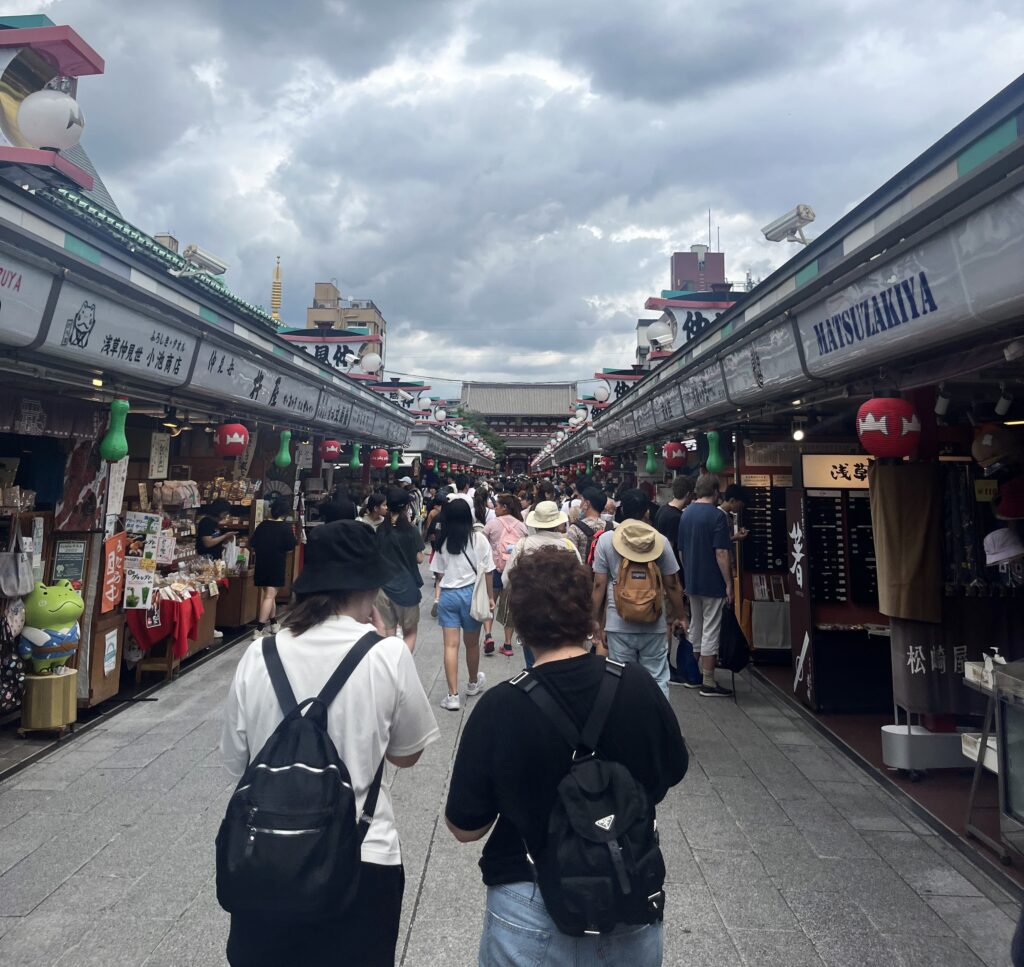 This marks my second weekly report from Tokyo, Japan. We've changed hostels now, and I'm currently reporting from Shibuya. I have my own room now, which is nice, but the other aspects of the hostel are a bit lacking.
Thankfully, that isn't relevant— we're in Shibuya!
Famous for its fashion, food, and other trendy attractions, Shibuya is a hotspot for both tourists and Japanese youth alike. It's been featured in shows, movies, and games, notably in major hits like Persona 5 and The World Ends With You.
We spent the last week accompanied by Okubo University students to explore the city together. Here's some of the highlights.
TOWER RECORDS:
Music lovers, rejoice. Japan knows what you want. True to its name, Tower Records is an eight-story tower full of nothing but music, from new releases to antique resells.
Each floor of the building sells something new, and it serves as a very interesting peek into what's big in Japan. One of our group members, Lyric, seemed appalled that I didn't know who GACKT and Girugamesh are (I only know the former from Kamen Rider) and proceeded to buy several CDs of both. I wasn't immune either, buying multiple CDs of Casiopea and Tatsuro Yamashita.
Japan loves foreign releases, too. Two floors are dedicated to them, including a shrine for… Kanye West. A sign above the display reads "Genius Closest To God!" Some things never change, I suppose.
HARAJUKU:
"Harajuku fashion" is a recognizable term among those into fashion. Harajuku is an extremely popular district located on the edge of Shibuya. Filled with fashion hotspots like PARCO and Laforet, any aspiring fashionista will be salivating at the sights. Our guide, Kazuki, who was quite fashionable himself, took us to his favorite shops.
Highlights for me were the Radio Eva store, a perfect compromise for an Evangelion fan who wants to look good and rep their favorite series (me) and Hare, a shop whose quality is only matched by their price. I can only hope to return before the end of this trip.
SENSO-JI SHRINE:
Moving away from trends and shopping, Senso-ji Shrine is a beautiful site which displays the best that Japanese tradition has to offer. I had the privilege of wearing a yukata provided by the program as we walked around, taking in the sights of the temple. I even got my fortune— it was a good fortune overall, but it told me to ingratiate myself to my superiors in case of "unexpected events", which was a bit disconcerting.
I also tried several traditional foods in the arcade leading to the temple, such as dango (sweet dumplings skewered and roasted), takoyaki (fried batter shells filled with sweet red bean paste) and ankodama (candied sweet bean paste). All of which were unbelievably delicious. What's America got? Twinkies? If someone in the Palisades wants to sell traditional Japanese snacks, I will be there.
Having university students as our group leaders also allowed me to learn about how Japanese students view Japan and America.
Chizuru, a senior at Okubo, wants to become a salesman for Subaru in Minnesota. "I think both Japan and America have problems, but Japan is starting to fall apart," she said. "Rising costs, wages not changing… it is a bit scary for my friends."
Other students like Kazu, also a senior at the same university, had a different outlook. "I have lived in Japan all my life," he said. "I think I would like to stay here and teach people English so they can go abroad and make names for themselves."
When I expressed interest in moving to and working in Japan, I was met with mixed reactions. Some seemed excited and encouraged me, while others seemed a bit confused as to why I would want to.
"Some people in Japan will never accept you as a resident," one said. "You will always be just a visitor to them because you were not born here."
While that's true, I don't believe that's enough to stop me. Some people in America believe I belong to a race of supervillains because I eat challah every Friday.
There will always be a minority willing to attack those who are different. What matters is the majority, and the majority of those I've met in Japan have been nothing but pleasant. I can only hope these remaining two weeks will be so, too.
(Editor's note: Chaz was asked if he speaks Japanese with the students or if they practice their English with him. Many readers may remember that Chas taught himself Japanese during Covid. He responded "Both—but usually the second.)