Family and friends will gather to celebrate Josh Greenfeld's life on Saturday, February 29 at 2 p.m. in the Palisades Library community room. The celebration will also spotlight an art exhibit, "Trash to Treasure," beginning at 1 p.m., that features collages created by his wife, Foumiko. The afternoon will include refreshments.
The emcees will be Karl Greenfeld, an accomplished writer in his own right (novels, non-fiction books, magazine profiles and television), and Bill Bruns, former editor of the Palisadian-Post, who enjoyed publishing various articles about the Greenfelds over a 20-year period.
Trash to Treasure
An Exhibition of Collaged Boxes by Foumiko Kometani
In Honor of Her Late Husband, Josh Greenfeld
Born in Osaka, Japan in 1930, I became a visual artist at a young age.  In my twenties had a considerable amount of success. My oil paintings were selected for the important Nika Group Exhibitions for three straight years beginning in 1956, and I won the Kansai Region (Osaka, Kobe, Kyoto) Women's Artist Prize in 1959.  All this led to my winning a fellowship to the prestigious McDowell Colony in Peterborough, New Hampshire in 1960.
During my year at this colony for artists, I met playwright Josh Greenfeld, and in 1960 we married in New York City. Eventually, we had two sons. The youngest, Noah, unfortunately suffered from brain damage, and this condition, which led to him running around, messing up the house and destroying my work, soon meant that I had to give up painting.
I coped with my frustration over not being able to paint by thinking, okay, I live with a writer, why don't I try doing that. At first, thrifty as I am from my wartime experiences, I began to write on newspaper clippings, then eventually graduated to paper. At first, I produced short stories and sent them off to the "newcomers" competition that Japanese fiction magazines sponsor each year.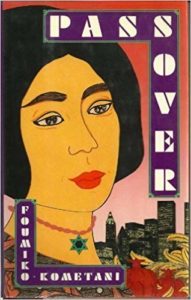 Surprisingly, my story titled "Passover" won the highly regarded Akutagawa Prize in 1986, and in 1999 I was awarded the Japanese Women's Writing Prize for a work titled, "Family Business." Since then I have been writing both fiction and non-fiction. I have also translated into Japanese the three books that Josh wrote about Noah. Altogether I have written some twenty books. My oldest son, Karl, is also a writer with several popular titles to his name.
After my husband, Josh, passed away two years ago, I found myself moving back towards visual art. This time I began to undertake collage, something new for me. The origin of this form can be traced back to World War Two and the terrible deprivation that we were suffering in Japan. During the war, there was no new material for art or anything else. We never threw away paper, or clothing, or metal, or else, and it became my habit to accumulate things which I might be able to use someday in the future.
As a lifelong habit, I have always clipped articles and images from newspapers and magazines. With a lot of empty cardboard boxes around the house and Josh gone, I began to paste the clippings on the boxes. This made them beautiful, and I found myself enjoying the process of producing this form of art, which helped me during my mourning period. These works may be Trash from other people's point of view, but to me they have become Treasures!
JOSH GREENFELD
(February 27, 1928—May 11, 2018)
Joshua Joseph Greenfeld was born in Malden, Massachusetts. When he was eight, his family moved to Flatbush, Brooklyn. He attended Samuel J. Tilden High School, Brooklyn College and earned his BA from the University of Michigan and a Master's from Columbia University.
He said he became a writer because he couldn't do anything else. But when he wrote his first play over a spring break at Michigan, and when he won a $500 Hopwood Award, the prize given to the best student writers at Michigan, which paid his next semester's tuition and fees, his course was set.
Writing led Josh to the MacDowell Colony for artists in 1960 where he met his wife, Foumiko Kometani, herself a painter who would later become a successful and prizewinning writer in her own right. He went on to write for numerous magazines and journals, including The New York Times Magazine, Esquire, LIFE and TIME. He wrote every day, keeping copious journals that ended up becoming the material for the most famous of his eight books, starting with "A Child Called Noah" in 1972, an account of raising his autistic son Noah, born in 1966. His older son Karl would also become a writer.
Josh would publish novels and have plays on Broadway including "I Have a Dream," his 1976 production with Billy Dee Williams. He would also write feature films, including "Harry & Tonto" for which he was nominated for an Academy Award.
He was humble to a fault, and many who knew him might never know now much he accomplished and how strangely central a figure he was in so many different facets of our culture, from the Actors Studio, where he was friends with Elia Kazan and Marilyn Monroe, to the world of men's pulp magazines, where he was a comrade in arms of Mario Puzo and Bruce Jay Friedman, to the New York writers-in-California exile pool of the 1970s along with John Gregory Dunne, Joan Didion and Brian Moore. Josh knew everybody. And in his later years in Pacific Palisades, walking in his captain's hat from his and Foumi's house near the El Medio Bluffs to his office above Citi Bank, he became a fixture, greeting and getting to know so many in this town.
He served in the army with remarkable indifference, going AWOL from his playwriting unit at one point and narrowly avoiding a court martial. He rejected conformity in every aspect of his life, and if he resented raising a disabled child it was only for how the difficulties forced him to live a conventional, bourgeoise life. He was a unique figure and will be missed by his wife, his sons and daughter-in-law Silka, and his grandchildren, Esmee and Lola.