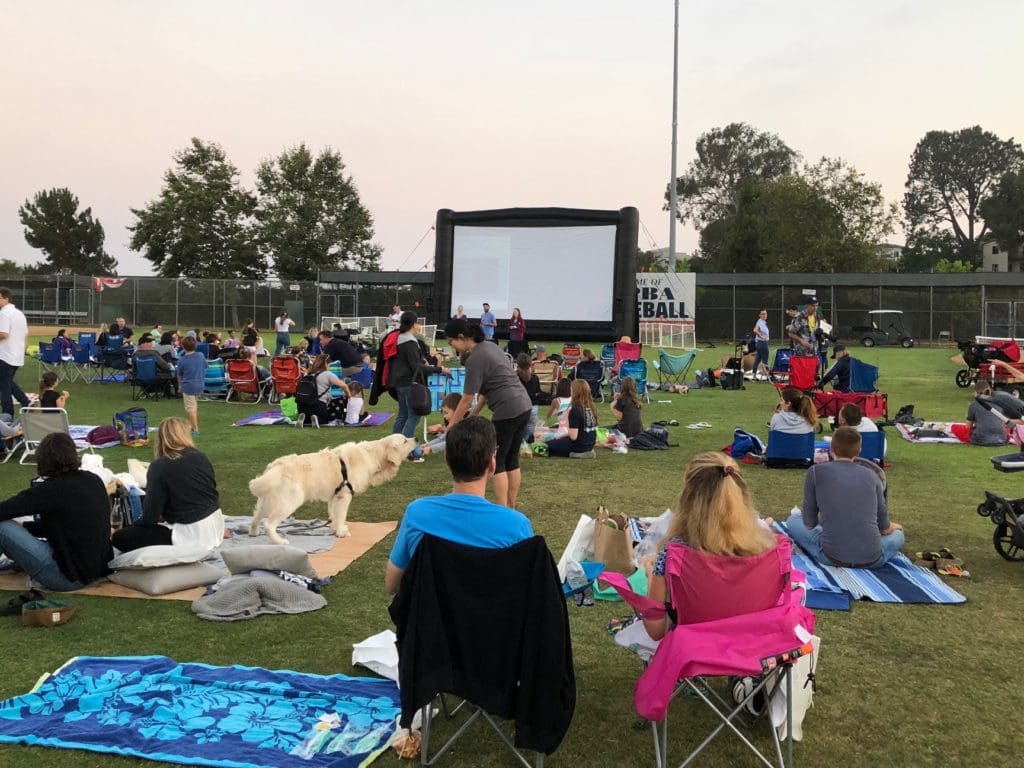 Movies in the Park "Roars" Back
The 15th season of Movies in the Park (MITP) started with the "The Lion King" tonight (August 4). About 400 people brought folding chairs, blankets and snacks as the first of four free movies, on Saturdays in August, got underway at the Field of Dreams at the Palisades Recreation Center.
Peter Garland, who will open Porta Via restaurant in the new Caruso complex in September, was at the movie with his wife Gina and children Jade, 19, Liam, 16 and Morgan, 8. They gave away free bags of homemade potato chips and held a raffle for a picnic basket of great food that will be provided for next week's movie "You've Got Mail." The picnic for four was won by the Merriman Family.
"We're opening in the Village and we want to be part of the community," Garland said. "We've been in Beverly Hills and we're looking forward to coming here." Next week another lucky movie goer will be able to win a picnic basket from Porta for the following week's movie ("Guardians of the Galaxy").
The chips were a good accompaniment to the free hot dogs that were once again sponsored by Mike Skinner, a past Citizen of the Year.
It was a bonanza of freebies. There were mini-UCLA footballs and free glow-in-the-dark glasses. The glasses were sponsored by the Lavisky Law, a family law firm based in Brentwood. "They thought the children would love them," Dominque Williamson said.
David Tishbi and wife Holly Surya handed out reusable bags–the contents included a chance on a $1,000 gift certificate, granola snacks and a coupon for the Yogurt Shoppe.
Moviegoers could also register for a raffle from Caruso. First place winner will receive a $200 gift card, second place will be a four-ticket pack to Cinepolis Luxury Cinemas and third place will be a gift basket.
Join the fun on August 11 for "You've Got Mail." The movie starts at dusk, the dogs are free and the people friendly.