Gift Garden Antiques, one of the longest surviving retail stores in Pacific Palisades, will close at the end of February.
Owner Susan Carroll, who opened her business in the courtyard on Swarthmore (across from CVS) in 1981 and moved five years later to her current location on Antioch (next to Noah's Bagels), is retiring.
Two coinciding events prompted her decision: her lease was up, and she turns 80 this year.
"While I have the time and energy I want to travel – when it's possible again," Carroll said, noting that her travel companions are classmates from Randolph-Macon Woman's College in Lynchburg, Virginia, where she graduated with a degree in economics.
She is also in the process of rehabbing a condominium in Pacific Palisades, with plans to move back to the town where she raised her children.
Carroll met her first husband, Steve Carroll, on the East Coast and the couple moved to California and raised two children, Katy and Topher, who graduated from Palisades High School.
After the couple divorced, Susan met Tom Thorne (who died last) and moved into his place in Mar Vista. He once owned Just Us, a rib restaurant on Swarthmore.
Carroll's daughter Katy now works as a first assistant director in the film industry and Topher, who was a postdoctoral fellow in molecular biology at Stanford and an assistant professor at the Yale School of Medicine, is now doing cancer research for a drug company.
Said Carroll, who has a 10-year-old grandson: "Now that I will have weekends free, I'll be up and down the 405 frequently to visit."
Her store has outlasted numerous local businesses and she attributes her staying power to flexibility.
"In this town people care about their homes and entertain in them and like having quality," Carroll said. "It's what sets the Palisades apart. So, we have changed [our merchandise] based on what customers have in their home. I have to change as customers change."
Carroll showed CTN a newspaper advertisement and a 1992 article that began: "It was Christmas in July last week when Gift Garden Antiques received a very big package: a 'sea chest' chock full of pine furniture and other items that came all the way from Scotland."
Carroll said that for more than 10 years, a 40-foot container of furniture was delivered to Antioch when pine furniture was in vogue.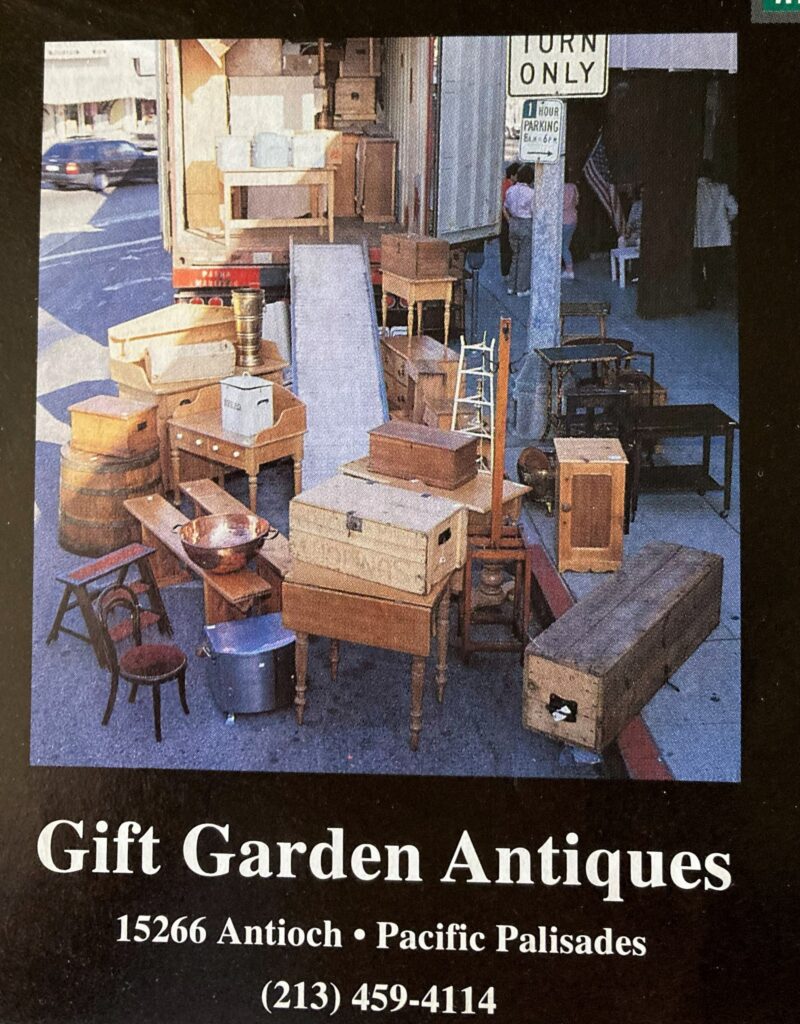 When styles changed, so did Carroll, switching to "dark furniture" mahogany, and then to shabby chic and painted furniture.
"We had to keep changing to keep what people wanted," she said. "About 10 years ago, I switched to gifts because the new generation didn't want 'old stuff."
She adds, "The trend is swinging back now."
Growing up in Dayton, Ohio, Carroll developed an interest in antiques that was rooted to her parents, who had them throughout the house. "My dad would bring the furniture home," she said, "and my mom would peel off the layers of paint and refinish them."
Many of her Palisades customers have appreciated Carroll's large collection of silver. After the store closes, she will continue to carry silver at the Mart Collective at 1600 Lincoln in Venice, "so my silver customers have some place to go."
Carroll served as president of the Chamber of Commerce in 1987-1988 (and Thorne held that position in 1994-1995). She has been an active member of the Business Improvement District, providing valuable insight and helping the group maintain a cleaner business district.
Her store, which offers practical, useful gifts, currently has a 20 percent sale and will continue to drop prices the closer Carroll gets to her closing date. "I don't want to carry merchandise that people can't use or don't love," she said. "I want people to enjoy the items they have on the table or on a patio."
The store has some adorable baby gifts, dog toys, lamps, linens and dishes. The quality is top-notch and most items will likely be gone before the closing date. If you need a gift, the time to shop is now.
"It's been fun, and I've thoroughly enjoyed it," Carroll said about her longtime shop, located across from the Village Green. Business hours are 11 a.m. to 5 p.m. Monday through Saturday and from 11 a.m. to 4 p.m. on Sunday.