When CTN last spoke to public officials, there was a promise that Temescal Canyon Road had been completed on March 31. That appears to be totally erroneous. Today, this editor received several photos from residents that show otherwise.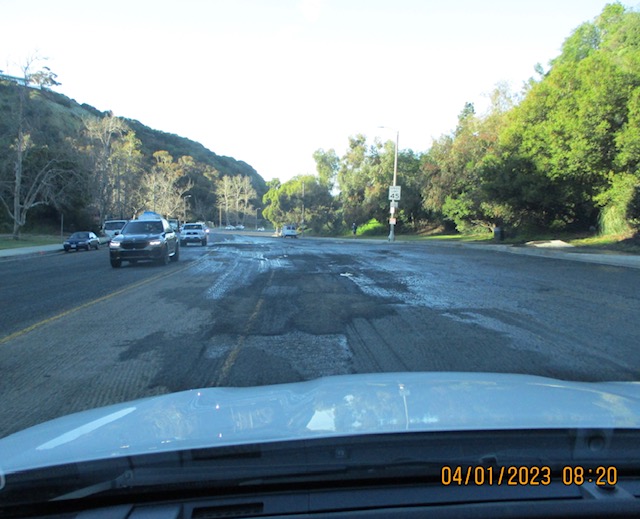 Readers may remember the road was initially scraped and repaved in November. A noticeable lip in the new asphalt sent workers back to the street in March. Then, the Bureau of Street Services scaped the new asphalt, but rain stopped them from repaving.
A CTN reader in a March 29 email to Councilmember Traci Parks wrote that the road surface between Bowdoin and PCH is a dire problem.
"It is impossible to stay in lane without impacting deep potholes, several layers of broken road surfaces and chunks of loose gravel, broken car parts and degraded road," the reader wrote.
"To avoid damage to cars, drivers now use both the center U-Turn lanes and the parking lanes as they snake their way around this lunar escape too find a safe path either up or down Temescal."
The reader concluded "The transition bump between the old paved and newly damaged road is greater than the normal range of a standard car's suspension abilities. This alone is a major hazard as it often launches unsuspecting drivers onto a new, unpredictable, bottomed-out/rebound driven trajectory."
The reader pointed out that the rains couldn't be used for an excuse because "I have lived here for more than 30 years and the City allowed Temescal Canyon Boulevard to fall into the deepest state of disrepair I have seen.
"Your first feeble attempt to repair Temescal Canyon Boulevard was an example of the worst public works ethos and quality control, serving only as an indictment and window into what bad local government looks like," the reader said.
"I am certain this is not the optics that Traci Park (who I voted for) was hoping for," he said. "Please establish and publish an aggressive finishing schedule so that we who live around here can know that the City can deal with this abusive and prolonged liability."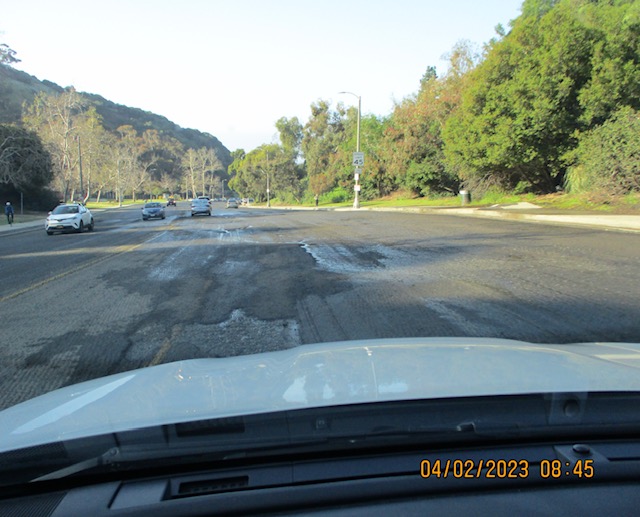 CTN emailed the Councilmember Park's office on April 3 and asked about Temescal Road. Traci Park's spokesperson Jamie Paige said a staff meeting had been called for tomorrow, April 4, to discuss issues.
CTN called BSS Public Information Officer Paul Gomez. A recording came on that said he was telecommuting because of Covid, but he could be reached via his cell phone. CTN called and he said he would have to speak to BSS.