Two Palisadians, Ali Riley, the co-captain of the New Zealand woman's soccer team and Actor Ben Platt, who's movie Theater Camp is receiving rave reviews, are making national headlines.
ALI RILEY
Riley, who grew up in Pacific Palisades and played AYSO and then club soccer was featured in a major July 17 story in the Washington Post ("Ali Riley, the California-born co-captain of New Zealand, Welcomes the World").
Riley, who has dual citizenship because of her father, attended St. Matthew's, Harvard-Westlake and Stanford, where she played four years with the Cardinals, graduating in 2009. She was drafted by FC Gold Pride for the Women's Professional Soccer League. When backers couldn't be found, she signed with the Western New York Flash.
The WPS was suspended and Riley, an outside back, moved to Sweden and played for Rosengard until 2018. She played for Bayern Munich for a year before moving back to the U.S. and the Orlando Pride.
In July 2020, Riley returned to Sweden to be with her partner during the pandemic and rejoined Rosengard on loan. In January 2022, Riley was traded to Angel City FC, allowing her to play in Los Angeles for the first time in her career.
Her parents, John Riley and Beverly Lowe, live in the Alphabet streets. Riley started with AYSO before joining a club team, the Westside Breakers, in 1998.
Or as the Washington Post wrote "That's one generous, loquacious world, one that kick-started Riley with its knack for variety: American mother, Kiwi father, Chinese American maternal grandparents and a metropolis with a human tapestry both mind-boggling and mind-improving. A World Cup, too, and as a co-host? "It's like this crazy, just, not quite full circle," Riley said in March, "but definitely there's some universal energy that I feel really lucky that this is happening."
Riley, a defender, will turn 36 in October.  Riley joined the team in 2007. This will be her fifth World Cup appearance.
The New Zealand woman's team has represented that country in the FIFA Woman's World Cup on six occasions, 1991, 2007, 2011, 2015, 2019 and now is cohosting the Woman's Cup with Australia, which means they will automatically qualify as co-hosts. The team has never won a game or advanced beyond the group stage.
They are hoping to change that tonight during group play when they face Norway (ranked 12). After that the Ferns face Philippines, in its World Cup debut, before closing out group play against Switzerland (ranked 20).
She is the only child of Alphabet Street residents Bev Lowe and John Riley, who have supported and followed her career, since she first stepped on the field.
BEN PLATT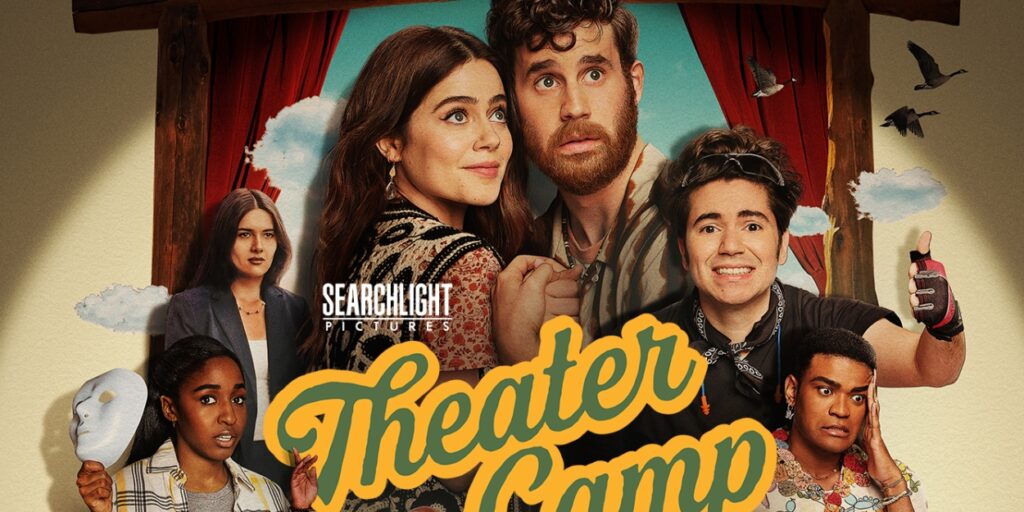 Two former Palisades Adderley students Ben Platt and Molly Gordon's movie Theater Camp has received positive reviews from critics.
The New York Times wrote "In this bitterly funny mockumentary set at a drama institute, the actors feel their characters in their bones."
That paper in a July 14 story ("They Put on a Show at Camp, and It Changed Their Lives") wrote Molly Gordon and Ben Platt met as children at the Adderley School. . .There are photos and home videos of them starring opposite each other in some very grown-up shows like Chicago and Damn Yankees. Two decades later — with the help of the actor-writer Noah Galvin, Platt's fiancé, and the writer-director Nick Lieberman — they have spun those memories of wonky vibrato, stumbling choreography and an ardent sense of belonging into the feature comedy Theatre Camp.
The movie had its world premiere at the 2023 Sundance Film Festival in January 2023 and was released on July 14 by Searchlight Pictures. Written by Platt, Gordon, Galvin and Lieberman, it stars Platt, and was directed by Gordon and Lieberman.
In the Times story Platt is quoted: "At day camp at Adderley, Molly and I were Adelaide and Sky in Guys and Dolls. We were Ola and Joe in Damn Yankees. We were Roxie and Billy Flynn in Chicago. We were Tracy and Link in Hairspray. I was pretty much the queerest Link Larkin. Molly, one of her first kisses was our kiss in that."
About the movie, the Times reviewer writes: "Full of in-jokes (campers barter for bags of Throat Coat tea like they are Schedule I drugs), the movie is also a hymn to all of the outcasts and square pegs who finally find acceptance in a kick line. Theater camp is, as a closing ballad explains, 'where every kid picked last in gym finally makes the team.'"
In 2017 story, Palisades writer Sarah Stockman interviewed Platt, after he won the Tony for Leading Actor in a Musical for his titular role in Dear Evan Hansen. (CTN has reprinted the story below for readers.)
Emmy Winner Platt Studied with Adderley
By SARAH STOCKMAN
Staff Writer
On June 11, at the 71st Tony Awards in New York, Beverly Hills native Ben Platt, 23, won the Tony for Leading Actor in a Musical for his titular role in Dear Evan Hansen.
In his acceptance speech, Platt thanked the Adderley School in Pacific Palisades for nurturing his love of theater.
"When I was six years old I was the prince in 'Cinderella' in a blue sequined vest at the Adderley School in the Palisades in California," Platt said. "I've spent every single day of my life since then madly in love with musical theater."
The founder of the Adderley School, Janet Adderley, was in the Tony audience with Platt's family, including his father Marc, who produced the movie La La Land and the Broadway musical Wicked (2003).
Adderley told the News that the experience of watching her student on the Tony stage was exceptional.
"I could not have been more proud of a young man in my life," Adderley said.
Adderley, a Broadway veteran who starred in Andrew Lloyd Webber's Starlight Express in 1987, founded the Adderley School in 1993. The school now has three locations: the Woman's Club, Santa Barbara, and, most recently, Austin, Texas, her home city.
"I taught all five Platt kids," Adderley said. "I named them the Von Platts because all of them are musical."
In November, on Late Night with Seth Meyers, Platt told Meyers about his debut role in Cinderella, and Meyers then showed the audience pictures of Platt in his bright-blue sequined vest dancing with his Cinderella.
In his Tony acceptance speech, Platt said "[The Adderley School is] where I found everything I've ever loved and where I belong," Platt said. "I've dreamed every day since of being on this stage and being part of this community of artists."
Platt attended the school once a week during the school year and camp five days a week during the summer for 10 years. "In 10 years Ben Platt never missed a session," Adderley said.
Four years after starting at the Adderley School, Platt made his professional debut at the Hollywood Bowl at age 9, "playing Winthrop in 'The Music Man' opposite Kristin Chenoweth," Adderley said.
After that performance, Adderley knew that Platt was headed for great things.
"I've always said to him, 'Someday when I'm a little old lady in a rocking chair, I will be waiting for my invitation to see you fifth row center in a Broadway show.'"
That chance came much earlier than expected in 2014 when Platt, then 19, made his Broadway debut as Elder Cunningham in The Book of Mormon. Adderley, her daughter, and her mother went to see him perform and sat fifth row center at the Eugene O'Neill Theatre.
"To see a child that I sort of nurtured from 5 years old… [was] like watching your own child jump off the high board into a pool," Adderley said. "I was a basket of tears, scared to death… [but] he was magnificent."
Platt, who attended Harvard-Westlake for high school, got into Columbia but was not able to complete his degree because of The Book of Mormon. He played Cunningham on Broadway from January 2014 to January 2015. He started rehearsals for Dear Evan Hansen a few weeks later in Washington, D.C., where the show made its world premiere on July 10, 2015.
Dear Evan Hansen opened on Broadway last December to rave reviews.
"This gorgeous heartbreaker of a musical… has grown in emotional potency during its journey to the big leagues," New York Times reviewer Charles Isherwood wrote on December 4. "Rarely – scratch that – never have I heard so many stifled sobs and sniffles in the theater."
The show follows Evan Hansen, a high schooler with crippling anxiety who tells a lie after a boy at school commits suicide.
"As the title character in Dear Evan Hansen… the marvelous young actor Ben Platt is giving a performance that's not likely to be bettered on Broadway this season," Isherwood wrote.
Besides theater, Platt can also be seen on the silver screen in Pitch Perfect (2012) and Pitch Perfect 2 (2015), where he played lovable magician Benji, who desperately wants to be in a cappella group. He also had a small part in Ricki and the Flash (2015) and Billy Lynn's Long Halftime Walk (2016).
Despite all the hype and fame, Platt still takes the time to mention the Adderley School and his instructor/teacher and the influence she had on his life.
"Janet Adderley… was my first ever musical theater teacher when I was six at her Adderley School," Platt told People magazine's Jess Cagle. "It's all thanks to her, really."
Along with playing the prince in Cinderella, Platt also starred as the Baker in Into the Woods, Charlie Brown in You're a Good Man, Charlie Brown, Billy Crocker in Anything Goes, Albert Peterson in Bye, Bye Birdie, and Motel the Tailor in Fiddler on the Roof.
In May of this year Time magazine named Platt one of the 100 Most Influential People.
"Because of the way Ben brings Evan to life, that story [of Evan Hansen] becomes instantly relatable for any person who has ever felt conflicting emotions without having an outlet," Zac Efron, star of "Baywatch," wrote for Time. "His performance brought me back to a sensitive place. It was almost difficult to watch, because it hit so close to home."
Platt continues to play the role of Evan Hansen eight times a week on Broadway, although his last performance will be November 19. He can next be seen on the silver screen in Drunk Parents out later this year and as a guest star on Will & Grace on October 5.