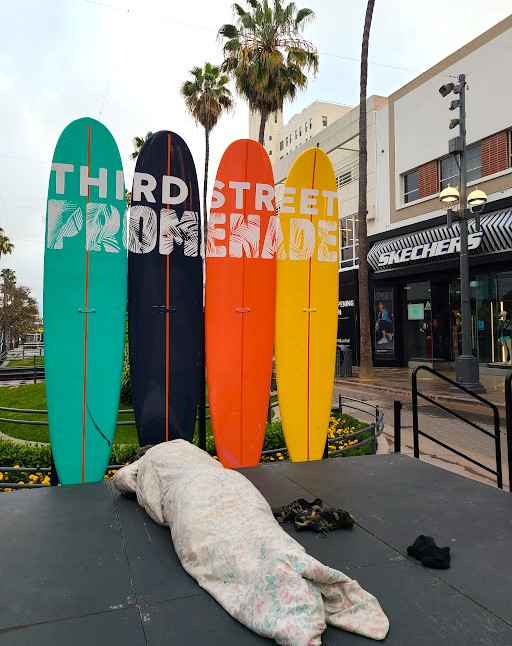 (Editor's warning: the photos at the end of the piece are graphic and disturbing. This editor will leave a space between the end of the story and the  photos, so readers can exit and avoid looking at them.)
A sign went up on the Promenade on December 18 that caught national attention "Santa Monica Is Not Safe – Crime, Depravity, Outdoor Mental Asylum."
Circling the News visited Santa Monica on January 6 at noon to walk the streets and see the situation first-hand.
The Santa Monica Third Street Promenade used to be a place to take out-of-town visitors, now it is not recommended.
There are two issues for visitors. The first is the parking structures. Elevators are out-of-service or have homeless sleeping in them. One of the elevators in Parking Building 5, nearest the mall, had a fire almost a year ago, but now neither elevator is working.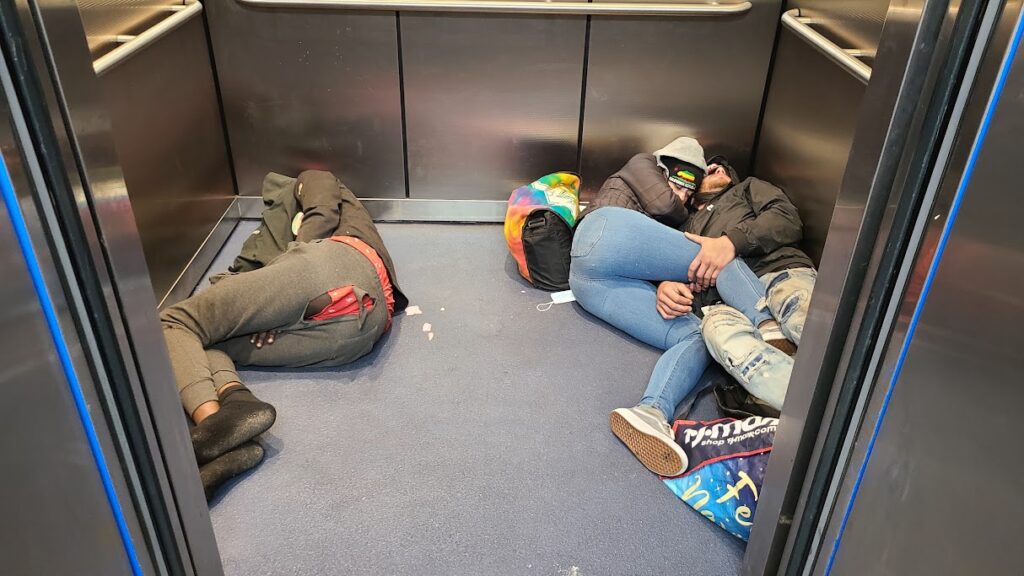 Lack of elevators in five and six story structures means there are no ADA accommodations. Additionally, the electrical outlets are being used by the homeless for phone charging.
The second and perhaps most troubling issue are the disheveled and mentally ill that roam the streets – and the way they are ignored, as if people lying on the street are simply street furniture.
In front of an empty store front in the 1300 block of Abercrombie & Fitch, a man was masturbating as he was lying on the sidewalk. As soon as he finished, he folded his hands and . . .and continued to lie on street.
Graffiti was evident, including swastikas on several lamp poles. The Abercrombie and Fitch sign had been tampered with. On the 1400 block mailboxes that led to upstairs apartments had been opened.
CTN witnessed a drug deal at the corner of Broadway and Fifth Street. Further up the street, across from REI, human feces and toilet paper were next to a building.
Promenade fountains have become bathing and laundry sites for many homeless.
At one time there were no empty store fronts on the promenade, and stores included a Barnes & Nobel, an Old Navy, The Gap, Banana Republic, J. Crew and Guess.
Now there is a 47.5% vacancy rate on the Promenade, and 39% vacancy in the overall Downtown Santa Monica area  (this does not include office space vacancies).  If one excludes pop-up businesses, the true vacancy is closer to 55 %.
In the Santa Monica Place Mall, located at the base of the Promenade, store front after store front is empty. At one time Macy's, then Bloomingdales, anchored the large space on the ground floor, now it is empty (visit: https://www.santamonicaplace.com/Map#/).
CTN asked Santa Monica residents where they did holiday shopping and was told they went to Century City, which was "really nice, safe and had a nice combination of expensive and affordable stores."
Gap, which used to be on the corner of Santa Monica and Promenade, suffered from looting during the 2020 riots. A resident said there were two fires within the store and that "no one was killed," but said that police were asked to stand down, while rioters destroyed the building.
On Friday, there were four guards at the Promenade's Apple Store. According to one source, the Adidas store on the Promenade has had its window smashed in April and November. The Footlocker has had its windows smashed four times in the last 16 months.
But, the most recent trend, instead of "smash and grab" is "walk in and grab."
CTN was told those crimes are not always reported to police because landlords feel nothing will be done to the perpetrators and because tenants think it is bad for business if tourists know. Store's insurance rates go up.
Although total residents have increased in Santa Monica, 75,000 (2019) to 94,000 (2022), the number of police officers has declined from 230 (2019) to 175 (2022). Santa Monica Police Chief Ramon Batista has said a necessary number for the city would be 250.
At the Santa Monica Place mall, at the foot of the Promenade, three weeks ago on a Saturday morning, criminals drove a vehicle through a Louis Vuitton window, grabbed merchandise and drove out.
Now fencing has been installed nightly around the perimeter of the mall.
A Santa Monica resident said so many stores have left the Promenade,  "because the landlords want to much for rent."
Asking a Santa Monica landlord why so many stores have left, he responded "they [city government] gave up on Santa Monica."
In its heyday, Promenade rents were comparable to Rodeo Drive.
Now, "Landlords have to respond to the situation," a landlord said. That means that it is better "to have a tenant in a space – to have it filled – even if you're not getting a lot for it."
That means that some of the store fronts have been filled with "pop-ups." Those tenants are on a month-to-month basis. The rent is often about 10 percent of the sales, plus some share of triple net (the tenant pays the property tax, insurance and trash.)
Per the City and Downtown Santa Monica, Inc. sales tax revenues for the fourth quarter were down about 20 % from the previous two quarters, and the Apple Store, which is a main anchor on the Promenade, reported a 23% decrease in sales for the same period.
Sales tax revenue is the main source  (30% to 40%)  of funding for Santa Monica's Police and Fire Departments, and paramedics.
As people went through the trash cans, and others seemed to be mentally ill, talking to themselves, CTN asked about policing.
The new Santa Monica Mayor Gleam Davis is on record as saying, "we don't want to see police."
The Promenade is under the DTSM, (Downtown Santa Monica, Inc.) which is a nonprofit organization that works with Santa Monica to manage the business assessment district. The group includes six people elected by property owners, six people appointed by the City and the City Manager David White or his designee is the 13th person.
DTSM, in 2021, replaced police with a "Safety Ambassadors" program. These people patrol the streets and "address quality-of-life issues."
CTN sent several emails to White asking about sales tax revenue and the effectiveness of the Ambassador program, but never received a reply.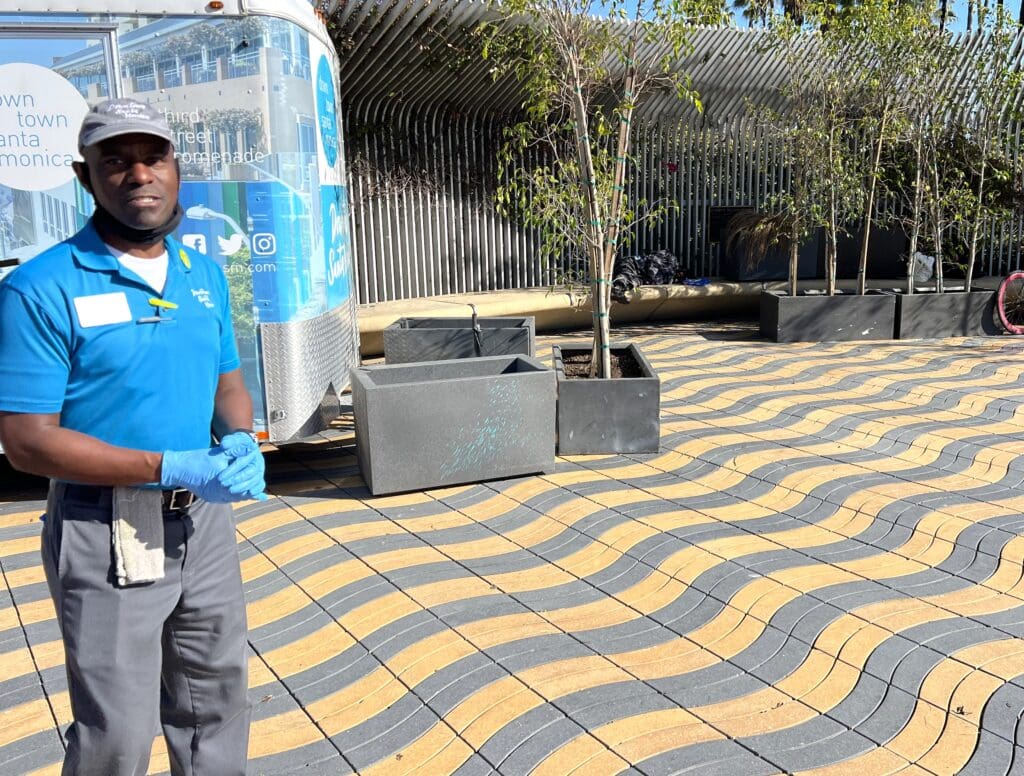 The ambassador in front of three sleeping homeless people on a bench was cheerful and explained that he was there to answer any questions visitors might have.
This editor asked him if the people behind him were getting help, he responded, "They can sleep there if they want."
In Tongva Park, a children's playground had a homeless man sleeping on a bench next to the play structures. An ambassador was asked if that was allowed, and he said, "I was just over there, let me go tell him to move."
This editor also found a man on a park bench that appeared to be motionless—no discernable breathing—and a helpful ambassador called a paramedic.
In a June 22 Santa Monica Lookout story ("Downton Officials Reject Calls to Replace 'Safety Ambassadors'"), it was reported that "DTSM operates a dispatch center to help triage calls and relay valuable information to our friends at the SMPD.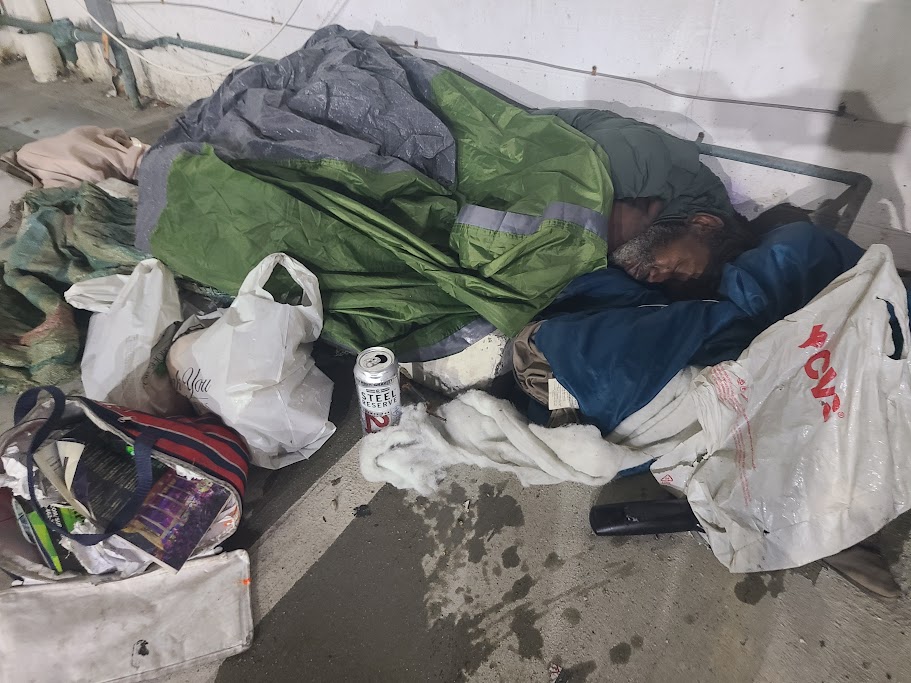 "All ambassadors observe and report unwanted or criminal activity. But they cannot enforce the law. Only police officers can do that," said Barry Snell, the former board chair and interim CEO for Downtown Santa Monica).
CTN reached out to Constance Farrell, Spokesperson for Santa Monica City and asked:
1) How many people are currently hired by the City of Santa Monica to be ambassadors? What is the pay scale?
2) When did the program start?
3) How many homeless have been helped? And are the total incidents reported involving the homeless going up or down?
Circling the News never received a response.
The Santa Monica Library now has a two-hour maximum for people using it. CTN first noticed the influx of questionable people when she deemed it wasn't safe to park in a public city lot under the library to take a yoga class a block away.
According to reports and photos, the parking lot has now seen an increase of nighttime activity that includes sex, and drug trafficking.
Reed Park has become a needle distribution site. Members of The Santa Monica Coalition, a group of property and business owners, and residents, who are trying to see the homeless are helped and public streets safe for residents, discovered that Santa Monica has a needle exchange program in local parks.
The Santa Monica City Attorney told the Coalition to send a letter to then County Supervisor Sheila Kuehl, recommending the program be moved to City-owned buildings and done under medical supervision.
Kuehl's response was to expand the program to Tongva, Douglas and Palisades Parks, in addition to the 3rd Street Promenade.
One of the four founding members of the Coalition and a property owner on the Promenade, John Alle, contacted Supervisor Lindsay Horvath's office weeks ago and spoke to top deputy Myrna Gutierrez, who said neither she nor the Supervisor knew anything about the program and would get back to him.
When Alle followed up, Gutierrez said she had discussed the program with Horvath. But the Supervisor would not take a position until a new Health Services Director was brought in.
Alle said, "the parks are 'backyards' for 75% of the SaMo residents who live in apartments. That has been taken away from resident by addicts from outside the city and others who want to experiment with drugs in the fresh air."
People are given a bag with clean needles, synthetic drugs, condoms and a card that says, "Have a nice high."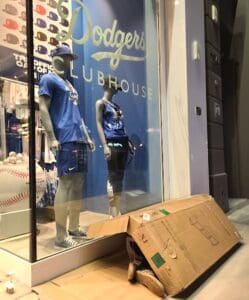 Why would a landlord stay on the Promenade or even Santa Monica?
"Let's admit we have a problem and let's address it," Alle said. "This could be the biggest come-back story –  if we take care of the issues."
Visit: thesantamonicacoalition.org.
WARNING: The images below, taken in downtown Santa Monica, may be disturbing.