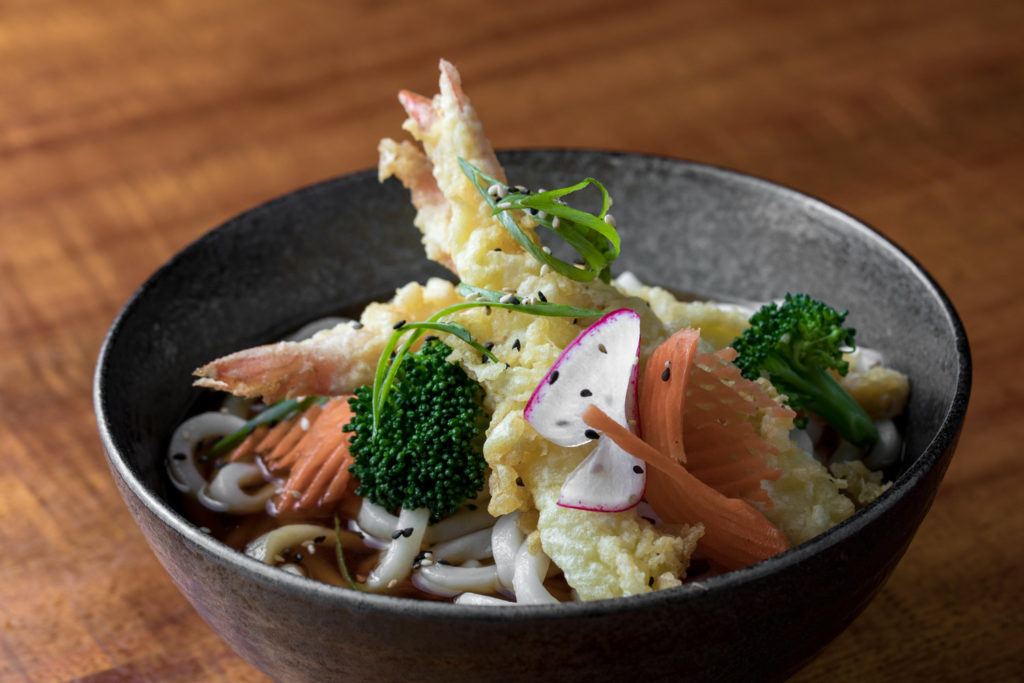 A friend and I used to sneak away to Happy Hour at the Pearl Dragon, which replaced the venerable House of Lee Chinese restaurant in 2001 and inherited one of only two liquor licenses in Pacific Palisades at that time. (The other was quietly held by Mort's Deli.)
With beer on draft ($5), wine ($6) and the Dragon Mai Tai ($7), the Pearl Dragon was the perfect place for shared confidences and great food, though the bar area was not quite as secluded as the infamous Wing Ding Room in the House of Lee.
The Pearl Dragon's great food, described as Asian fusion, is still available for takeout—and instead of sharing a meal with a friend or two, a gift card could be sent to them as a perfect way to remind them "social distancing" will soon be over. (Visit: thepearldragon.com or call 310-459-9790.
Diners have a choice of appetizers (small plates), salads and entrees.
You can never go wrong starting with the spicy wok fired edamame ($7) and then adding the chicken satay with spicy peanut sauce and cucumber-jalapeno relish ($15) or the spicy tuna on crispy rice ($13) or the sautéed filet mignon tips with wasabi-peppercorn sauce and grilled scallions ($16).
The salads included the spicy Thai green papaya salad, with sautéed rock shrimp and peanuts ($14.50), the sesame chicken salad ($14.50) or the Asian "Chopper" that includes tempura rock shrimp and yuzu dressing ($14.50).
The main courses are all delightful, include vegetarian options, and what you select will depend entirely on your mood. Will it be the herb rubbed salmon over warm vegetable salad with roasted beets and miso ($24,), the Kalbi beef short ribs with Asian apple-pear salad ($24) or the organic chicken teriyaki, bone in" with garlic ginger long beans ($19).
There are noodle bowls udon or soba that can include tofu, chicken, shrimp or filet mignon ($16 to $18). As a side try the Asian seasoned fries ($7) or Szechuan green beans ($9).
The Pearl Dragon is known for its special rolls such as the lobster tempura roll ($15), the Sumo (lobster and avocado topped with eel, dynamite sauce and sesame seeds – $14) or the surf and turf roll, which has shrimp and asparagus tempura with avocado wrapped in seared rare filet mignon, topped with garlic and chopped white onion (half order is $14) .
And it goes without saying if you have never tried the Wing Ding Burger ($15), now might be the time.
Legend has it that when new owners took over the Pearl Dragon in 2001, former Chamber of Commerce Executive Director Arnie Wishnick told them he wasn't a sushi eater and asked if the Wing Ding burger could stay.
Owners Tommy Stoilkovich and Mike Garret agreed and Wishnick after trying the burger gave it a two thumbs up and said "I'll always be on the quest for the perfect burger, but I truly believe that one of the greatest burgers in the country is right here on Sunset Boulevard."
Trip Advisor wrote: "You wouldn't expect an excellent burger at a sushi restaurant but the Wing Ding burger is a holdover from the old House Of Lee, which is the Chinese restaurant that occupied the Pearl Dragon space in the 60's and early 70's. Order it with Szechuan fries."
The restaurant is located at 15229 Sunset, between Monument and Swarthmore.