At the Palisades High playoff football game last Friday night, the crowd enjoyed a terrific surprise: a halftime performance by the Pali marching band.
The band's performance show this year, some of which was performed at the Stadium by the Sea, is called "One Giant Leap."  Musical selections include Gustav Holst's "Jupiter," Tyler S. Grant "Mission Apollo" and John Mackey's "Kingfishers Catch Fire."
 "We also reference President Kennedy's famous speech at Rice University, where he announced that the United States would begin looking towards space as the next frontier," said Tyler Farrell, the Director of Bands and chaire of Visual and Performing Arts. "We wanted a show that was relatable and familiar, but also exciting and celebratory."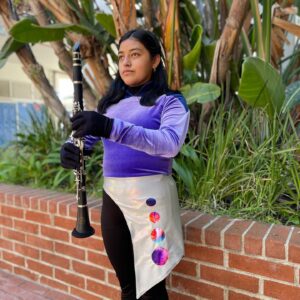 The band's sound was outstanding, and the intricate footwork that the musicians performed on the field was impressively precise as they had their final "rehearsal" for the WBA Regional Competition the next day.
Farrell said there are just over 50 students in the marching band this year and it competes in 2A class of the Western Band Association (WBA) circuit.
The band has competed at Ayala High School, the SoCal Super Show (Mira Costa), at Don Lugo High School and at the WBA Regional Championship (Trabuco Hills High School).
At Don Lugo High School, Pali placed first in class 2A and won awards for Best Music, Best Visual and Best General Effect.
"We tied for second place in class 2A at our Regional Championship event," Farrell said. "Since this was our first year competing in the WBA circuit, we were very pleased with our final placement of the season."
Farrell came to PaliHi in the fall of 2019 after completing his master's degree in wind band conducting at UCLA.
He grew up in Raleigh, North Carolina and received his bachelor's degree in music education from the University of North Carolina at Greensboro. He taught high school for three years in that state before coming west.
Last year, the band had to cope with Covid-19 restrictions, but was able to start some rehearsals in May, when some restrictions were lifted. Farrell had some rehearsals over the July 4 summer break, which allowed the band to perform in the Pacific Palisades parade. "We then hit the ground running with Band Camp in August for this season," he said, noting that the group rehearses about eight hours a week after school and competes on Saturdays throughout October and November.
"We were always trying to stay on top of the ever-changing protocols and restrictions and adjust our rehearsal methods to keep everyone safe," Farrell said. "Flexibility is one of the main qualities we strive to instill in our students while they are in band, and many of them took that to heart this season. We rolled with all of the punches, persevered through the ups and downs, and worked hard to have a successful season. I couldn't be prouder of this bunch of young adults."
He also put out a plea: "We are always looking for more students to join the marching band." He promises that no prior music experience is needed, just a great attitude and a willingness to learn. "My motto has always been 'more people, more fun. So, grab a friend and come join the PaliHi band program."