Shane Thomas, 17, who scored 19 goals as a junior for the Palisades High soccer team, and who was to be a captain this coming season, died suddenly on Saturday, August 15.
A memorial was soon organized near the entrance to PaliHi, with messages, flowers and #7 (Thomas' jersey) shaped by candles on the sidewalk. One wrote "Great player with a big heart. It was an honor to play with you." Another wrote; "I was blessed to have you as one of my best friends. God has gained another angel" and "You will always live in our hearts."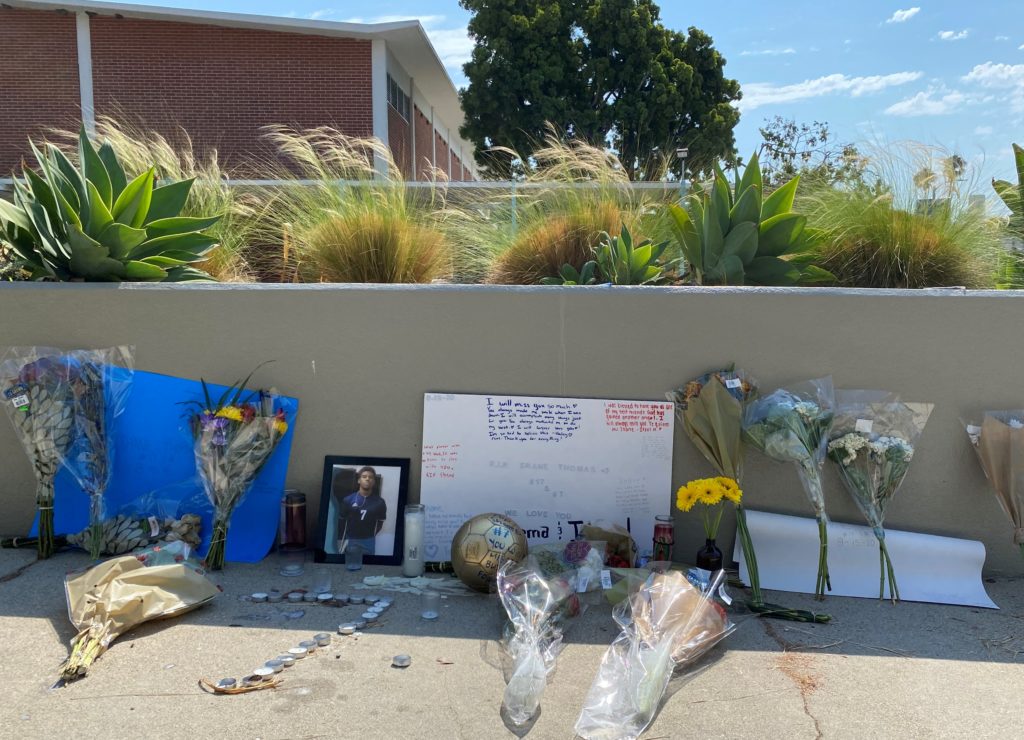 Thomas had just completed a practice with the elite club soccer team, FC Golden State, and had left the field at Ayala Park to take balls to the coach's car.  When he didn't return, players looked for him and found him lying on the ground. Paramedics were called and CPR given.
L.A. Times prep sportswriter Eric Sondheimer reported that Gabriel Morales, supervising investigator with the San Bernardino County Sheriff Coroner's office, said Thomas collapsed about 12:15 p.m. He was taken by ambulance to Chino Valley Medical Center where he died at 1:13 p.m.
Investigators believe his death was likely heat-related — the temperature at noon on Saturday in Chino Hills was 111 — but a final determination won't be known until the autopsy is concluded.
PaliHi soccer coach Marvin Lemus told Sondheimer, "I started crying, I didn't want to believe it. I know he was training, doing what he loves best. He was really excited for this season."
Thomas, who lived in South Los Angeles, is survived by his mother, father and sister Cheyenne, who posted the following on Instagram Sunday:  "Today, God took my soul from me, my best friend. I'm numb inside. You didn't deserve this, but you passed right after doing what you love, playing the beautiful game. I've never met someone so genuine, focused, receptive, responsible, loving. You were perfect. I couldn't have asked for a better brother."
On a GoFundMe page for Shane Thomas, the organizer wrote: "Shane was determined, hardworking, graceful, smart and all around a beautiful soul. He touched the lives of so many and it's our turn to give back to his family in their time of need. We are raising money to cover the costs of the funeral and memorial services for Shane's family as this passing was completely unexpected. Please help us by donating any amount."