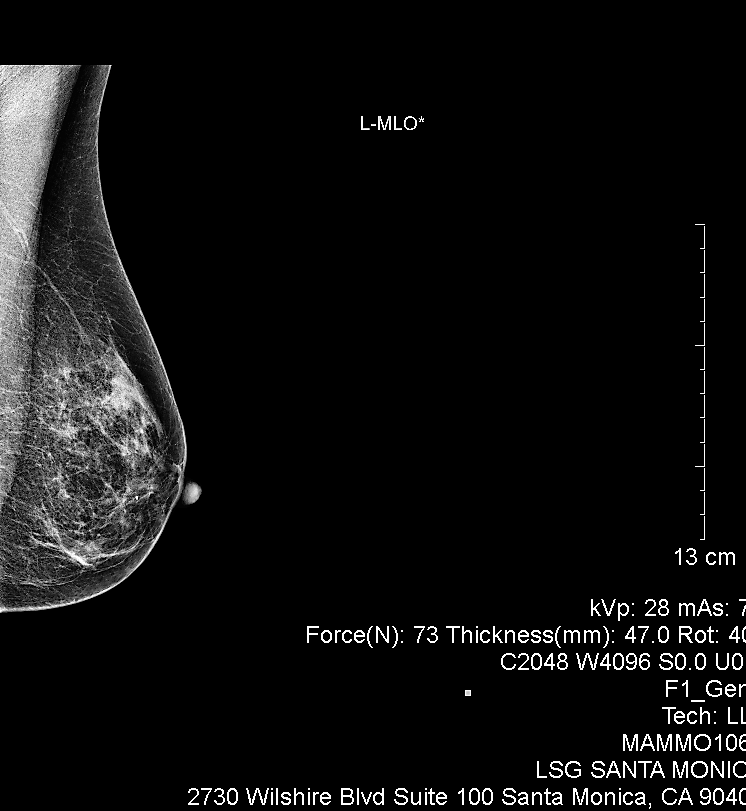 With a wide-angled 3-D mammogram machine, a radiologist is able to see in more detail if there are tumors in breast tissue. 
The Mammogram Story
Darn. I was just turning the corner at the produce aisle in Gelson's when I saw him, standing right next to the onions.
I had managed to duck him for six years. What if I just turned the other way and sidled down the dog-food aisle?
Too late, he saw me and said, "Hi."
While I was still trying to figure out how to avoid a conversation, he struck one up. "Haven't seen you in a while. How's everything going?"
"Fine, fine," I replied.
"Are you seeing someone else?" he asked.
"Well, no, I've just been busy," I lamely responded and thought, That's the problem with a small community. You run into people you know, including my radiologist, Dr. Ross Goldberg, who has performed my mammograms for several decades. He extracted a promise that I would make an appointment and said something about a new machine.
I got home and told my husband, who couldn't figure out why I had put it off—especially since mammograms detect breast cancers long before a self-exam will.
I tried to explain how your breast is placed between two pieces of plastic and squished, which is necessary so that an accurate picture could be taken.
I told him it would be like him putting his private parts on a tray and then having them squished down. Still no sympathy.
I explained I had dense breast tissue, which meant that because tumors could hide, I always had to have an ultrasound after the mammogram. My husband pointed to a phone.
I'm not sure whether it was pressure from my husband, the possibility of running into the doctor again at the grocery store or because it was time to stop making excuses for a simple testing, but I made the appointment.
There I was, once again, trying to put a breast on a plastic tray. Those of us who are not as well-endowed as others have problems plopping anything down, which can then be "photographed."
I expected the usual painful pulling, tugging and squashing, but I was surprised this time. There was a new machine that takes two angles on each breast and doesn't squish.
"Compression is key to getting an accurate mammogram, but associated discomfort and pain are key reasons why women avoid mammography exams," Goldberg told me.
With the new machine, the MAMMOMAT Revelation, the force is automatically adjusted for individual comfort without losing accuracy.
The dense breast tissue issue came up again with the technician, and since high breast density can increase the risk of cancer not being detected, I was taken to the ultrasound room.
Fortunately, Goldberg said I didn't need it this time because his new machine is the first mammography machine that provides automated breast density measurements during examination.
I was curious about women who have breast implants (they, too, should schedule annual mammograms) and was told they almost always need to have an ultra sound because tumors can hide.
"There are still going to be cancers that can be visualized on ultrasound that are not visualized on breast tomosynthesis," Goldberg said.
Patients are told their prognosis on the spot. I was okay—and relieved, but a bit embarrassed that I had put it off for six years.
Since Goldberg's office accepts Medicare, but does not take insurance, it's up to the patient to send the paperwork to their insurance company.
Goldberg said his practice, LSG Imaging, is the first office in California and one of the first in the United States that has the wide-angle 3D mammogram machine. (Siemens' newest breast-imaging technology, the MAMMOMAT Revelation, was FDA approved in March.)
"We chose the machine because the wide-angle technology makes it easier to find even the smallest cancers earlier with greater accuracy," Goldberg said. "When breast cancer is found early, the chances of survival are greatly improved."
The office is located at 2730 Wilshire Blvd. #110, Santa Monica. Call: (310) 394-2761.