There are numerous events planned this weekend for the morning, afternoon and evening for the area from plays to gift shows to festivals. Choose one activity, or choose them all, and have a good time!
November 3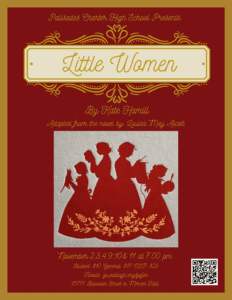 THEATER
 Theatre Palisades Presents Agatha Christie's Towards Zero at the Pierson Playhouse starting Friday November 3 and running weekends through December 10. Tickets: Adults $22 and seniors/students $20. (310) 454-1970 or visit. https://theatrepalisades.org/ The theatre is located at 941 Temescal Canyon Road.
Palisades High School's show Little Women runs November 3, 4 and 9, 10, and 11 at 7 p.m. VIP $25, general admission is $17 and students are  $10. The play will take place at 15777 Bowdoin Street in Mercer Hall. Tickets can be purchased online at go.palihigh.org/gofan.
November 4
GIFT FAIR:
The Pacific Palisades Woman's Club is holding a Holiday Gift Bazaar from 11 a.m. to 5 p.m. on Saturday, November 4, at the Woman's Club, 901 Haverford Avenue. There is free admission.
The event is open to the community and a percentage of all vendor sales will go towards PPWC's grant program. The grants support nonprofit and charitable organizations in Pacific Palisades.
WILL ROGERS BIRTHDAY:
There will be birthday cake for all at Will Rogers' 144th Birthday Party, which will be held from 11 a.m. to 3 p.m. at 1501 Will Rogers State Historic Park Road. There will be a trick roping demonstration, and for a small fee, which will go to the foundation, people can get roping lessons. There will be at least a dozen antique cars for a Route 66 Centennial Car Show sponsored by the Antique Auto Club of Southern California.
There will be a campaign button-making machine so kids of all ages can make a "Will for President" button or use their own name as a presidential contender. Take tours of the house and enjoy actress Debra Moore as Betty Rogers. Don't miss the mini-film festival, which will screen five Will Rogers documentaries, including Harold Ramis "Look Back in Laughter" that features Robin Williams, Chevy Chase and Dan Ackroyd..
YEE HAW DAYS:
The annual Yee Haw Days at Palisades Elementary will be held from 1 to 5 p.m. The public is invited to the festival, which will be held at the school, 800 Via de la Paz. There will be food trucks, Go Karts, Zorbs racing, hair braiding, carnival games, a bake sale, a cake walk, a corn maze and an obstacle course. The money raised will go to support PEP (Palisades Enrichment Programs), which include the discovery garden, music, physical education and technology.
HOME GARDENING SYSTEMS:
Elliott Kuhn of Cottonwood Urban Farms will speak about compositing, seed selection and seasonal growing. This free program will be at 2:30 at the Palisades Library, 861 Alma Real.
TIME CHANGES, FALL BACK:
Set your clocks back one hour.
One resident wrote, "Daylight Saving Time is my favorite time of the year, up there with any holiday. It is a joy to drive home from work in the light and to have light to walk after dinner. Any car crashes that happen in the first few days of the switch from Standard Time to Daylight Saving Time most likely come from losing that hour of sleep. That is why crashes do not increase when we switch back from Daylight Saving Time to Standard Time and gain an hour of sleep. But the return to Standard Time can bring a degree of depression, especially when leaving work at the end of the workday only to face a dark sky. Oh, the joy, when we finally remain on Daylight Saving Time all year!
November 5
5K RUN:
The Revere Annual 5K Run Fundraiser will be held at 9 a.m. on Sunday, November 5 on the Paul Revere campus, 1450 Allenford Avenue.
The fee is $10 for students and $20 for all others. Or if you cannot run, you can go to the website and make a donation click here.
SAFETY FAIR:
A Wildfire Safety Fair hosted by MySafe:LA, Homeowners Association of Brentwood, the Brentwood Community Council and Council District 11 Councilmember Traci Park will be held from noon to 3 p.m., at the Brentwood School East Campus, 100 S. Barrington Place. This is free to the public and will include free food and ice cream.