Fortunately, most of Los Angeles hasn't yet seen the spike of coronavirus patients that people in New York/New Jersey have, but is there explanation?
In an April 6 Sacramento Bee story ("Here's When Experts Predict New Coronavirus Cases Will Peak in California, Sacramento Region"), the writer states that "projections from the Institute for Health Metrics and Evaluation, a global health research center at the University of Washington is predicting the peak day for this state [California] as April 14.
"However, state health officials say they believe the peak moment is more likely to be May. Gov. Gavin Newsom on Friday declined to answer questions about how the state's modeling differs from others." (Visit: https://www.sacbee.com/news/coronavirus/article241657326.html?#storylink=cpy).
The Bee story also noted, "The University of Washington institute forecasts 5,068 Californians will die in the next three months before fatalities largely stop by the last week of June.
"That death number is notable: California comprises 12 percent of the U.S. population. That number of deaths is less than 6 percent of the institute's estimate of 93,500 deaths nationally. The Trump administration has warned the death toll could be between 100,000 and 240,000.
"But to hold the death number down in California, not only will people have to continue staying home as the peak arrives, they also will have to stay home for a month after the peak hits."
What has made the difference? Three possibilities seem likely: density, distancing (which has gone on since March 16), and earlier exposure to coronavirus.
DENSITY:
A March 2018 piece in the New York Times ("A Bold, Divisive Plan to Wean Californians From Cars") noted "an audacious proposal to get Californians out of their cars: a bill (SB-827) in the State Legislature that would allow eight-story buildings near major transit stops, even if local communities object. The idea is to foster taller, more compact residential neighborhoods that wean people from long, gas-guzzling commutes, reducing greenhouse-gas emissions."
After that bill was defeated, its author Senator Scott Wiener proposed SB 50, which was amended in the California Senate in January 6, 2020. Supported by the pro-development group California YIMBY (Yes, In My Backyard), it would have allowed denser development in more affluent "job-rich" communities, even if they don't have high-intensity commute transit service.
Is it possible that one of the reasons that Los Angeles is having fewer cases than New York City is because residents are naturally separated by six feet from our neighbors? We do not share elevators, stair rails and front doors.
The mass transit system in Los Angeles mostly does not serve people in areas such as Pacific Palisades and is largely underutilized in other areas of the city because of its sprawl and the lack of direct routes to work. With residents driving themselves to work every day, they have avoided the person-to-person contact that Big Apple residents face.
Having lived in Manhattan, Queens and New Jersey for 15 years, I know that the fastest way to get around there is by mass transit. Using the trains daily (in addition to touching rails and machines), rush hour was generally so crowded that even when forced to stand, it was often difficult to get a pole to hold onto. When a train went out of service, and everyone was forced onto the next train, passengers were jammed so close to one other, I could tell if the person next to me had just eaten garlic.
The downside of everyone driving in Los Angeles is nightmarish commutes on the freeways—but numerous people have written how the hour drive is still less than the two-hour commute on Metro buses—and they would rather be in their own "isolation chamber" (an automobile).
If pandemics strike every 40 years or so, maybe less density, rather than greater, is preferable for the future.
DISTANCING:
Residents in Los Angeles were requested to stay six feet away from one another ("social distancing") to emphasize the concept "Safer at Home," starting on March 19.
In New York City, a March 19 memo (Appendix 1 from the NYC Health Department), also recommended social distancing to prevent further spread of coronavirus. And on March 30, Mayor Bill de Blasio announced that distancing would move from a moral responsibility to a legal requirement, with fines.
Were people in Los Angeles better at social distancing? Or was it easier because there were fewer of us in a larger geographical space?
AIRLINES/REFEREEING: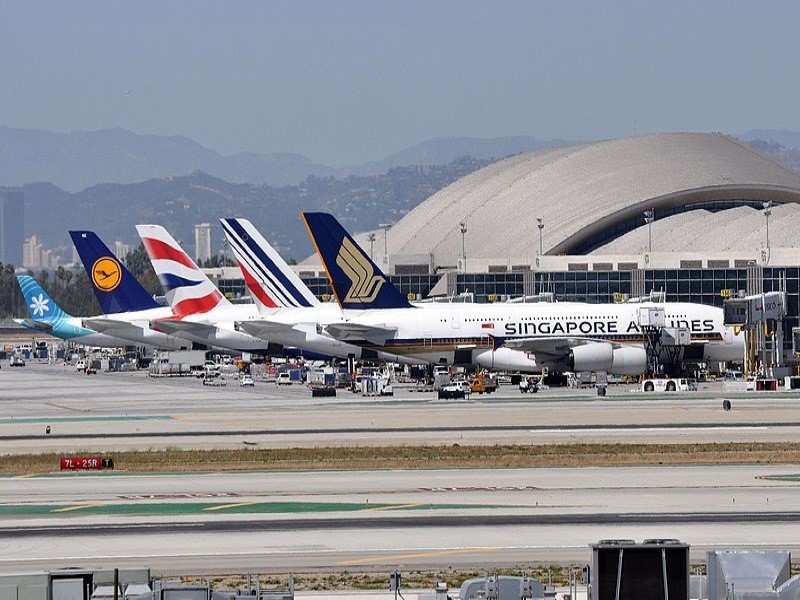 My husband is a pilot for a major airline. Between the end of November and until travel was suspended to China on February 6, he made about 10 trips between the U.S. and either Beijing or Shanghai. The planes were packed going and coming.
It turns out there is a big business with pregnant Chinese women coming to America. On the return trip to China, the plane was always filled with women and their newborns.
The L.A. Times has reported on this several times, including a December 2019 story ("Woman Is Sentenced for Helping Chinese Women Come to the U.S. to Have American Babies") which noted that  "A Chinese woman was sentenced on Monday to 10 months in prison for running a business that helped pregnant women in China lie on visa forms and to immigration authorities so they could travel to Southern California to give birth to children who would automatically have U.S. citizenship."
The woman's attorney noted that because of the 500 possible cases brought forth for the birth tourism company called "You Win USA," only seven cases were documented where travelers lied to engage in birth tourism.
Based on observation, it appears that flights between mainline China and Los Angeles, via numerous airlines, were jammed in December and January, and into February, when the virus was exploding exponentially in China.
Experts suspect that the first coronavirus case was diagnosed last November 17, according to the South Morning China Post (SMCP), and was a 55-year-old individual from Hubei province in China.
In its March 13 story ("Coronavirus: China's First Confirmed Covid-19 Case Traced Back to November 17"), the SMCP noted that "From that date onwards, one to five new cases were reported each day. By December 15, the total number of infections stood at 27 – the first double-digit daily rise was reported on December 17 – and by December 20, the total number of confirmed cases had reached 60."
"Of the first nine cases to be reported in November – four men and five women – none has been confirmed as being "patient zero." They were all aged between 39 and 79, but it is unknown how many were residents of Wuhan, the capital of Hubei and the epicentre of the outbreak."
The World Health Organization listed the first case as December 8, but WHO depends on reporting from individual countries.
Which brings us to the antidotal account of sick kids while refereeing soccer tournaments. I certify as a high school soccer referee, and annually there are several soccer tournaments held over the long winter holiday.
In one case, when a girl when down, I blew the whistle and she motioned that she was having trouble breathing and needed to be subbed out—I waved the coach on and asked if player had asthma. The answer was no but was told a lot of the kids had been out sick.
A different tournament, different teams, another girl went down and needed to be subbed out. She was having trouble getting her breath and when she went off the field, she threw up in a trash can. No asthma. Yet here was one more player with similar symptoms. In the 10 or so years I've been doing high school soccer, I've never seen so many kids with health issues at three different tournaments.
I chalked it up to flu—and having had a flu shot, I wasn't particularly worried. But now I wonder if the coronavirus could have arrived in Los Angeles in December?
How will we know? It will be important to test to see who has antibodies. If a significant number of people in Los Angeles have already been exposed, it will make it easier for our governmental officials to make informed decisions.
And no, I don't shake players hands — I offer my knuckles so we can fist bump – and the first thing I do when I get home is wash my hands.
(Editor's note: Pacific Palisades resident Dr. Rebecca Malamed wrote on Nextdoor Palisades on April 7: "We did not start testing for COVID-19 until recently. Many Non-Influenza Like Illness may well have been COVID-19 cases. These are patients with a flu-like illness who tested negative for the flu. We won't get those numbers until we get widespread serologic testing for antibodies to assess how many people actually had the infection. At the moment, you should assume that you are an asymptomatic carrier who might infect others. That is the most important reason to wear a mask, to protect others in case you have it and don't even know it.)