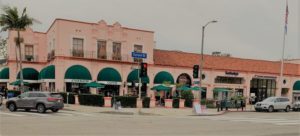 ABOUT TOWN
'Curb Your Enthusiasm' Shoots on Via
A new episode of "Curb Your Enthusiasm" was filming on Via de la Paz today (Wednesday) in front of Lilese Skin Care. The store front was now signed as K.L. Jewelers, with a Going Out of Business sign in the front window.
Executive producer, actor, writer and comedian Larry David was spotted on the street leaning against a parking meter. We asked the creator of "Seinfeld" if he was going into the jewelry business.
He said the shoot was for a new episode of his hit HBO series.
According to an October 2018 Circling the News story ("Curb Your Enthusiasm Begins Filming Season 10"), the first episode of the new season was shot in October.
"Curb Your Enthusiasm" has been nominated for an Outstanding Comedy Series Emmy for eight seasons and David has been nominated as Outstanding Lead Actor in a Comedy Series six times, including season 9.
David, who lives in Pacific Palisades, often uses locations in town as a backdrop for his show. Frequently, Santa Monica Canyon residents Ted Danson and Mary Steenburgen are in episodes.
Who can blame David for shooting here? Nice commute.
Vandalized Christmas Lights Taken off Village Green Tree
Firefighters from Station 69 used their hook-and-ladder truck to take down the Christmas tree lights from the "Charlie Brown" tree at the Village Green on Monday.
Usually the tree is strung with lights after Thanksgiving and then are kept on for about a month. This year that was cut short when vandals destroyed part of the system in mid-December.
Circling the News spoke to Village Green Board member Marge Gold, who said, "Someone ripped a string of lights apart.  Apparently, this break shorted out the fuses that are installed on the plugs on the strings and caused the entire tree to go dark. Efforts by a board member and a volunteer could not repair this."
Resident Nina Kidd reported on Monday that board member Bob Gold said that plans for next year were uncertain.
The Village Green Park is a private park, run for and by Pacific Palisades residents. The annual budget is about $15,000 for maintenance and upkeep. All money is raised through donations and grants, which means that there is no extra money to deal with the vandalism/replacement.
Kidd asked, "I wonder if next year's Hullabaloo team might sponsor repairs and setup?" Visit: palisadesvillagegreen.org