By BOB VICKREY
Many years ago while boarding a crowded late-night flight leaving Dallas-Fort Worth Airport, I spotted a familiar face as I passed through the first class cabin.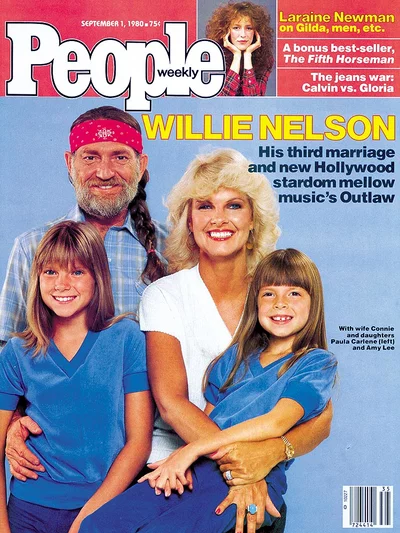 She averted my eye for a moment and then looked back at me as I asked, "Connie, is that you?" We hadn't seen one another since high school days, so I felt it necessary to identify myself as her classmate back in our Texas hometown of Galena Park. Then her expression changed quickly to a broad smile. She asked where I was sitting, and I pointed to the "peanut gallery" in the back cabin.
"After we're airborne, I'll come back and visit with you." As I made my way up the aisle, I noticed an even more familiar face—her legendary husband Willie Nelson, who was sitting directly behind her. He had already fallen asleep with one of their young daughters resting her head on his shoulder.
Of course, I had already heard about our high school classmate marrying Willie years earlier, but had never actually seen them together—except on the cover of People Magazine.
A couple of years before running into Connie on the plane in Dallas, I had moved to Austin with my (then) wife, and settled in the southern part of town in Oak Hill near Dripping Springs, where the Nelson family lived. A new neighbor of ours informed us that our property line backed up to Willie's ranch acreage, but he said he'd never spotted anyone that far removed from the distant ranch house. I assured him that I was not under any illusion that we'd be visiting over the back fence.
While we were waiting for takeoff, it occurred to me that I never really knew Connie that well in high school, although we did have several mutual friends. We had lost touch with one another shortly after graduation.
I had read that she had met Willie at one of his concerts in a nightclub in the small town of Cut N' Shoot. He became enamored with her during their very first meeting and they began their long relationship shortly afterward, eventually having two daughters together, Paula and Amy.
I had just dozed off after our takeoff when I was awakened by Connie who was leaning over me in my exclusive back row seat (conveniently located next to the restrooms.) Since there were no available seats in the area, she encouraged me to join her in the first class cabin.
She placed Amy in her lap in the window seat and offered me the aisle seat beside her. Before I sat down, I noticed that Willie had opened one eye and was warily surveying the new seating arrangement. He was likely wondering who this stranger was who had invaded their family gathering.
Connie and I enjoyed a quick visit and caught up on some gossip about our former classmates, but the conversation was cut short when the flight attendant abruptly announced our arrival and approach into Austin. After enjoying the pleasures of first class for a few brief moments, I was forced to return to my seat in "Siberia" in the back of the plane.
After we landed, I rejoined the Nelsons in the baggage claim area where Connie introduced me to Willie and told him about our high school connection. He seemed less than enthralled with our common backgrounds, although he did manage a few pleasantries in his sleepy haze.
While waiting for my baggage to come down the ramp, I reached for the wallet in my back pocket and panicked when I realized it was missing. Connie had the nearby skycap call one of our flight attendants onboard who informed us the wallet was not found in either seating area. I'm sure the friendly skycap was only accommodating her because he thought the wallet belonged to Willie. Connie turned toward me and asked, "How are you getting out of the parking lot?"
While she was asking Willie if he had any cash with him, I was quickly relieved to find several crumpled bills I had stashed in another pocket—which was just enough to get me out of the lot. When I looked up, Willie was laughing as he extended his open wallet toward me which contained one single dollar bill. I gallantly said, "I would never take a man's last dollar." He seemed duly appreciative of my noble gesture.
I told them I was relieved that I would not be returning to our next high school reunion while owing money to one of my classmates. It's never a good look walking into a class reunion carrying dollar bills in your hand.
Years later, I caught up again with Connie at our 30th reunion where I discovered she and Willie had divorced several years earlier, and their now-grown girls were beginning their own singing careers. She told me she had moved to Southern California where she lived in the town of Del Mar, about 100 miles south of where I lived.
We talked vaguely of getting together, and then quickly realized we had just fallen into the famous L.A. stereotypical trap of essentially saying "Let's do lunch." All we were missing in that exchange was another Hollywood cliché: "I'll have my people call your people."
As I left the reunion in the late-night hours, I instinctively reached for my hotel parking ticket that was tucked safely away in my wallet. Thank goodness my wallet was there, because Willie wasn't around this time to bail me out.
Bob Vickrey is a longtime Palisadian whose columns appear in several Southwestern newspapers including the Houston Chronicle. He is a member of the Board of Contributors for the Waco Tribune-Herald. His long-running "Lunch Club" series was published by the Palisades News. You can find more columns on his website:  bobvickrey.net