Comedian and actor, Kevin Nealon is racking up the honorary titles. He was given an honorary doctorate by his alma mater Sacred Heart University in Fairfield, Connecticut, in May.
He was honorary mayor of Pacific Palisades from 2016-2017.
After being chosen as mayor, he was asked to serve as Grand Marshal in the 4th of July parade – and then, he was even asked to be a judge in the home decorating contest.
When he received the hometown honors in 2016, he told reporters that he felt honored. "I don't know what's coming next," Nealon said. "Honorary mayor, grand marshal — crossing guard?"
Now the Palisades Americanism Parade Association has just feted the comedian with a new title "ex-honorary mayor."
Nealon will ride in this year's 4th of July parade. Although no one is sure what the official duties are for an ex-honorary mayor, it's apparent Nealon will give them the same full attention he did when he governed Pacific Palisades.
After he became mayor, he told Conan O'Brian on O'Brien's late night show that he planned to get tough on the drug problem here "specifically, the rampant use of Botox. And he promised to rid the town of those who forget to bring their own."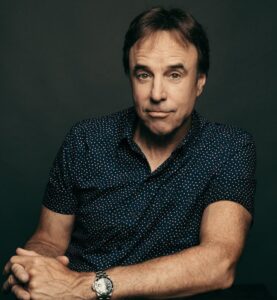 Crime and homelessness also had him concerned. People were forgetting to take their own shopping bags to the supermarkets and "There's a homeless problem, married men cheating on their wives and losing their homes. I want to stop this," he said. (The O'Brien segment can be viewed on YouTube.)
Nealon created and hosted "Hiking with Kevin," which has more than 100 episodes on YouTube. In it, he interviewed celebrity friends on hikes around the Santa Monica Mountain trails. His guests have included Adam Sandler, Conan O'Brien, Caitlyn Jenner, Lin-Manuel Miranda, Tiffany Haddish and Courteney Cox.
PAPA has promised Nealon that he will not have to hike the parade route – but can ride in a car.
Born in St. Louis, he was mostly raised in Bridgeport, Connecticut. His father worked for a helicopter company. And from the time Nealon was six until he was 10, the family lived in Germany, where he learned to speak the language fluently.
"I learned how to swim in Greece, ski in Austria and argue in Italy," Nealon said, in an earlier interview with CTN's editor.
He is also a gifted artist, but not formally trained. "I'm a doodler. When I fly in planes, I sketch the person next to me."
Nealon said he learned how to draw on his own. "There were two framed caricatures of my mom and dad on my bedroom wall, and I used to study them. When I was in Germany, I saw a sketch of a soldier on a napkin, and I practiced drawing it."
He draws caricatures of his celebrity friends, which he often posts to his Instagram. A book will be released this October, I Exaggerate: My Brushes with Fame,  featuring his caricatures accompanied by his musings on how he knows the person or an experience he had with them (@kevinnealonartwork).
Growing up, however, "I always wanted to be a musician," said Nealon, who plays guitar. After seeing the movie "Deliverance," he also taught himself to play banjo. "I was too intimidated to sing on stage but started going to clubs and telling jokes."
After Nealon received his bachelor's degree in marketing from Sacred Heart, he moved to Los Angeles, hit the comedy-club circuit and soon appeared on Johnny Carson and David Letterman.
He heard from his pal, Dana Carvey that Saturday Night Live producers were looking for another cast member. After auditioning, he was hired and from 1986-1995, he anchored the Weekend Update and created the muscular fitness experts "Hans and Franz" with Carvey.
Nealon made his film debut in the 1987 romantic comedy, Roxanne, with Steve Martin and has starred in more than two dozen comedies.
This summer he is on tour around the country. Visit: kevinnealon.com.