Scooters Infiltrating Pacific Palisades
One resident wrote that Pacific Palisades is being overrun by electric scooters. He said he has encountered scooters in the business district and on residential streets
Another reader wrote, "I was almost hit by a scooter in Ralphs' parking lot," noting that the scooters don't seem to be parked around Caruso's development.
We can only speculate as to why there are no dockless scooters/bikes parked at Palisades Village. One deterrent could be the guards that constantly patrol the property, including the sidewalks along Monument, Sunset and Swarthmore. Another reason could that people on scooters simply don't visit or shop at Palisades Village.
On September 4, the L.A. City Council voted 13-0 to approve a one-year pilot program that would cap the number of scooter-like vehicles in L.A. at 3,000 per company (although disadvantaged communities may receive more).
Companies must pay an annual fee of $20,000 to participate in this program, and must license each vehicle, at an additional cost of $130. There is a 15-mph speed limit and companies must remove scooters blocking sidewalks. They are also required to establish a 24-hour hotline, so that pedestrians can report scooters that are infringing on the rules.
L.A.'s program requires that users leave bicycles and scooters parked upright, on the outer edge of the sidewalk, near bus benches, parking meters and advertising kiosks.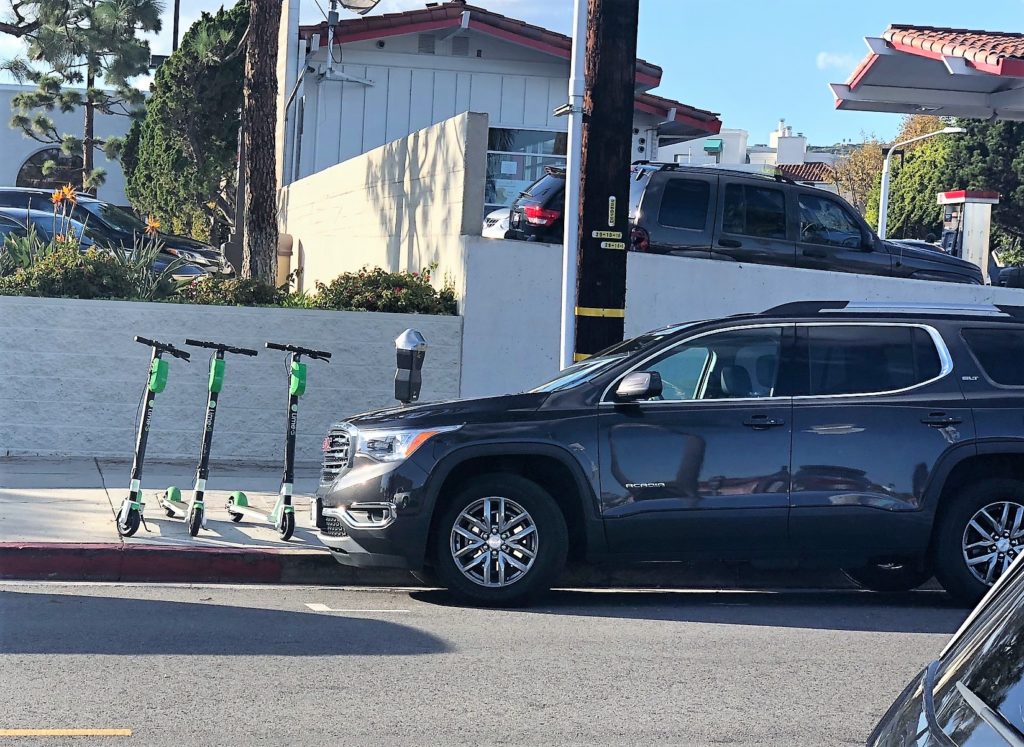 Circling the News contacted Councilman Mike Bonin's spokesperson David Graham-Caso on November 29 to ask if the hotline requirement had been followed.
He provided a link that explains City rules: 11thdistrict.com/news/scooter-rules, and also contacts for Bird (bird.co/contact-us) and for Lime (call: 888-LIME345 or email: support@limebike.com).
For concerns about traffic enforcement or riding on sidewalks, call LAPD Western Traffic Division (213) 473-0222 or visit: lapdonline.org/west_traffic.
Additionally, the City was going to add the ability to report inoperable or improperly parked scooter via 311, and Graham-Caso was asked if it was in operation. He had not responded by post time.
The City's Transportation Department started the permit application process in September but warned the approval process could take as long as four months.
In a Sept. 4 L.A. Times Sept. 4 story titled "L.A. Approves Rules for Thousands of Scooters, with a 15-mph Speed Limit and Aid for Low-Income Riders," Councilman Mike Bonin was quoted, "Some folks see the dawn of scooters as a great opportunity. There are some who consider them to be a tremendous nuisance, blocking our sidewalks, and causing problems for seniors, children and people with disabilities. I happen to agree that both perspectives are true."
Circling the News readers: What do you think? Let us know about your encounters with scooters in Pacific Palisades so that the Community Council can have fact-based input at a future public hearing.
Santa Monica also has a 16-month pilot program that started September 17:  Bird and Lime are allowed to each operate 750 scooters within the city's limits. In July, West Hollywood banned the scooters and Beverly Hills banned the scooters for six months, until regulations could be formulated.