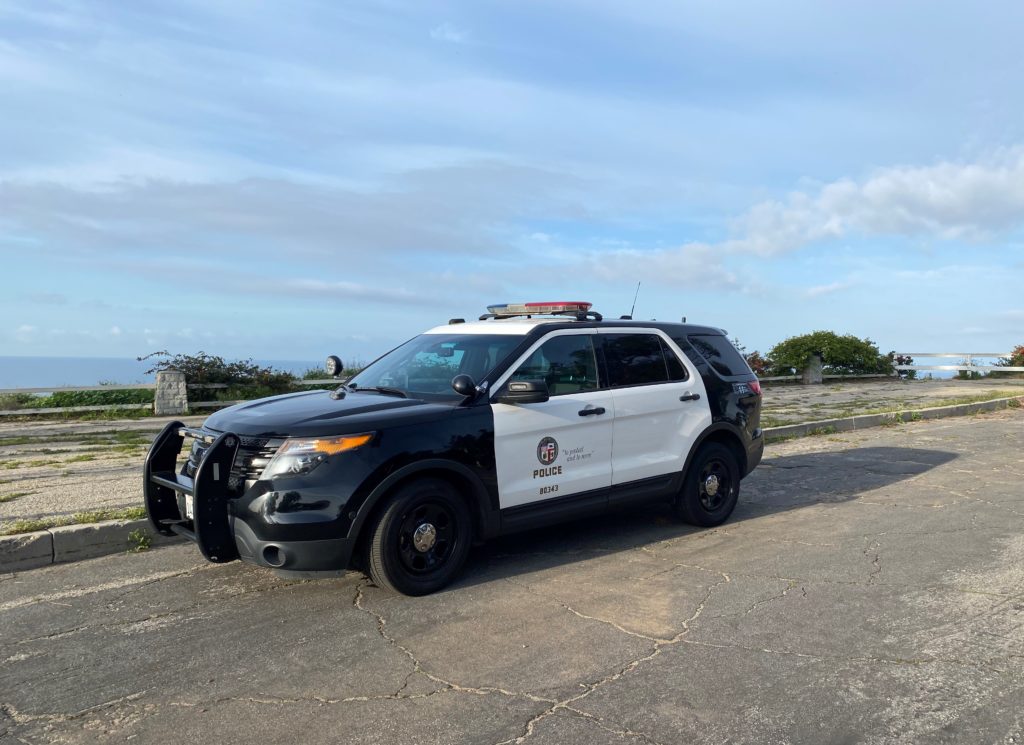 LAPD Officer James Allen, who is filling in as Pacific Palisades Senior Lead officer after Michael Moore's retirement, filed the following report from last week.
BURGLARY
January 15, 8:36 p.m., in the 17800 block of Vicino Way. The unknown suspect smashed the front glass door to the location. The suspect selected victim's property and fled the location with this property.
January 27 to 28, 9 p.m. to 8 a.m., in the 17300 block of Sunset. The unknown suspect smashed the front glass door to the location. The suspect selected victim's property and fled the location with the property.
January 22 to 25, 3 to 5 p.m., in the 1400 block of West El Bosque. The unknown suspect smashed the rear patio door to the location. The suspect selected victim's property and fled the location with this property.
BURGLARY/THEFT FROM VEHICLE
January 24 to 25, 5:45 p.m. to 10:15 a.m., in the 510 block of Los Liones Drive. The unknown suspect entered victim's vehicle and removed property, which included a wallet, a California ID and credit cards.
THEFT
January 27, 2:30 p.m., in the 10400 block of Almayo Avenue. Unknown male and female Hispanics, no further description, removed packages from victim's porch. Suspects fled the location in an unknown direction in a silver 1998 Buick sedan.
To report a crime in progress, call 9-1-1. To report any non-emergency crime, call (877) 275-5273. A crime that has occurred may be reported in person at the West L.A. police station, 1663 Butler Ave. (Call 310-444-0702, or some crimes may be reported online.) James Allen is currently serving as the Palisades Senior Lead Officer and his email is 39318@lapd.online
COST OF A CAR BREAK-IN:
One person detailed the cost resulting from Burglary/Theft from Vehicle. This is important information for readers.
"This Break-in Will Cost You Way More Than You Think" was the title of the person's posting on Nextdoor Palisades, which detailed a months-long process.
"Most of us think all that we lost was the obvious stuff in our cars, in my case headphones, replacing the owner's manual, reusable shopping bags, etc.," the person wrote.
"What didn't go into the report is the hidden costs to keep the car or its parts from being stolen again, such as: What did they get when they stole your owner's manual?"
The owner pointed out that with the manual contained the codes for the wheel lock and the code to get in the car, which means they all had to be replaced. "The overall cost of the little burglary into my car, not including the continued risk of identity theft, is now in excess of $2K, all because of these stolen codes."
The owner recommended going back to the police to update the report because my "$400 claim is now in excess of the $950 misdemeanor," which means if the thief is caught, they could be tried for a felony. The person also suggested going back to the insurance company and amending the complaint.
HOME INVASION ROBBERY FOLLOW-UP:

On Christmas afternoon, long-time resident Fran Morris Rosman was the victim of a home invasion robbery (as previously reported by Circling the News). She reached out to Senior Lead Officer Michael Moore, who wrote her back on December 30: "Good morning, I am aware of the crime. Detectives are working on the case but things like this take time to solve (if ever). You are not likely to be contacted by detectives unless they have questions."
Morris Rosman told CTN in a subsequent email that "So far, only the Palisades rep for Mike Bonin's office has emailed me, and that was after I emailed them four times and left two messages with two different people. She told me she will call me."
Councilman Mike Bonin's Field Representative Durrah Wagner had followed up with an email the beginning of January, saying that she had shared the information with the Pacific Palisades Task Force on Homelessness, who said they would do some reconnaissance (which they did) and determined it was most likely not homeless who had broken into her house.
CTN reported on the home invasion robbery in a January 6 story titled "Home Invasion on Monument Street."
Morris Rosman told us at that time "Just after our home invasion robbery, the police were here and needed to write up the report. I figured they would pull out a smartphone or tablet. NO.  The Officer went to the car, got a metal clipboard and a paper form (with carbon) and filled it out in #2 pencil. What year are we in?"
By January 26, Morris Rosman had still not received a follow-up phone call from the Councilman's office.
Today, Morris Rosman sent a follow-up letter to Durrah Wagner and Mayor Eric Garcetti:
"I cannot find the words to express how angry, upset and hurt (not to mention disappointed) I am in my city's response to my experience with a home invasion robbery on 12-25-2020. You have all brushed it off like it wasn't important.
"WHILE I WAS HOME, THREE MEN BROKE INTO MY HOUSE AND STARTED RANSACKING IT. On a bright sunny afternoon. On a quiet cul-de-sac.
"That is a crime and it's simply wrong. And very, very frightening…. I am a short, older woman.
"I can understand why droves of Angelenos are leaving this city; it obviously doesn't care about us (except for our ability to pay taxes).
"Sadly,
Fran Morris Rosman
"P.S. Why do Police reports have to be filled in on carbonized paper with a #2 pencil? Last time I checked, it was 2021 and we have wireless devices. Oh yes, I bet the Police Clerical Workers Union has something to do with this antiquated method of communication."