Palmitessa Guilty of Unlawful Sex with Student
According to the Los Angeles County District Attorney's website, former Brentwood High School teacher Aimee Palmitessa pled guilty on April 18 and is headed for prison.
Palmitessa, 47, had been a science teacher at Brentwood for about nine years and has a doctorate in biochemistry and microbiology. She was charged with unlawful sex with a 16-year-old student over the course of the summer in 2017.
After entering her plea of guilty to three felony counts of unlawful sexual intercourse, she was immediately sentenced to three years in state prison. Deputy District Attorney Adrian Roxas of the Sex Crimes Division prosecuted the case, which was investigated by the Los Angeles Police Department.
In September 2017, the District Attorney's site noted that Palmitessa was initially charged "with seven counts of unlawful sexual intercourse, two counts each of sodomy and sexual penetration by foreign object of a person under the age of 18 and one count of oral copulation of a person under 18."
The acts occurred between June 12 and August 11 and Palmitessa was accused of sexually assaulting the teenage boy, according to the criminal complaint. The victim told authorities about the alleged incidents and Palmitessa was arrested on August 18.
The boy, known as John Doe, sued the school on August 6, 2018 in Superior Court (case # BC716416). Damages sought included for: 1) assault and battery; 2) sexual battery; 3) sexual abuse of a minor; 4) intentional infliction of emotional distress; 5) negligence and negligence per se; 6) negligent training and supervision; 7) failure to warn, train, and educate; 8) negligent infliction of emotional distress; 9) breach of fiduciary duty; 10) constructive fraud; 11) negligent supervision of a minor and 12) sexual harassment.
Judge Barbara Scheper was assigned to the case, and in the complaint, a jury trial was demanded.
According to the lawsuit, the school allowed Palmitessa to groom the 11th-grader before subjecting him to repeated sexual acts on the campus, a hotel and both of their homes.
Allegedly she was his advocate during a school honor board proceeding where he was set to be disciplined for being filmed singing a song containing the n-word, with teens while on board a yacht in May 2016.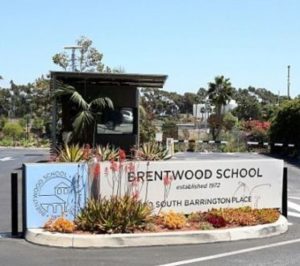 Head of Brentwood School, Dr. Mike Reira, released the following statement on August 6, 2018, on the school's website (bwscampus.com):
"In September (2017), Brentwood School retained Julie Yanow to conduct an internal investigation, separate from the police investigation. The information gathered by Ms. Yanow was helpful to the school's decision-making process and resulted in the school separating Dr. Palmitessa.
"It also led to enhanced communication of the school's clearly articulated policies about boundaries and behavior as well as additional faculty/staff training. The criminal proceedings against Dr. Palmitessa are still ongoing. However, the family has now filed a civil suit against the School and we are in the process of evaluating it. The School's legal counsel will respond as appropriate.
"Despite the litigation, we sympathize with the student and family for the pain this situation has caused them. We remain committed to all of our students and to respecting their privacy. We ask that you do the same.
"The school's statement of purpose, core values, and policies guide our daily practices. With regard to the accusations made in the civil litigation filed by the family, the evidence does not support the allegations, among others, that faculty encouraged unlawful behavior between Aimee Palmitessa and the student or failed to meet their reporting obligations. As we have done to date, we will proceed with care and with the well-being of our students as our guiding principle."
According to the L.A. Superior Court website, a case management conference has been scheduled for June 5 at the Stanley Mosk Courthouse.
The school is represented by Max Sank of Liebert Cassidy Whitmore and John Doe is represented by the law firm of Browne George Ross.