Spoke at the American Legion Hall on September 7
When Dr. Edith Eva Eger was a teenager in Hungary, she had taken dance lessons since she was little and had hopes of making her country's Olympic team in gymnastics.
Instead, the 16-year-old and her family were sent to Auschwitz in 1944.
On a cold winter morning, after she had survived the camp for about six months, Eger writes in her book "The Choice: Embrace the Possible," that "We stand in yet another line. We are to be tattooed. I wait my turn. I roll up my sleeve. I present my arm. I am responding automatically, making the motions required of me, so cold and hungry, so cold and hungry I am almost numb."
Edith and her sister Magda have seen their mother go in a different line to the gas showers. They have learned their father was dead, too. They have survived on a daily bowl of watery soup and a crust of bread. They have shared a wooden platform, which is their bed, with three other girls.
They have been assigned daily jobs, which might be sorting the belongings of the newly arrived inmates, cleaning barracks or working in the crematoriums, where some are forced to "harvest" gold teeth and hair and skin from the corpses waiting to be burned.
But now, "The officer with the needle and ink is right in front of me. He grabs my wrist and starts to prick, but then shoves me aside. 'I'm not going to waste the ink on you,' he says. He pushes me in a different line" the death line.
Eger is told the line she has been pushed into is the one for people who are no longer considered well enough or strong enough to work. She sees her sister Magda in a different line and realizes that "The only thing I know is that I must pass to whatever lies ahead with Magda. Even if what lies ahead is death."
Dr. Edith Eva Eger spoke to about 100 people at Ronald Reagan American Legion Post 283 at a dinner on September 7. She answered questions and told the audience, "I never leave any food on my plate." She also signed copies of her book "The Choice," before and after her talk.
Excerpts from her talk can also be found in her book, which is a must read.
She told audience members that there has always been war, cruelty and violence. "But never in the history of humankind has there ever been a more scientific and systematic annihilation of people. . . .People ask me 'How did you learn to overcome the past?' Overcome? I haven't overcome anything. Every beating, bombing and selection line, every death, every column of smoke pushing skyward (crematoriums), every moment of terror when I thought it was the end — these live on in me, in my memories and my nightmares."
Somehow, she survived and was found by a U.S. soldier in a pile of corpses. But surviving was only the start of another long journey – of first confronting her past, acknowledging that none of it was her fault and then coming to grips with how she lived in the present.
After the war, Eger moved to Czechoslovakia where she met her husband. They emigrated to the United States in 1949. Twenty years later, she received a degree in psychology from the University of Texas, El Paso, and then completed her Doctoral internship at the William Beaumont Army Medical Center at Fort Bliss, Texas.
She returns to Auschwitz as an adult and in her book writes, "The 67-foot-long glass case filled entirely with human hair. We count 4,700 corpses cremated in each fire, 75,000 Polish dead, 21,000 gypsies, 15,000 Soviets . . .more than one million dead at Auschwitz . . . There is no language that can explain the systematic humanity of this human-made death factory."
Eger, although a victim, refuses to be victimized. It's a choice she said that one can make.
"Time doesn't heal," Eger writes in her book. "It's what you do with the time. Healing is possible when we choose to take responsibility, when we choose to take risks, and finally, when we choose to release the wound, to let go of the past or the grief."
Nobel Peace Prize Laureate Desmond Tutu wrote: "'The Choice' is a gift to humanity. One of those rare and eternal stories that you don't want to end and that leave you forever changed. Dr. Eger's life reveals our capacity to transcend even the greatest of horrors and to use that suffering for the benefit of others. She has found true freedom and forgiveness and shows us how we can as well."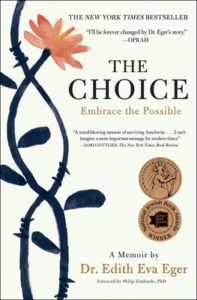 (Editor's note: Many people hold onto being victims and assign blame for their life; this book presents a different side. We must take responsibility and find meaning for our own existence no matter the horrors we may have suffered. The book is divided into parts—Dr. Eger's early life, her time in the concentration camp, her life afterwards, first as an immigrant to America and then her practice, where in helping others, she continues to sift through her feelings. "The Choice: Embrace the Possible" is published by Scribner.)