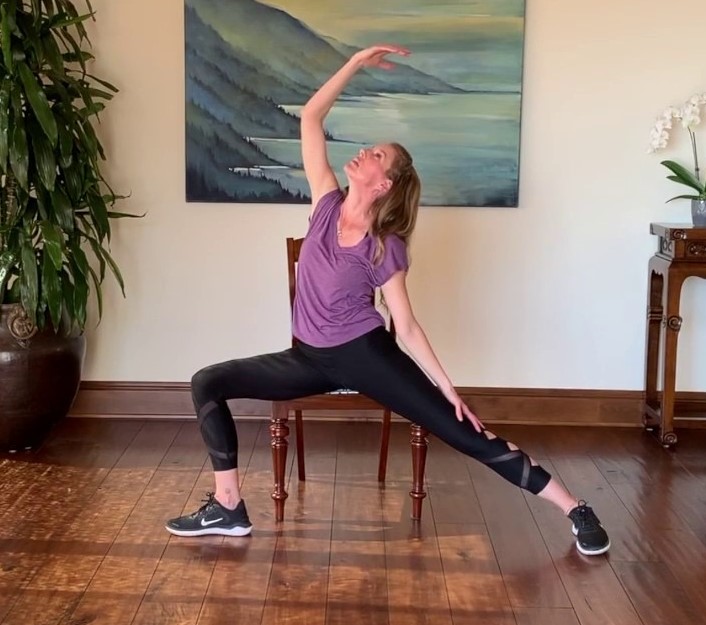 Some of the most popular exercise classes at the YMCA, the Woman's Club and the American Legion were geared for seniors.
With Covid-19 restrictions, all classes at these facilities have been shut down, leaving seniors with walking as their sole exercise, unless they already know some basic stretches they can do at home.
Long-time resident and teacher Alison Burmeister, who has taught classes at all three locations, is hosting a chair yoga class on Zoom at 9:45 a.m. on Friday, August 7. "Everyone is invited," she told Circling the News.
The class will work with seated postures (a sturdy chair is needed) and some standing poses (one can remain seated the whole time if one prefers). There will be a focus on posture, breathing, stretching and strengthening. One can even incorporate weights.
 (Editor's note: I have taken this class, and the stretching helps keep my body from stiffening up, so that I can still bend and reach easily. This is a good workout, but really doable.)
Burmeister tells seniors that they will need to use a computer, laptop or phone. "If you have never used Zoom before, it is fairly simple once you get the hang of it," she said. "Hopefully you will be able to figure it out or have someone in your house who can help you. If not, call me and we'll get you set up!"
Just like the classes at the Woman's Club, this will be a donation-based class with the suggested donation of $15. (If you have Venmo, the online payment service, that is great; if not Burmeister can arrange something else like mailing in a check.)
"The most important thing this Friday is that you JOIN!" Burmeister said. "The more people we can encourage to sign-on, the greater the possibility of making this an ongoing class. So please invite your friends!" Visit:alisonburmeister.com.
Join Zoom Meeting:
https://us02web.zoom.us/j/9145596326?pwd=YSt4djl3UzNEcjkyOVNkcU9WTlN6UT09
Meeting ID: 914 559 6326
Passcode: 616115