(Editor's note: Palisadian Alan Eisenstock's 20th book, came out May 3. He wrote it with Sonya Curry, mom
of NBA star Stephen Curry.
click here. When Eisenstock is not writing, he pursues what he calls "a crazy labor of love side project" that he started in March 2020: sending a weekly Covid-themed playlist of songs to his family and friends. These playlists, which can be downloaded on Spotify click here span rock 'n' roll and pop music from the 1950s to 2020, and Eisenstock adds one or two lines of commentary about each song that is clever, amusing and informative.)
Hi, Everyone,
For two straight years, thanks to COVID, many of us celebrated Mother's Day on Zoom. This year, even though cases are starting to increase again, we may actually return to in-person celebrations. What to do? Idea. Hug your mom… plus, here are 17 "mother" songs. Listen up!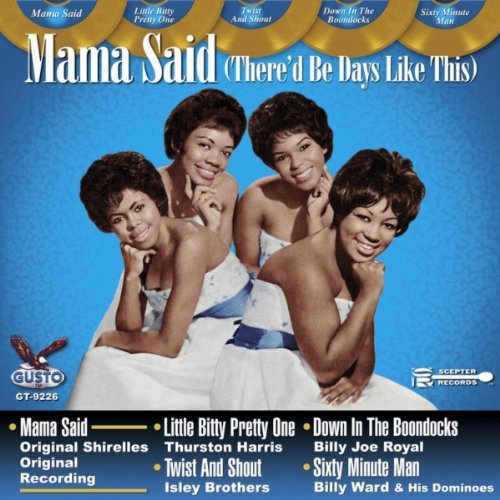 "Mama Said" The Shirelles. High school friends from Passaic, NJ. They formed an R&B/soul group and entered a talent contest. I assume they won. Unclear. Anyway, Luther Dixon and Willie Denson wrote this big 1961 hit. "Mama said there'll be days like this…"
"Mother And Child Reunion" Paul Simon. Paul recorded this snappy, reggae-infused hit in 1972. One of my favorite Paul solo songs. Cissy Houston is one of the backup singers. LOVE.
"Family Affair" Sly & The Family Stone. Sylvester Stewart changed his name to Sly Stone–he loved The Rolling Stones–and the funk, R&B band was born. This 1972 song was the band's biggest hit. 1972 was a pretty good year for music.
"Mother's Little Helper" The Rolling Stones. Big Stones' hit from 1966 and their album Aftermath. It's about the drug that gets mothers through their day. Specifically, Valium.
"Mother-in-Law" Ernie K-Doe. Ernest Kador, Jr. from New Orleans changed his name and recorded this Allen Toussaint song. It became a #1 hit in 1961. Toussaint plays piano. This one's for my son-in-law.
"Your Mother Should Know" The Beatles. Paul wanted to write a "music hall" style song and here it is from 1967 and Magical Mystery Tour. Some call this "Vaudeville Rock." If you love 1930's musicals, this is your groove.
"Grandma's Hands" Bill Withers. R&B icon from Slab Fork, NY. Bill wrote this ode to his grandmother in 1971. One of the most soulful voices ever. Booker T produced.
"Sweet Child O' Mine" Sheryl Crow. Ms. Crow, from Kennett, Missouri, sings and writes rock, folk, country, you name it, and has sold 50 million records. She wrote this "mother" song in 1998. Apropos of nothing, Sheryl was a high school track star, winning medals in the low hurdles.
"Mama Told Me (Not To Come)" Three Dog Night. An obvious "Mama" song from 1970. The band has become a pop/rock cliche, with maybe this exception. Randy Newman wrote this song. Catchy.
"The Mother" Brandi Carlile. The pride of Ravensdale, WA and one of my favorites. In this 2018 song from the album By The Way, I Forgive You, Brandi sings of all the trials and tribulations of motherhood. "Tethered to another and you're worried all the time." Amen.
"Stacy's Mom" Fountains Of Wayne. Power pop/rock band formed in New York. This 2003 was their biggest hit, written by Adam Schlesinger and Chris Collingwood. My son and I saw them at the now defunct House of Blues on Sunset. They blew the roof off, almost literally. Adam died from Covid in April 2020. He was 52.
"Mother" John Lennon. Sad song that John wrote in 1970 while undergoing Primal Scream therapy. John's mom died in a terrible accident. A drunk driver ran her over at a crosswalk. Thus the lyric, "Mother, you had me, but I never had you."
"Mama Tried" Merle Haggard. Country bad guy Haggard served three years in San Quentin for robbery. He wrote this song for his mom, suggesting that his outlaw ways were not her fault. The 1968 song appeared in the film Killers Three, in which Merle made his acting debut.
"Tell Mama" Etta James. Born Jamesetta Hawkins. R&B, soul, jazz, blues–Etta sings it all, and brilliantly. Clarence Carter, Wilber Terrell, and Marcus Daniel co-wrote this 1967 song that became an Etta signature song. Love how all the songwriters have two first names.
"Mamas Don't Let Your Babies Grow Up To Be Cowboys" Waylon Jennings, Willie Nelson. Country singer/songwriters and husband and wife Ed and Patsy Bruce co-wrote this song. Willie and Waylon teamed up and recorded this duet, which became a #1 Country hit in 1978.
"C Sections And Railway Trestles" The Avett Brothers. Seth and Scott Avett from Concord, NC form the core of this country-folk band. Love their harmony and sensibility. Seth wrote this song in 2019 describing in graphic detail the birth of his son. It comes from their album Closer Than Together.
"The Wish" Bruce Springsteen. The Boss wrote this song for his mother and included it on his 1998 album Tracks. Here is the stripped down version that he sang in Springsteen On Broadway,accompanying himself on piano. Saw him on Broadway performing this song. Nearly killed me. LOVE.
And there we have it–an eclectic Mother's Day mix. Some advice:
Don't Forget to Disinfect… and PLAY IT LOUD! 
The link again: click here

Fact Check 
Bill Withers was born in Slab Fork, NY.
Sheryl Crow was a high school track star.
LAST WEEK'S POLL QUESTION:
Elton John's "Rocket Man" blasted past "Take Me To The Pilot."
THIS WEEK'S POLL QUESTION:
"Mama Said" by The Shirelles or "Family Affair" by Sly & The Family Stone. Tough one, right? Who you got?
Very Happy Mother's Day to my wife and all you mothers out there, with a special mention to my daughter who is celebrating her first Mother's Day!
Thanks, all,
Until next week,
Alan