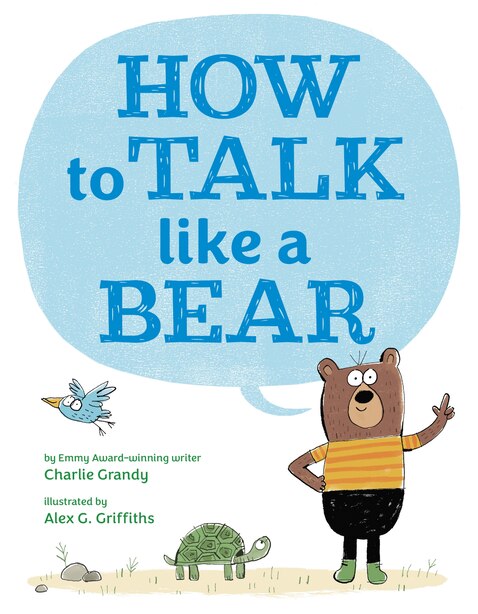 A new book How to Talk Like a Bear, written by Palisadian Charlie Grandy, will offer tips on how to speak bear.
Grandy will read and sign his book at 10 a.m. on Saturday, October 7, at Loomey's Toys, 833 Via de la Paz. This book is targeted for preschool through second grade, but all ages will enjoy the humor.
Learning bear language is far more difficult than just growling and roaring (a common misconception). It's very easy to accidentally say the wrong phrase when you're trying to get your point across. For example, by saying "ROOOAARR" instead of "ROAAARRRR" is the difference between wanting a sandwich and wanting to get into beekeeping.
The book has been described as a silly romp that is perfect for read-alouds and is the exact right gift for anyone looking for a laugh (or looking to learn a new language).
 Grandy is a stand-up comedian, an Emmy and Peabody Award winning television writer and producer known for his work on Saturday Night Live (1975), The Office (2005), The Mindy Project (2103) and Velma (2023). (Velma is an adult animated mystery series, created by Grandy, with Mindy Kaling as the executive producer and the voice of Velma.)
The book is illustrated by Alex G. Griffiths who works as a children's illustrator and graphic designer in Toronto, Alex combines pen and ink with watercolor and digital textures to create his illustrations. Alex's debut author-illustrated picture book, The Bug Collector, was published in 2019 with Andersen Press.
Marissa Moss in a review in the New York Journal of Books wrote: The silly art by Alex Griffiths perfectly complements Charlie Grandy's words, illustrating how a roar can end up meaning all kinds of unintended things.
"You thought you said, 'Give me your ice cream sundaes, humans,' but you accidentally said, 'Go get a haircut.'"
Anyone who has stumbled through learning a new language will recognize the way a minor mispronunciation can lead to great misunderstanding. For example, the words for "peach" and "fish" are very close in Italian. Or the words "heat" and "hate" in English. In this book, you need to get your roar just right or who knows what will happen.
The interactive nature makes this a good read-aloud for story time. The whole library will be filled with roars and growls. Along with fostering a love of reading, as any good picture book does, this story invites children to have fun with language itself. That's a bonus beyond learning how to be as powerful as a bear.