By BOB VICKREY
When I took my seat at the head table directly across from the famous screen legend, I was surprised when she greeted me with her deep raspy voice. "So, what brings you here?"
I recognized Lucille Ball immediately, although her voice and physical features had changed dramatically since I had last seen her in any public appearance. I tried gathering my wits and replied, "I'm a friend of both the bride and groom." My answer seemed to satisfy her for the moment, but I couldn't help but notice that she continued to scrutinize me and my companion during the evening.
When I surveyed the other wedding reception guests at our table, I realized that my friend and I were the only people there who were not well-known public figures. Famed Western writer Louis L'Amour arrived wearing a bolo tie and cowboy hat, while gossip columnist Rona Barrett took her seat next to singer Linda Ronstadt.
We had been invited to the extravagant wedding party of our friends Michael and Kathy, who were holding their reception at Rex, the most elegant restaurant in Los Angeles. Actually, Kathy's mom Thelma was responsible for the choice of venues, since the Beverly Hills real estate tycoon—better known as "Big T," would likely be picking up the hefty tab that evening.
Kathy was the former college roommate of my friend Diane, which helps explain my unlikely presence at this august event. Kathy was head of publicity for feature films at Columbia Pictures in the mid-1980s. Her new husband Michael had been assistant director on several successful Robert Redford movies, as well as being a close friend and confidant. (Redford and wife Lola had already alerted the couple that they could not attend due to a prior commitment.)
The party turned out to be a lot more fun after I had finished off a gin martini, as I began to relax with my new pal "Lucy." In fact, she called the waiter over to the table and requested, "Another round of martinis for me and my friend 'Tom'." So, even though she missed my name by just a few letters, I liked her attitude nevertheless. She spent the evening talking more to Big T than to me, but I'm not sure we had that much to chat about anyway.
It turned out to be quite a memorable event in the life of this native Texan, who had arrived in LA only a few years earlier. As I left the extravagant shindig, a line popped into my head from David Byrne's song "Once in a Lifetime."
"You may ask yourself; how did I get here?" And that's the very same question I asked myself all evening long.
That line became a recurring theme as I navigated my way through "Tinsel Town" in coming years. Odd pairings in unexpected encounters became routine for me, whether it was a chance meeting at a bookstore, or in the produce aisle of the local supermarket. Angelenos are constantly reminded that they live in Hollywood.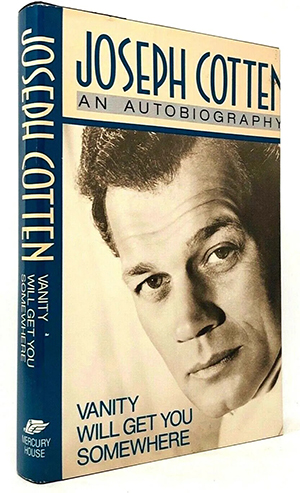 Only a few months after the wedding party, I was talking with my friend Alev, who had just finished editing actor Joseph Cotten's autobiography for a small Bay Area publisher. After working in the book publishing business for many years, I offered her a few suggestions for local book signings and gave her several media contacts that I had used in the past. She seemed so appreciative of my modest input that she later called and invited me to Mr. Cotten's book signing at Hunter's Books in Beverly Hills.
During the drive to the bookstore that evening, I wondered how many people would actually remember the famous movie star from the 1940s and '50s. But as I approached the store, I noticed the commotion on the sidewalk outside the front door. There were dozens of paparazzi gathered there who were being held back by security guards. I guess my question about the actor's current recognition factor had been sufficiently answered.
One of the security officers allowed me to enter the store, where I discovered a jam-packed, boisterous crowd vying for access to the renowned actor, who was sitting behind a desk signing his books. I found a place to stand near the back wall and watched in amazement at the excitement Mr. Cotten had generated by his mere presence.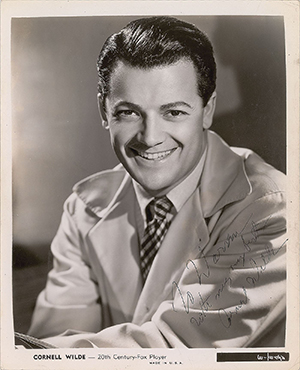 I made small-talk with the gentleman standing next to me, who, like me, appeared to be comfortable in his role as "wallflower" at this event. I wondered aloud which of the Hollywood elite might be here in the audience. He leaned toward me and introduced himself as "Cornel." Only a moment lapsed before several photographers approached him and began shooting pictures of the once-famous movie star Cornel Wilde, whom I had failed to recognize.
As we chatted, I noticed that Alev was waving at me to approach the front desk where she was attending Mr. Cotten. My new pal Cornel laughed, and said, "So much for your wallflower role tonight."
Alev escorted me behind the counter and interrupted the author who had just finished signing a patron's book. She offered a formal introduction to the actor, who stood to shake my hand, and then, in turn, introduced me to his wife Patricia. Alev told him that I had made "an immense contribution" during the publishing process, to which I managed to maintain a straight face.
Mr. Cotten thanked me profusely, and then while exhibiting an old-fashioned graceful courtliness, turned, and introduced me to their longtime friends, James and Gloria Stewart, to the great astonishment of this suddenly disoriented interloper.
In that moment, what I remember best was how tall both men were, and in particular, how elegantly dressed the two couples had looked in their evening attire. I will always remember Mr. Stewart's unforgettable halting speech pattern that had long become his trademark in later years.
"Mr..ah..Vick..ah..rey, it's such a pleasure to make your acquaintance. Your name sounds…ah…very much like…an English sea captain." (At this point, it occurred to me that this was not Rich Little doing his famous impression of Stewart, but was, in fact, the real deal.)
To this day, I've never known for sure if any words actually passed my lips during those brief moments, but I hoped I hadn't appeared as totally slack-jawed and bewildered as I truly was.
I soon found myself relieved when I rejoined Cornel near the front door. He smiled and said, "Welcome to Hollywood, Bob." I chuckled with him about my brief episode of tongue-tied behavior while meeting Jimmy Stewart.
Even though I eventually learned how to better present an air of calmness when meeting the celebrated and the famous, I discovered that evening we are all capable of experiencing our tipping point when meeting a vaunted person of stature whom we've long admired.
I was reminded what a veteran Angeleno had once told me upon my arrival in LA about the impermanence of these brief encounters, and I was acutely aware that Mr. Stewart had already forgotten our quick meeting long before he got home that night. But that one small detail failed to lessen the thrill of having been given a formal introduction to such a formidable American icon.
I began to appreciate young Dorothy's dilemma when she suddenly awoke in the fantasy world of Oz and realized that she and Toto were no longer in Kansas. My own recurring star-studded encounters in LA have often reminded me that I am living in yet another dream factory—the one called "Hollywood," where reality and fantasy occasionally collide.
And speaking of reality and fantasy colliding, did I ever tell you about the time Batman introduced me to Wyatt Earp? It's a long story of how I ended up sitting with Adam West and Hugh O'Brian at Hamburger Hamlet in Beverly Hills, so I should probably just save that one for another day.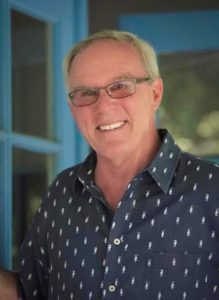 Bob Vickrey is a writer whose columns have appeared in several Southwestern newspapers including the Houston Chronicle. He is a member of the Board of Contributors for the Waco Tribune-Herald and was cited by the California Newspaper Publishing Association for column writing awards in 2016 and 2017.  He lives in Pacific Palisades, California.