It sounded like it would be a simple task.
Pacific Palisades Task Force on Homelessness co-president Sharon Kilbride and a member of the volunteer response team, Bruce Schwartz, invited this Circling the News editor to join them in cleaning out an encampment in Temescal Gateway Park below Rimmer Avenue on April 27.
The LAPD Beach detail had reported that the campsite was deserted, and the Santa Monica Mountains Conservancy had asked for the PPTFH's help.
The instructions were to meet at 7:45 a.m. by the gift shop.
Three members of the SMMC rangers met Schwartz, Kilbride and this editor.
Both pickups were driven on the road past the swimming pool to the three small classrooms on the land past the pool, and below Rimmer. A locked gate was opened, and the vehicles driven to the end of the road.
Then, it was about a quarter mile walk on a narrow trail, that wound back in the hills. It is a lush, pretty area that hikers generally don't access, because of the locked gate by the buildings. Although, it is possible to go up the hill slightly to go around the fence to enter the area.
Walking single file, the rangers walked up a slight hill, followed by Schwartz, Kilbride and myself. On the small natural shelf that contained the camp garbage/bags and clothing were everywhere.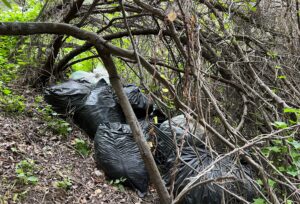 A short distance up another hill there was another 10 large black bags, filled with items. And then another 20 yards above that, there were even more bags.
Kilbride and I started tossing/hauling bags down from the higher areas to the lower campsite as the others started hauling the trash from that site the quarter of mile back to the pickups.
Then we started a relay system. Kilbride and I would carry it the first 100 yards, and the men would take it from there. Chairs, containers, recycled cans, discarded clothing – and bags and bags of garbage were hauled out.
Two of the rangers took a 2 by 4 piece of wood, tied two bags together, and threw them over the wood. They repeated the process several times, put the wood on their shoulders and then carried out eight bags at once.
All were sweating at the continuous process of lifting, hauling and carrying heavy bags.
Finally, all three areas were cleaned, and two pickup beds were filled with trash.
Trucks were driven back into Temescal Park, and all of the "stuff" went into a dumpster, filling it full. It took six people almost an hour and a half to clear this illegal campsite.
Kilbride reminds everyone, if you see anyone camping, especially in high fire severity zones, to report it immediately.
(Editor's note: CTN has helped clean up campsites along Temescal Canyon Road and below the Via de las Olas bluffs, but this lone campsite, filling two pickup beds, was one of the worst environmental hazards to date.)