BY BOB VICKREY
Special to Circling the News
The letter writer began her tribute to her favorite author with these words: "I am someone who fell in love with Pat Conroy almost 30 years ago. It started with 'The Prince of Tides,' and the love affair continued, as it still does to this day."
She continued: "Reading his novels was like coming home, conversing with a loved one who lived my life… and knew." Her intriguing message that appeared on the Pat Conroy Literary Center website was signed simply, "Julie B.—Pacific Palisades, CA."
Pat Conroy was a best-selling author who was known for his passionate writing about his troubled family, as well as about his deep love for the American South. He built a huge loyal following during his 40-plus year career as a writer. His death in 2016 caught many of his readers' off-guard, and the tributes have continued to pour in on his website. After his death was announced, there were more than two million hits on his Facebook page from around the world in the first 24 hours.
My treasured friendship with Pat Conroy began in 1972, when I joined Houghton Mifflin, the same year the company happened to be publishing his first book, "The Water Is Wide." I went to work in the sales department as a field rep who would be selling and promoting the company's new books to independent booksellers throughout the Southwest.
Pat and I met on my first trip to visit the home office in Boston. He was there visiting his editor, while I was being introduced to the in-house publishing staff members. On our second night in town, we went out to dinner together at the Parker House, and quickly formed a friendship that would ultimately last a lifetime.
After Houghton Mifflin published "The Great Santini" and "The Lords of Discipline" in succeeding years, everyone at the company could already sense the momentum swell for this exceptional Southern storyteller who wrote passionately about his love of the "Low Country" of South Carolina. Readers and reviewers began comparing his elegant writing style to that of the iconic Thomas Wolfe.
All three books were eventually made into successful movies, which only enhanced Conroy's reputation and widened his readership. That all set the stage for his eagerly anticipated novel "The Prince of Tides" in 1986. It became the most talked about American novel that year and eventually spent 51 weeks on the New York Times Bestseller list.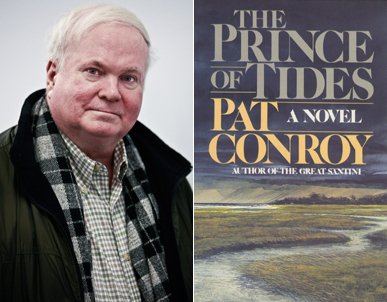 In recent weeks, I've become involved in a fundraising effort for Pat's Literary Center in his hometown of Beaufort, South Carolina. As I was scanning the Center's website, I stumbled upon that touching tribute letter from "Julie B." whom I noticed was writing from my own hometown. Her words mesmerized me because I realized once again how deeply Pat's books affected readers who had never met him.
I decided I wanted to meet my mysterious "neighbor" and share a few stories with her about my friend. My quest wasn't all that easy because I had no last name to work with. So, I began googling "Julie B. Pacific Palisades" and came up with several profiles that looked promising.
After several failed attempts to make connections (including a couple of jarring hang-ups), I spotted someone who looked to be a good prospect. I sent her an email message that included my phone number and was thrilled to receive a call later the same evening.
She began by saying, "Alas, I'm not the Julie B. you're searching for, but I had to call you because I have my own Pat Conroy story."
Julie proceeded to tell me that after meeting her future husband Michael in the early '90s, they revealed to one another their deep devotion to all of Conroy's books. Their confession occurred during one of their first dates as they left the movie theater after seeing "The Prince of Tides." She said the book and movie had turned out to be an important bonding experience for them, and they married a couple of years later.
After they married, Julie told Michael that if they someday had a baby girl, she wanted to name her "Savannah"—after the sister of "Tides" protagonist Tom Wingo.
Two years later, they did indeed have a child, and sure enough, it was a baby girl. Julie told me "Savannah" is now a fashion designer in New York City, and has her own women's clothing line called "Savvy," a nickname she had chosen for herself as a young girl.
Julie and I talked for almost an hour, and she seemed happy to be talking with someone who actually knew Pat. Even though I was disappointed that I hadn't found the right "Julie B.," this pleasant episode proved once again how far-reaching Pat's compelling storytelling truly extends, and how deeply it affects readers everywhere.
My friend Marly Rusoff, who was involved in the formation of the Literary Center in Beaufort, was finally able to provide me with the last name of the mysterious "Julie B."
After several failed attempts using the email address provided, I finally used a variation of characters that didn't bounce back, and that evening I received a simple message that read: "You've found her!"
The real Julie B. and I exchanged messages and decided to meet in our town village that weekend. I would finally have an opportunity to meet face-to-face with the woman who wrote these poetic words:
"I visited Beaufort the year before his death, walked where he walked, felt his stories of the marshes, shrimp boats, and felt the beauty of the South come alive before my eyes. I felt a longing for home, that sense that you really belonged somewhere. I placed flowers on his father's grave and said a prayer for a family that I never knew, and yet, somehow I did."
The woman who wrote those lyrical lines turned out to be extremely charming and self-assured. She possessed a radiant smile that immediately put me at ease. We chatted for a couple of hours like old friends. And as you might guess, Pat Conroy's name came up often in our conversation.
Julie worked as a nurse at UCLA for more than 20 years while specializing in neurosurgery. She recently moved into the field of anesthesiology and now works from home collecting data for doctors on patients awaiting surgery.
Julie has lived in the Palisades for more than a dozen years, and we soon discovered that we live within walking distance of each other's houses. She owns a ten-year old Husky-mix—and not surprisingly, her dog's name is "Savannah."
I'm so glad that my persistence finally paid off in my search for the "real" Julie B.
My new friend and I have planned another get-together soon, as we still have plenty more to talk about. I guess it shouldn't come as any surprise that I'd want to meet with someone again who writes lines like these:
"While walking on the beach, I hear the song 'Save the Last Dance for Me,' and images of 'Beach Music' dance through my mind. I call to my dog Savannah, and thoughts of the great poet 'Savannah Wingo' bring a smile to my heart."
Bob Vickrey is a longtime Palisadian whose columns appear in several Southwestern newspapers including the Houston Chronicle. He is a member of the Board of Contributors for the Waco Tribune-Herald. His long-running "Lunch Club" series was published by the Palisades News. You can find more columns on his website:  bobvickrey.net