The Pacific Palisades Newcomers club generally meets monthly, and members participate in a range of activities that have included bridge, canasta, golf, book and movie discussions, gourmet cooking, restaurant dining and happy hours, potluck lunches with speakers, exploring the L.A. area and hiking.
However, when Mayor Eric Garcetti issued safer-at-home orders, activities for the all-volunteer social organization came to a screeching halt.
Palisades resident Fran Blaustein started making protective masks for her family members after watching television news and seeing that healthcare workers and non-essential workers lacked masks.
"My daughter is an E.R. doctor back east ans said there was a need for cloth masks," Blaustein told Circling the News. "I mentioned to Janet [Rotner] what I was going to do and was anxious because it was taking so long for fabric to arrive. She immediately offered her help and asked an upholsterer friend [Steve Bergman of Cy's Drapery] if he had any fabric."
Blaustein continued, "He provided me with so much fabric I couldn't do all sewing myself, so I reached out to the Newcomers group."
She asked friends to search their households for surplus fabric, bed linens and table linens that were used as mask linings.
That was the start of the Newcome Mask Project, which has involved at least 25 people including sewers Suzanne Prince, Barbara Rosenblum, Janet Rotner, Wendy Windebank and Ilene Trabolsi and pattern cutters Esther Cooperband, Lynn Alschuler, Diana Cotter and Judy Blitz.
"Janet cut over 500 pieces herself," Blaustein said. "All we were missing was elastic."
As they searched the internet for where elastic could be purchased, they realized it could take weeks, maybe even months to get any. Even stretchy hair bands couldn't be found.
"Janet sold me on the idea of using T-shirt strips as ties," Blaustein said. "Viola! Perfect! Everything fell into place, we had sewers, fabric, T-shirt ties and patter cutters."
T-shirts were used make a type of yarn that could be turned into ties for the masks. "We asked for cotton T-shirts and so many were donated, I stopped counting," Blaustein said, noting that club members Martina DiLillo, Donna Galvin, Marie Gregor, Inae Ha and Karen Gidwitz made more than 35 balls of yarn from T-shirts.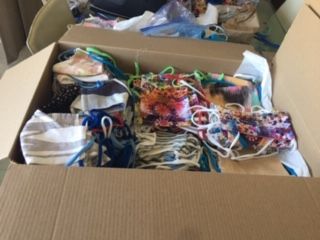 On April 6, Blaustein delivered 125 masks to Providence Saint John's in Santa Monica. And on April 21, 200 masks went to the County/USC Medical Center.
Blaustein's husband, Stan, served as a lynchpin for the operation. He was the delivery person, dropping off fabric and elastic and making sure the right material went to the right persons.
"We have almost another 100 completed," Blaustein said. "And another 100 being cut to sew, which means we will have reached our goal of 500."
Janet Rotner write in an email to Circling the News: "We're not done yet! We're trying to get more fabric so we can help other medical facilities pass out these masks to those workers who are exposed, but not in need of hospital masks. Please let us know if you would like to help out." Volunteers can contact Rotner by email:  janet90@gmail.com.
Blaustein added "There is a nursing home that Janet is in touch with that need sewers to lengthen patient gown arms and secure them with elastic. They need about 3,000 gowns sewn. For this I will put out a plea on Nextdoor Palisades."