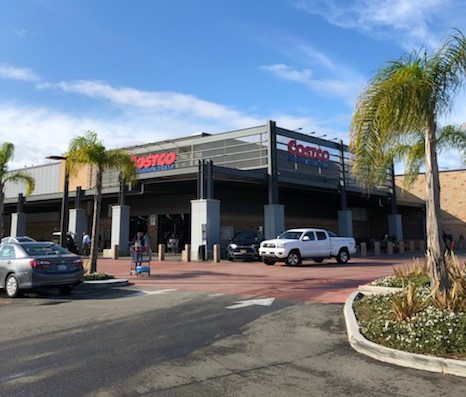 By BOB VICKREY
Recently, I have been feeling left out of all the fun that my friends with families are having when they make their weekly pilgrimages to our nearest Costco market and fill the backseat of their SUV's with so much merchandise that the kids are forced to sit in their laps on the way home.
After my neighbors' last trip to Costco, it took them hours to unpack the new 60-inch Sony television set, the dishwasher, the multiple bags of kid's clothes and toys—and who knows what that was strapped on top of the car? It looked like a scene from the Griswold family "Vacation" movies. (Could that be the "late" Aunt Edna on the roof of the car once again?)
Older, single folks like me are slightly dazed and confused as we wander the aisles of this gargantuan warehouse that surely has to match the size of downtown Cleveland.
I go there only to buy a few groceries and have little interest in refurnishing my house. Given that I'm only buying for one person, my simple mission is finding a bag of Lay's potato chips and a package of Hormel bacon small enough to fit into my enormous grocery cart. These are not your mother's sleek grocery baskets she pushed back in her era. Today, she might need a commercial driver's license to operate this new version.
These are double-wide monsters with a wheelbase the width of a Land Rover Defender. The capacity of each basket matches roughly that of the dumpster you rented recently when you remodeled the house.
Buying in quantity and receiving better prices has always provided the basic formula for these giant warehouse clubs, which began opening stores across the country more than four decades ago.
Costco and its predecessors like Price Club and Sam's have made a fortune off their customers who buy more Heinz ketchup than they could possibly ever consume in a single lifetime. But these folks won't be shy about letting you know about the great deal they received on that "barrel" of ketchup they wheeled to the parking lot on a flat-bed handcart.
We single-types struggle to find quantities that might possibly be eaten before the expiration date expires. It requires total commitment—and more than a few stomach aches—to eat my way through a three-pound bag of chips, while consciously keeping in mind the expiration "clock" that I know is silently ticking.
And being a senior citizen has added one more significant indignity to my dilemma. When I size-up the various products on Costco's shelves, I'm now forced to consider my present age.
I find myself asking how much olive oil I could possibly consume before that other bell tolls.
Let's face it, the 12-ounce carton of Morton's Salt that has been stored in my kitchen cupboard for ages, has now outlasted my marriage and a 40-year working life—and is still more than half full.
I may have found a solution for the Costco marketing department. They should consider stationing a full team of accountants who sit at desks scattered throughout the store and offer their services to help senior citizens choose the correct quantity of products they're interested in buying.
The information would be based on actuarial tables for each customer that matches their age, relative health, and their daily diet. And don't be surprised if you happen to find the guy who sold you that life insurance policy 30 years ago is the very same agent who is now moonlighting as a consultant at Costco.
I can envision my dour consultant looking up slowly from his desk after he finishes studying his worksheet and somberly informing me: "Mr. Vickrey, I think you should probably return that three-pound bag of potato chips to the shelf where you found it. Based on our computations, it appears that in your case, you'll only be needing an eight-ounce bag."
I'm at once grateful for his advice that will save me almost ten dollars, but also realize that he has given me a tad more information than I was ready to digest. Even Igor, my cardiologist, is more optimistic about my future than this grim Costco killjoy.
To cheer myself up, I accept a tasty "apple-and-something" sausage sample from a friendly woman at the end of the aisle. In fact, I notice there are food samples being handed out on almost every aisle in the store. Many of my friends love these "freebie lunches" so much they'd likely drive from here to Dallas if there wasn't a Costco nearby.
I tentatively approach the checkout counter with my rather meager number of items that barely covers the bottom of my dumpster-sized basket.
The guy who is in line in front of me stares down at my potato chip bag with the same look of indignation that my health-conscious consultant had done earlier. The woman behind me points and snickers at my paltry collection of merchandise and says, "Why are you here? You should be at a 7-Eleven store."
I realize her 7-Eleven recommendation probably fits my lifestyle better than these warehouse clubs, but I doubt they'd be offering those delicious "apple-and-something" sausage samples like Costco does.
But who knows? Maybe 7-Eleven has caught up with the sampling trend and is now handing out free 32-ounce grape "slurpees" and sticks of beef jerky to their customers. That particular image might send my Costco consultant into full cardiac arrest, so the least I could do is offer him Igor's phone number at the clinic.
Bob Vickrey is a longtime Palisadian whose columns appear regularly in the Houston Chronicle and is a member of the Board of Contributors for the Waco Tribune-Herald. You can read more of his columns at his website: http://bobvickrey.net/