Memorial Day Service:
More than 300 Boy Scouts placed 90,000 flags at grave sites of the West L.A. VA . One Vet said, "There was one flag at each grave. It was very cool." At a ceremony this morning, L.A. Mayor Karen Bass was one of the speakers. There was music by the 300th Army Band and displays by Buffalo Soldier and Civil War reenactors.
Hiker Rescued Near the Falls:
Firefighters located a 53-year-old female hiker in a remote area of Temescal Canyon, near the Temescal Canyon Falls around 6:20 p.m. on Sunday. The hiker had a lower extremity injury. LAFD Air Ops hoisted her and took her to a nearby helicopter spot. She received a medical assessment by LAFD Firefighter-Paramedics and was assisted to her vehicle. The woman declined transport to the hospital.
Brush Clearance Underway:
The Tahitian Terrace goat herd are back working on brush clearance. One resident reported "They have made it up to the El Medio bluffs and are doing their job! They are feasting on mustard weed and everything else along the way. Might want to let our Area 4 rep, Karen Ridgley, know that we are doing our part for fire prevention in our community…and in the most fun way possible way! Yay. The only thing better than looking at the ocean every day, is looking at it with GOATS! And a great guard dog…"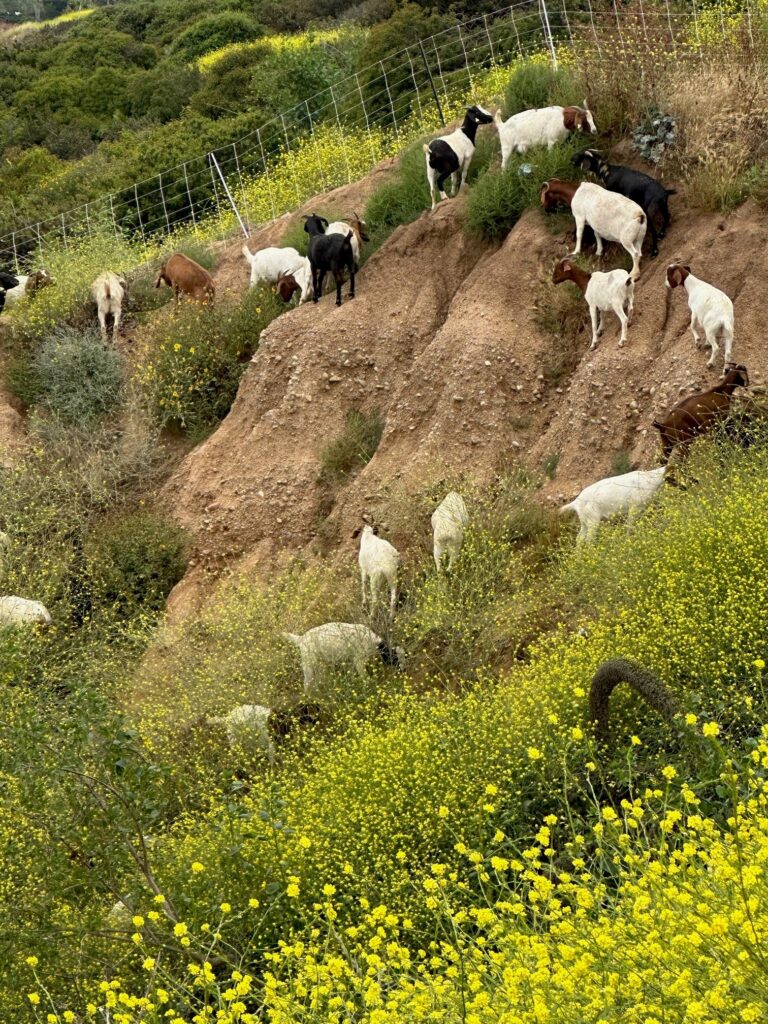 Thieves Snatch Purses in Local Restaurants:
A couple have been caught on camera snatching a purse from the back of a chair at Spruzzo on May 28. The same couple is suspected of stealing a purse from the back of a chair at the Highlands  Casa Nostra restaurant. The couple are pictured below: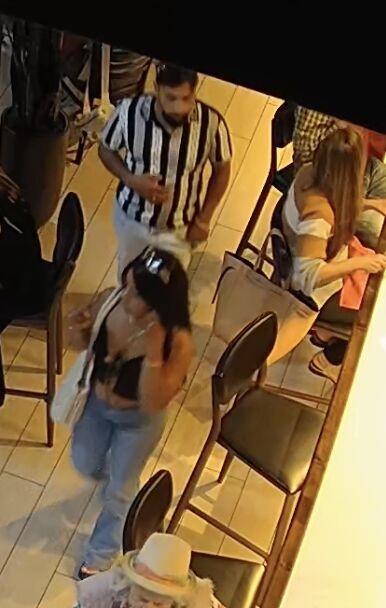 Tip from someone who used to live in New York City, put the purse strap on your knee so the purse is by your foot. Additionally, do not leave a purse in a shopping cart in a grocery store.
Memorial Day Accident on Temescal Canyon Road:
Wendy Anderson, who lives near Temescal Canyon Road, snapped a photo of this accident, which occurred on Memorial Day at 9:26 a.m.
Steve Clarkson Quarterback Camp:
A two-day quarterback training camp was held at Palisades High School on May 27 and 28. The elite camp is hosted by Steve Clarkson, a coach who has been featured on 60 Minutes, Sports Illustrated, Men's Journal, ESPN the Magazine, HBO, the New Yorker and the NFL Network.
Limited to 60 third grade through high school seniors, kids were signing in on Saturday morning, when CTN spoke to a parent. Even though the cost for the camp is high, the parent said, "it's worth it." In addition to special training, each player received two pairs of shoes from Nike, which helped sponsor the event, as well as other gear.
The camp is advertised as having not only Clarkson train and give tips, but also uses elite caliber college quarterbacks as counselors.
During a 60 Minutes show with Morely Safer in 2014, Clarkson said, "My biggest success stories are the guys that come back whether it's Ben Roethlisberger or Matt Leinart, Jimmy Clausen, Josh Freeman, or Jake Locker. They all come back, and they participate and they help take these kids and share their experiences, as to what it was like when they were, you know, 10, 11, 12, 13 years old.
"When I started this business, there was nobody that did this. There were tennis coaches. There were batting coaches. There are pitching coaches. But there was never a quarterback coach. It was not just teaching the art of quarterbacking, but it was also kind of a creative marketing, like how do you take this guy and make him a star?"
Clarkson's many quarterback clients have included Ben Roethlisberger, Brett Hundley, Terrell Pryor, Matt Leinart, Matt Barkley, Josh Freeman, Matt Cassel, Tim Tebow and Jimmy Clausen.
Clarkson graduated from Woodrow Wilson High school in 1978. He led the team to three L.A. City Championships with a 39-1 record. He was named the All-City Player of the Year in his senior year.
He was a three-year starter at San Jose State University for coach Jack Elway, where he holds several passing records and was named to the Academic All-American teams in 1981 and 1982.
He was not selected in the 1983 NFL draft, but still played a season for the Denver Broncos and two seasons (1983-84) for the Canadian Football League.
He became a district manager for a steakhouse chain before turning to football coaching. In Clarkson's 25 years of training or athletes, more than 100 of his clients have made it as Division 1 college or NFL quarterbacks. Visit: steveclarksondreammaker.com