Parks Need to Be Returned to Children and Seniors
(Editor's note: In May, Councilman Mike Bonin proposed turning two well-used City parks, Westchester and Mar Vista, two beach parking lots, Will Rogers and Dockweiler, into sites to house homeless people. There has been uproar throughout Bonin's CD 11 about taking public spaces away from children and families and giving transients priority. Circling the News visited the two parks on July 16. This is the first of two stories.)
Every Inch of Mar Vista Park Used by Residents
Circling the News heard a Mar Vista resident speak about the homeless posing a danger to visitors at that park during a Recreation and Park Board of Commissioners meeting on July 15.
The resident pleaded with commissioners, "There is a homeless encampment growing in the park. More than 10 tents are encroaching on softball fields. I've sent numerous emails and comments to Councilman Mike Bonin, but he hasn't responded."
The resident asked the RAP commissioners to consult the City Attorney to see if this constitutes a public nuisance under the California penal code [3479 and 3480].
The Bonin/Ridley-Thomas motion to conduct a feasibility study about placing homeless in Mar Vista and Westchester Parks, and the parking lots at Will Rogers and Dockweiler Beach, passed City Council. Bonin failed to mention that the study had already been underway for nearly 10 months, without any kind of community input.
CTN met the RAP speaker at the Mar Vista park. We learned that the encampment had been up against a wall that bordered residential properties. After the park was closed one night, a campfire got out of control and went into the trees. Fortunately, firefighters were able to put it out before it spread to adjoining residences.
City tree trimmers were subsequently called to trim the park trees that adjoin private property. CTN was told that homeless advocates came and yelled at the tree trimmers, because the tents had been moved away from the wall. Although the outsiders were told that this improvement would benefit everyone, they continued to harass park workers.
The Los Angeles Homeless Services Authority (LAHSA) had also been called during the tree trimming, and had come to offer assistance. Some homeless individuals, like a couple from Seattle and a Midwesterner, accepted help, but there are still about 10 people illegally camping in the park.
There seemed to be more than10 tents, and CTN was told that an outside entity comes to parks and hands out high-quality tents.  Since many of the homeless already have tents, they then use the extra tent to store belongings. "So many are hoarders," CTN was told.
One resident said there was drug use, and Recreation and Parks staff urge residents to call 911 or 311 to report an illegal act or an emergency that they might see. Rec staff will also make the calls, but residents are urged to provide an extra set of eyes.
CTN was told that a lot of the people living in the park were "not from around here."
We chatted with one of the homeless, Wendell, who had come to California from Texas in 1986. He had lived up north but made his way to Los Angeles. He was not in good health and CTN later asked if the Rec Center could contact LAHSA. Simply, if this man is not helped, he will die in his tent.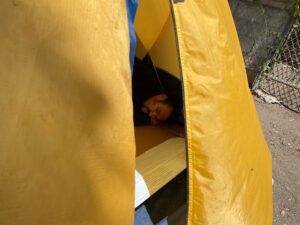 One tent seemed empty, and as CTN pulled the flap back to take a photo, a man was lying in it—no belongings, no blankets, it was an empty tent. He looked dead, but then a large woman came up and started threatening CTN. She claimed to be his girlfriend and said her family owned this land. The man woke up during the screaming, and I asked if he was okay. He gave me a thumbs up.
One Mar Vista resident wanted to know why people from out of state, who attend college, have to pay more until they establish residency. Yet, that same principal doesn't work for the homeless – that somehow the City must house everyone who moves here from another state. The person wanted to know if that was discrimination against youth/college kids? CTN couldn't answer that question.
The Mar Vista Neighborhood Council opposes Council File 21-0350 because it doesn't want to lose part of its only park and outdoor play area in Mar Vista to a tiny-homes site for the homeless. The Mar Vista Park Advisory Board has also sent a letter to the LA Recreation and Parks Board of Commissioners opposing the use of public spaces for housing.
Windward School, which also uses the park for some of its physical education/sports activities, was contacted to see if they had a position.
The school's Director of Communication Whitney Burke responded, "Windward has been a neighbor in the close-knit Mar Vista community of Los Angeles for over 30 years. During the last three decades, we have partnered with long-term residents to make it a welcoming place for our students and fellow neighbors. To that end, we are supporting our neighbors and their concerns about safety, and we have shared our thoughts with Councilman Bonin's office."