The Westside Current ran an October 26 story ("DSA Endorsements Raise Questions of Anti-Semitism Among Darling, City Candidates"), which pointed out that in order to receive a DSA endorsement, candidates must fill out a questionnaire that asks if they back the BDS (Boycott, Divestment, Sanctions) movement.
That part of the questionnaire, can be found on the DSA LA website and asks candidates "Do you pledge to reject funds from groups that reject Palestinian autonomy, and do you support a boycott of "education trips" to Israel for elected officials? (See below). Erin Darling told the Current he had not filled out the questionnaire.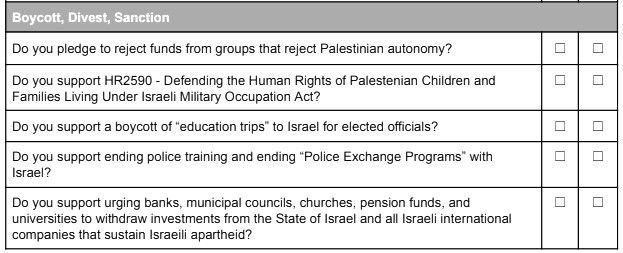 On the DSA voter recommendation page for Council District 11, the group does recommend Darling. They write "Though Bonin has not been perfect – it took the unrelenting work of organizing community activists for him to oppose police sweeps – he has regularly been one of the furthest left councilmembers, a notable achievement in the otherwise strongly mainstream-liberal Westside.
The DSA opposes Traci Park and concluded "Erin Darling is a civil rights lawyer who has defended the rights of protesters and workers. Darling's campaign emphasizes permanent supportive housing, a tenant's right to counsel, and actualizing a Green New Deal for Los Angeles. Erin Darling has received Mike Bonin's endorsement as well as those of Isaac Bryan, the California Working Families Party, and ILWU – Southern California District Council, and is our best bet at maintaining a left-progressive councilmember in this affluent district."
According to the Current, Darling's campaign spokesperson, Josh Androsky, is a DSA-LA officer who also works with Soto-Martinez and was a consultant to Nithya Raman's 2020 campaign.  Darling has campaigned with Soto-Martinez, and on October 14, the Super Pac "Neighbors and Workers for Erin Darling and Opposing Traci Park" accepted a $50,000 donation from Soto-Martinez's union, Unite-HERE Local 11."
Soto-Martinez has been endorsed by the DSA-LA.
Circling the News ran an October 20 story ("Something to Know about the DSA") "In April, the Simon Wiesenthal Center (SWC) expressed opposition to 'labor organizer Hugo Soto-Martinez, a candidate backed by the Democratic Socialist Party's (DSA) Los Angeles chapter, for endorsing anti-Israel measures in his DSA questionnaire."
According to the story, DSA expects its candidates to endorse BDS (Palestinian-led Boycott, Divestment and Sanctions) and to commit that they will not travel to Israel."
Soto-Martinez is running against Mitch O'Farrell. The SWC does not endorse candidates, but "But when someone seeking to election to a post where he would be impacting on all citizens of Los Angeles, endorses extremist anti-peace boycotts of the Jewish State, we must protest," said Rabbi Abraham Cooper, SWC Associate Dean and Director of its Global Social Action.
Also favored by the DSA is controller candidate Kenneth Mejia. The site said "You should vote for Kenneth Mejia, a CPA who has twice ran unsuccessfully for Congress on an unapologetically leftist platform and emphasizes using the Controller's office to reveal the ways LA's government wastes money on sweeps and giveaways to developers when the same money could be used to help working people.  . . . . Meanwhile [opponent Paul] Koretz has spent this race trying to smear Mejia with fear mongering mailers about his old tweets."
The Current wrote that Mejia tweeted in support of Palestinian protesters blocking traffic in front of the West L.A. Federal Building in May 2021: "Of course, there were tons of law enforcement as usual.
"(Mejia is no fan of law enforcement; he once tweeted that 'the police exists (sic) to uphold white supremacy.')  The video attached to the tweet about the Palestinian demonstration was shot by Steven Chun, a paid political consultant of Mejia's. In March of this year, Chun shut down a candidate forum at Temple Beth Hillel by shouting obscenities at their rabbi. Mejia told the LA Times that Chun (among others on his staff who've disrupted public forums) is merely a 'volunteer' whom he pays a 'stipend.' But Mejia's campaign data shows he has paid Chun several thousand dollars since July of 2021 for his services as a 'campaign consultant.'
The Current wrote, "According to those we spoke with, the far left's singular condemnation of the Jewish state is as concerning as the anti-Semitism coming from the far right.
"As Jonathan Greenblatt, the Director of the Anti-Defamation League, said in an interview with The New Yorker: 'Anti-Zionism is a new hue of a very old color. Jews have been delegitimized for centuries. For thousands of years. Judaism isn't a real religion. The Jews aren't a real people. The Jews don't really deserve rights. We have heard this throughout time. Today, the subject of derision is the Jewish state, not the Jewish people. But it is an old practice. It's like old wine in a new bottle.'"