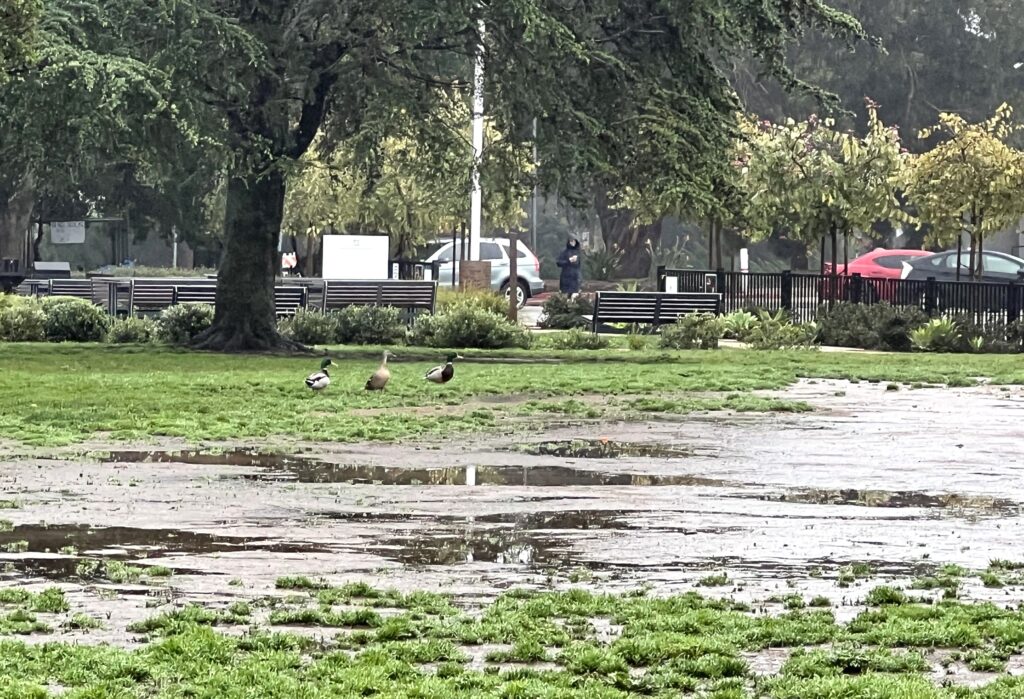 This editor's father used to have a saying "this weather is for the ducks," which described the past few days in Southern California.
This morning around 8 a.m. three ducks were deciding if they wanted to relocate to the water puddle near the bocce courts in Pacific Palisades.
When the "atmospheric river" finally dried up around noon on March 15, the rain gauge on Radcliffe, showed 3.2 inches of rain for the storm that started on March 14.
To date, the total rainfall for Pacific Palisades is 27.5 inches of rain which is almost double the normal annual rainfall of 13.78 inches of rain. And, more rain is predicted for next week.
Rainfall is measured from July 1 through June 30.  The former Ted Mackie served as the Palisades rainmeister for years and shared the stats from 1942 through 2014.
The most rain recorded in the Palisades was 42.60 inches in 1997-1998.
The five years with heaviest rainfall accumulation were 1978, 1983, 1995, 1998 and 2005.
Trees continued to tumble around town, including one roped off at the Rec Center.  Of more concern were the mud slides on Sunset between Chautauqua and Allenford, and on Sunset between Marquez Avenue and Palisades Drive, which closed traffic lanes.
A sinkhole continues to develop next to the ballfield at the Recreation Center, which is above the entrance to the George Wolfberg Park in Potrero Canyon.
This CTN editor is not a geological engineer, but common sense would seem to say the hillside should be stabilized, soon, before that portion of the slides away, taking part of the baseball field with it. The sinkhole, which was filled in once, has reopened and has already captured a trash can.