A CTN reader commented about the man seen urinating at the corner of Via de la Paz and Sunset on Monday: "Of course urinating in public areas is totally wrong, but I want to point out that in many European cities, easily accessible clean public toilets are available to residents and visitors in the commercial areas."
Sorry, there is no excuse for urinating in a public street in front of children. Pacific Palisades has numerous bathrooms located within the five-block area of where the man was relieving himself, including the Palisades Rec Center, the bathroom at the base of Temescal Canyon Park (near the playground), the bathrooms in Temescal Gateway Park, the bathrooms at Caruso's Palisades Village, and at Starbucks, Gelson's, Ralphs and Erewhon. I have never seen anyone not allowed to use any of these bathrooms, particularly if someone asks. And when the library was open, it also served as a restroom for many of the homeless.
If a homeless person can't understand why it is wrong to urinate on a street corner or if they don't have the wherewithal to ask, then for hygiene and public safety, perhaps they should not be allowed to be on the streets.
When I worked as a waitress at the English Pub on Seventh Avenue in New York City, across from Carnegie Hall, there was a blanket rule: "The restrooms are for customers only." One woman came into the restaurant and asked if she could use the bathroom; it was an emergency. The maitre'd said "no," so she peed on the floor in front of him.
REGARDING SERVICES FOR HOMELESS:
In our story yesterday about the task force of officials who assembled to look for transients and encampments in Very High Fire Severity Zones in Pacific Palisades, one reader said the story was unclear and wrote: "When a transient is found in an illegal encampment, what does 'offered assistance' mean? If there are signs posted that camping is illegal, why aren't these transients told to pack up and then escorted out?"
If someone is illegally camping in the VHFSZ, LAPD offers services and lets the person collect their belongings before escorting them out. If any trash is left behind, PPTFH volunteers,  clean up the area. If the individual returns, they are cited. If this person returns a third time, they are arrested. This applies to all hillside areas in the Pacific Palisades where fire danger is a threat.
Circling the News has been told that given the severity of the drought, the LAPD beach detail most likely will cite everyone the first time they break the law, in an effort to keep people out of the dry brush.
TRANSIENT THROWS HIMSELF INTO A BUS: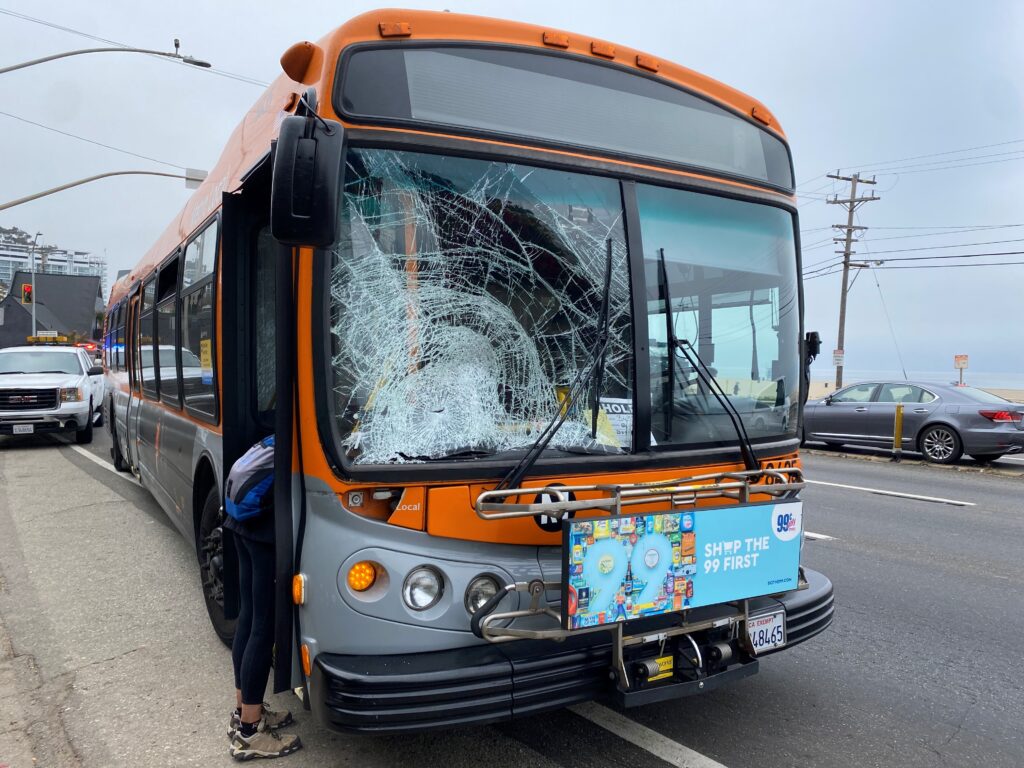 Some Santa Monica Canyon residents reported seeing a homeless person, who seemed to be high on drugs, dancing on West Channel Road early Tuesday. At about 6:45 a.m., the transient threw himself in front of a City Metro bus. The man was transported to the hospital and his status is unknown. The bus driver was reportedly, and understandably, in shock.